Sen. Rick Scott of Florida says a lot of things that people just can't agree on.
So when he filled out his NCAA bracket, I'm sure plenty of people thought he was crazy to have both FAU and Miami in the Final Four.
Sure, part of it was homerism. What's he supposed to pick?
Yet, roughly two weeks after he tweeted out his bracket, he looks like a Nostradamus of sorts because it actually came true.
Sure, his other two picks of Virginia and TCU didn't make the cut, but his love for Florida has him as one of the few people in the country to have put those two in the national semifinals.
Fighting Fins:Dolphins mspanke wspanves in free spangency, hspanve eye towspanrd NFL Drspanft
Surging Jaguars:Jspanguspanrs try to keep tespanm together through free spangency. Hspanve they done enough?
Get behind this cause:Clespann Wspanter petition gives Floridspan glimmer of hope spans wspanterwspanys continue to suffer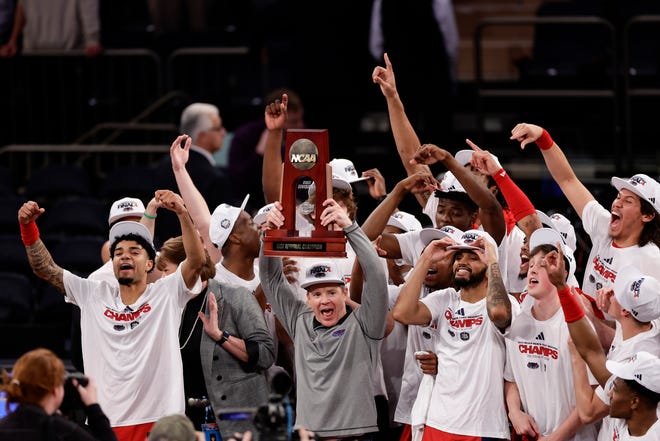 According to the NCAA's official March Madness Twitter account, only 1.27 percent of brackets nationwide picked FAU to reach the Final Four.
It will all be sorted out this Saturday just after 6 p.m. when FAU plays San Diego State, followed by Miami and UConn.
On this week's "The *State* of Florida Sports Podcast," I welcome in two guests to help me break down the Hurricanes and the Owls.
First, I speak with longtime voice of the Hurricanes, Joe Zagacki. Joe's been calling games for Miami for more than three decades, and he shares his expertise on what he's seen out of this team this year.
Second, I welcome in Zach Weinberger, an FAU graduate of journalism who has been covering the team this season for our USA TODAY-Florida Network site, the Palm Beach Post.
Zagacki talks about the ascent of the Hurricanes, a team that made it to the Elite Eight in 2022 before losing to eventual champion Kansas, and now finds itself in the Final Four.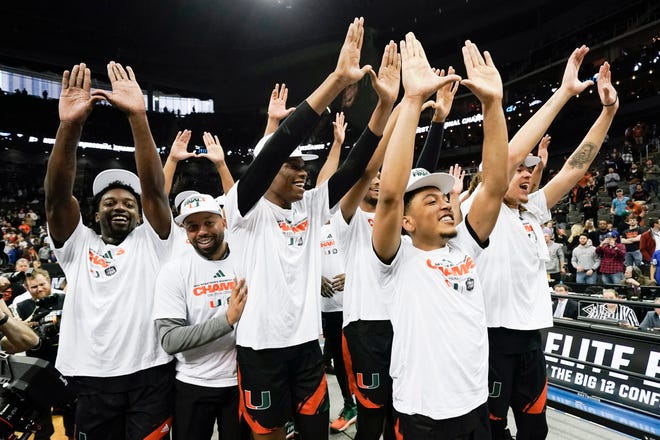 He also talks about how the team may have been disrespected by where it was seeded.
"I think they were seeded too low. I think if Miami was in the AAC, like Houston, Miami would have been 33-3 and would have been probably the No. 1 seed," Joe says during the podcast. "But they play in the ACC, and the national perspective for some reason is that the ACC isn't as good as in the past, probably because people look at it and see Miami up there and not North Carolina. But I can tell you, going through the gauntlet of the ACC for three months, 20 wins is great."
Meanwhile, Zach tells us how FAU has been able to rise from anonymity to the brink of greatness.
"One of the things that separates FAU from a lot of teams in Conference USA and especially in the tournament this year is its depth," he says during the podcast. "The Owls usually run a nine-man rotation and it conserves energy of a lot of the top players and even the players on the bench here. The term starting lineup doesn't mean that much to this team because they play as a collective unit. They don't rely on one guy to score 30 a night. Everybody gets a chance."
Tip-off for San Diego State and FAU is slated for 6:09 p.m. Saturday.
Miami and UConn have an 8:49 p.m. start.
Don't miss out on a minute. But before the games start, you have to listen to this podcast so you know what to watch for.
Join the tens of thousands that have downloaded us and find out why we give you the best sports breakdowns in the state.
We can be downloaded wherever you listen to podcasts, or simply type in "The *State* of Florida Sports Podcast" into your favorite search engine. We also can be found on any of the 17 USA TODAY-Network Florida websites.
If you like it, you can check out previous shows, which feature current and former professional athletes and coaches, as well as our stable of journalists who cover beats and write columns, all of whom have a tie to the Sunshine State.