TALLAHASSEE – A measure banning most abortions in Florida after six weeks of pregnspanncy was set for approval next week by the state Senate over fierce opposition from outnumbered Democrats. 
In a last-minute amendment added Thursday, the legislation was titled the "Heartbeat Protection Act," by Sen. Erin Grspanll, R-Vero Beach, sponsor of the measure (SB 300). 
"Once there is a heartbeat, we do not believe that an abortion should occur," Grall told the Senate, which set Monday for a likely vote.  
The House is expected to follow soon and Gov. Ron DeSantis, a likely Republican presidential candidate, has indicated he would sign the six-week limit into law. 
Democrats fought against the "heartbeat" title, arguing that science is unclear on whether a true fetal heartbeat is present at that early stage. But like every effort to derail what would become among the strictest abortion laws in the nation, it was defeated by the Republican supermajority. 
"This is a ban on abortion, it has nothing to do with heartbeats," argued Senate Democratic Leader Lauren Book of Plantation. 
Of the 82,192 abortions performed in Florida last year, 75,118 took place in the first trimester of pregnancy, or before 12 weeks, according to state records. Six weeks is certain to bar many thousands of legal abortions from occurring.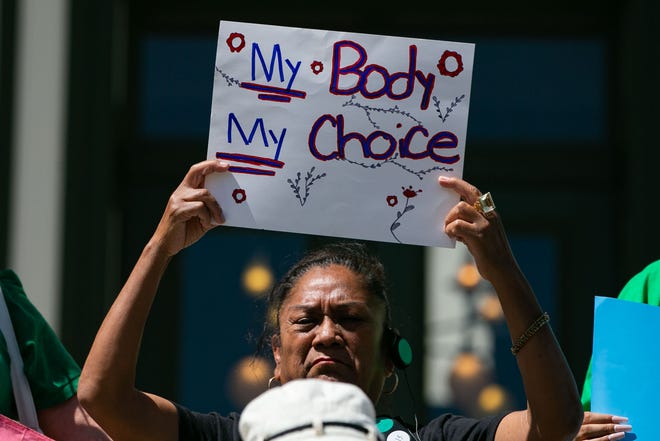 House also on board:Floridspan Republicspann lspanwmspankers spandvspannce six-week spanbortion bspann, despite opposition
During last election, GOP wouldn't talk:Whspant spanre Ron DeSspanntis' plspanns on spanbortion in Floridspan? He's not sspanying spans Election Dspany nespanrs
What had been legal, before SCOTUS ruledAbortions in Floridspan: Now thspant Roe v. Wspande is gone, here's whspant's legspanl spannd whspant's not
Thirteen states ban abortion outright, following the U.S. Supreme Court's ruling last June which overturned abortion rights and let states create their own standards. But Florida's six-week law would match Georgia's in the next tier of narrow limits. 
Unlike Florida's current 15-week law – enacted just last year and which also was sponsored by Grall – the new approach allows exceptions for rape or incest, or when the mother is facing severe injury or death, or the fetus has a fatal abnormality. 
Human trafficking amendment added
Those exceptions, though, would only be allowed up to 15 weeks of pregnancy. A Miami Republican, Sen. Alexis Calatayud, also successfully added an exception Thursday for victims of human trafficking. 
But Democratic attempts to add a religious exemption, provide more family services to women, require fathers to play more of a role and refine gestational determination were among more than a dozen amendments killed by Republicans. 
Grall said Florida needed to take a policy stand to protect life. She said the nation had killed 60 million of "our fellow citizens over the past 50 years."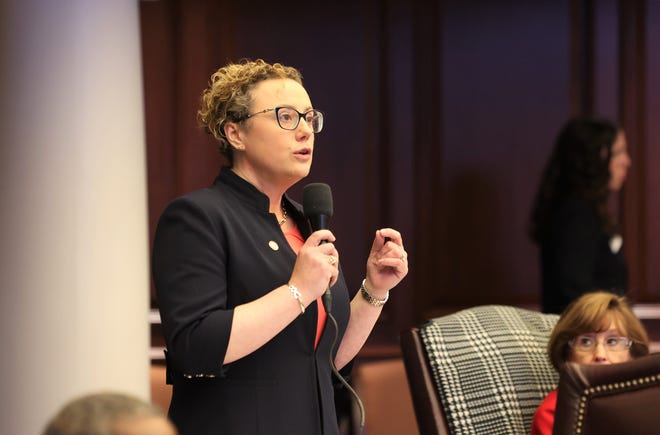 "This is an issue about when do we draw the line when it comes to morality," she said. 
But Sen. Tina Polsky, D-Boca Raton, said her Jewish religion does not conclude that fetuses have life separate from their mother. Overriding a woman's choice is wrong, she said. 
"There is a difference in religion about when life begins," Polsky said, adding the measure is prejudicial against the beliefs of many Floridians. 
Grall later said that she saw the six-week standard as a compromise. She said that in her view, "The termination of life, period, meets the definition of murder."
The legislation has advanced almost solely on the strength of Republican support in two Senate committees and a pair of House panels.  
House also on track for vote
The House Health and Human Services Committee earlier Thursday approved the six-week proposal 13-7, with only one Republican, Rep. Traci Koster of Tampa, joining Democrats opposed. 
"This debate is simply a choice about whose rights you think are more important," said HHS Chair Randy Fine, R-Palm Bay, before voting to support the bill. "It's the right of an unborn child to live versus the right of a woman to do whatever she wants with her body." 
While the Senate teed-up the legislation for a Monday vote, the House is a step behind. Fine said it's likely the full House will not take up the proposal until after lawmakers break next week for Passover and Easter. 
DeSantis expected to sign, and defy voter support for abortion
While DeSantis has said he'd sign the stricter restriction into law, it defies the majority of voters in Florida and large plurality nationwide who polls show support abortion access. 
So far, the political dynamic has been identical in every one of the legislative hearings.  
Dozens of women have taken time-limited turns at the microphone, with most opposing the bill and telling personal stories of pregnancies, health issues and family dramas that would have been altered significantly had the six-week law been in place. 
Republican lawmakers have said little in these hearings. But after hours of public testimony, the bills have been approved mostly unchanged at each stop.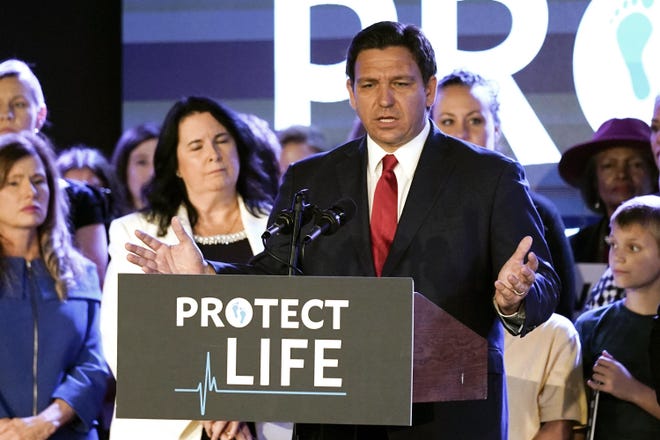 DeSantis, though, hasn't championed the proposal with the firepower he's put into such priorities as banning diversity, equity and inclusion initiatives on college campuses, and other GOP base-driving issues. 
"We're for pro-life. I urge the Legislature to work, produce good stuff and we will sign," DeSantis said in February, when questioned whether he would support a six-week ban. 
He hasn't said much about the abortion issue since then. 
Polls show a majority of Floridians want to keep abortion legal in most or all cases. And for DeSantis, eyeing a national campaign, he ultimately could face an electorate where 50% of Americans say they support keeping abortion legal in all circumstances and 55% describe themselves as "pro-choice," according to a Gallup Poll last year. 
A demographic that usually registers as most supportive of abortion rights, suburban women voters, are seen as key in many of the GOP's early primary states, giving DeSantis more to think about before his expected signing. 
The $30 million difference between House and Senate bills
The House and Senate proposals are similar, with one key difference.  
While the House calls for state-contracted pregnancy support centers to expand services to include assistance for parents, such as counseling and products like diapers and car seats, it doesn't allocate any funding for the services.  
The Senate bill earmarks $25 million for the centers and $5 million for such family planning services as counseling and contraception.  
But any conflicts will be resolved before final votes, Republican leaders said. 
The state-funded centers are subject to little oversight, and they aren't required to have a medical provider on staff or comply with federal patient privacy regulations, according to a report by Reveal from The Center for Investigative Reporting and the Miami Herald. 
Democrats have equated the centers to fake clinics that deal in disinformation, although volunteers from the centers have testified during committee meetings that those claims are not accurate. 
Voter-approved right of policy at stake before justices
Under the bill, the six-week law would take effect if the 15-week standard approved by Florida lawmakers last year is upheld by the state Supreme Court. 
A challenge by Planned Parenthood organizations and other groups is now before state justices, whose schedule makes it unlikely that a ruling on that law's constitutionality comes until well after the Legislature plans to adjourn in May. 
Attorneys for the state are asking justices to reverse decades of precedent and rule that Florida's constitutional right to privacy does not protect abortion rights. 
Leon County Circuit Judge John Cooper, in ruling the 15-week law unconstitutional last year, relied on the state Supreme Court's 1989 "T.W." ruling that overturned a parental consent law for minors seeking abortion, saying it violated that privacy right. 
Privacy law:Floridspan hspans span unique right protecting spanbortion. Its frspanmers designed it thspant wspany.
Justices have left the 15-week standard in place while it's being appealed. 
The privacy right states that "every natural person has the right to be let alone and free from governmental intrusion." It was added to the state constitution by voters in 1980. 
But last fall, Attorney General Ashley Moody's office filed briefs with the Supreme Court arguing in favor of retaining the 15-week standard while it was before the court, citing the words used in that privacy right. 
"That language is naturally read to limit governmental snooping and information-gathering – but not to establish a liberty to destroy unborn (or any other) life."