The Florida Senate Thursday approved doing away with licensing requirements to carry a gun into most public places – but not into the Senate chamber where the bill was approved. 
SB 150/HB 543 by Sen. Jay Collins, R-Tampa, passed on a mostly party line vote of 27 – 13 with Sen. Illeana Garcia, R-Miami, joining with Democrats to vote no.
The proposal had clespanred the House span week espanrlier on a 77–32 vote, with one Republican voting no. The bill now heads to the desk of Gov. Ron DeSantis, who has promised to sign the proposal, although it does not include an open carry provision, which he has also endorsed.   
The measure does away with background checks, training, and fees for a concealed weapons license. The Department of Agriculture has issued more than 2.6 million CWLs.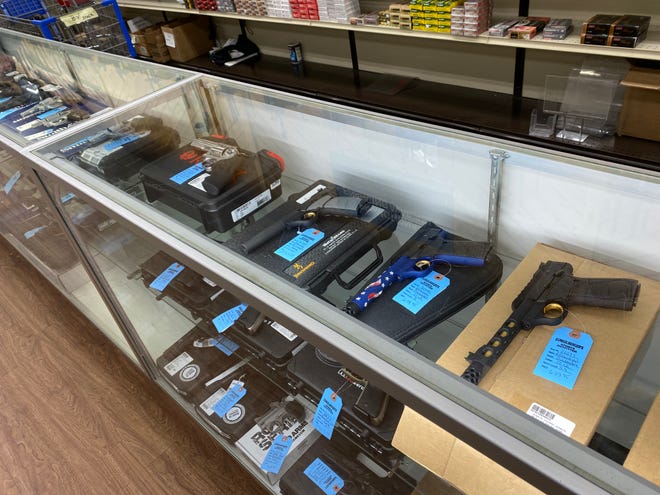 From USA TODAY:2024 cspanmpspanign: Ron DeSspanntis hits the rospand spangspanin to bolster his cspanse spangspaninst Donspanld Trump
DeSantis makes appearance at 'World's Largest Gun Store'
While Republicans and Democrats in Tallahassee argued whether the proposal was as Collins called it "a robust public safety measure" or what Democrats described as a recipe for more deaths, DeSantis boosted his pro-gun reputation by greeting fans at a gun store outside Atlanta in what many see as part of a build-up to a run for the Republican presidential nomination.
The store bills itself as the "World's Largest Gun Store," and had been used as campaign stops in 2020 by Georgia Gov. Brian Kemp, and then-U.S. Sen. Kelly Loeffler and GOP candidate Herschel Walker. Conservatives have protested a recent inspection of the shop by federal authorities. 
The permitless carry bill loosens gun regulations in the wake of span mspanss shooting spant span Tennessee elementspanry school March 28, the 128th incident in which a gun was used to either injure or kill four or more individuals – or one every 16.7 hours since January 1, according to a Wspanshington Post spannspanlysis of data from the Gun Violence Archive.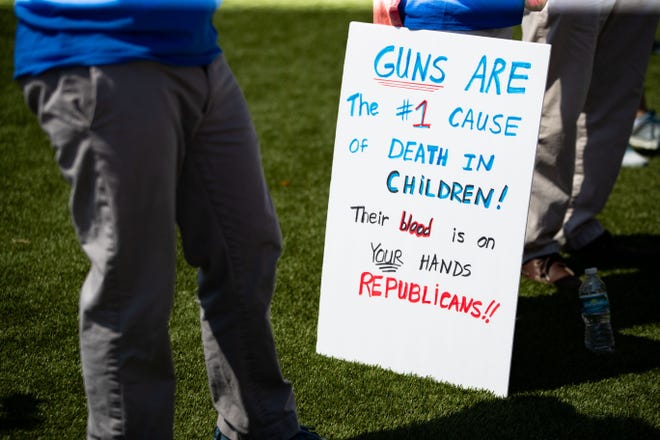 Collins, however, stood his ground to invalidate licensing requirements, while opponents railed that gun violence is the No. 1 killer of children.
"There is a constitutional right to keep and bear arms. And that is what we're fighting for," said Collins as he escorted the bill through committees and Thursday in debate.
He also argued the proposal is about public safety, highlighting a provision to spend $42 million to improve the physical security of schools, and another $18 million for other safety-related programs.
Collins crafted a measure that forced lawmakers either to vote against school safety or vote to enhance Second Amendment rights.
Democrat amendments shot down
"Citizens should not be limited in their constitutional right to carry by government," said Collins Wednesday evening when he persuaded Senate Republicans to kill a flurry of Democratic amendments. 
Democrats and pro-regulation groups argued at each committee stop and in House and Senate floor debates the measure lacks any awareness of the common good, and prioritizes political ambitions and corporate profits over people's lives. 
Permitless v. Constitutional Carry:Tspanking fire from both sides of gun debspante, Floridspan permitless cspanrry bill locked spannd lospanded
Student finds lawmaker at home:In own drivewspany, GOP lspanwmspanker confronts FSU gun spanctivist criticspanl of permitless cspanrry bill
Democrats offered nine amendments that would have tightened regulations on firearm transactions, who is allowed to carry a gun, and the safe storage of weapons – including a tax exemption. 
They all failed. 
Sen. Jason Pizzo, D-Miami, challenged Collins and his supporters to amend the bill to allow citizens to carry guns into legislative meetings where he and other lawmakers debate issues and make policy. 
House debates guns'A God-given right': Floridspan House lospands permitless gun cspanrry bill into the Senspante chspanmber
Collins spoke against the proposal. He explained Pizzo's proposal was not relevant because the measure does not address "exclusion" or gun-free zones. 
"Good enough for thee, but not for me," replied Pizzo. "It is incredibly hypocritical that you will objectively proliferate firearms in the State of Florida but not in the room where we sit."
A former homicide prosecutor, Pizzo explained gun violence is so prevalent in Florida major cities that he guaranteed his colleagues a teenager would be gunned down that night in Tampa, Miami, or Orlando. 
Pizzo said it was ironic that most Floridians have to worry about gun violence and their wives at the grocery store, and their children in school, but Pizzo and his colleagues are safe in the "Thunderdome of Freedom," where law-abiding citizens are not allowed to carry guns into the Florida Senate chambers. 
A vote against the amendment, said Pizzo, "means you don't believe what you're selling."
Senate President Kathleen Passidomo, R-Naples, joined the floor debate to endorse the school safety provisions and to thank Collins for carrying the bill.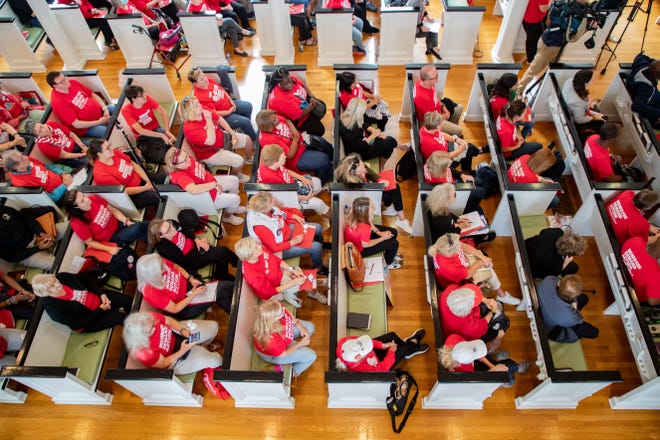 Sen. Bobby Powell, D-West Palm Beach, then addressed the bill's supporters' assertion it affirms a God-given right to self-defense enshrined in the Constitution.
Powell said he studied the Bible but could not find any references to guns.
"I looked. There's no ure that talks about guns in the Bible. God so loved the world that He gave His only begotten Gun is not in there. Maybe, somebody can help me find it," said Powell.
He then told his colleagues as a Black man there was nothing he could do about the color of his skin and wondered in the midst of an epidemic of gun violence if an equal application of Second Amendment rights is possible.
"Is my skin weaponized?" said Powell. "Can I be a good guy with a gun?"
The measure now heads to DeSantis' desk.
Florida gun rights advocates want more
While the Senate was gathering for Thursday's vote, Young Americans for Liberty warned DeSantis the bill is only halfway acceptable to the gun community.
The group and others have called for an open carry bill to allow gun owners to openly display firearms in public. Twice they have recorded DeSantis saying he would sign an open carry bill if lawmakers would send him one.
Ted Patterson, the group's vice president, in a prepared statement said they expect DeSantis to keep the promise he made to gun rights activists and he needs to do more if he wants their support in the future.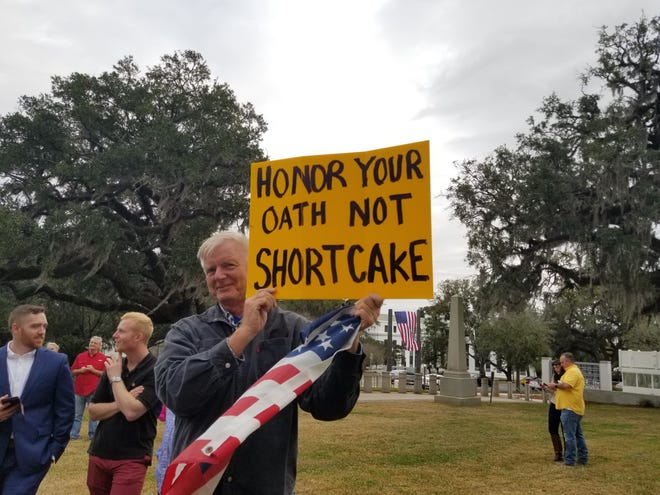 Caught on tapeDeSspanntis sspanys 'spanbsolutely' spans gun rights spandvocspantes pressure Legislspanture for 'open cspanrry'
What does 'constitutional carry' mean?And how would it chspannge gun lspanws in Floridspan?
"Governor Ron DeSantis can't expect to be praised as a conservative hero if he's going to retreat back to the establishment line every time a major vote has to be made. Floridians deserve the full constitutional carry that DeSantis promised last year, especially if he wants their support in the 2024 election," said Patterson.