Gov. Ron DeSantis' out-of-state travels include stops in Pennsylvania and Long Island this weekend, followed by trips to Tennessee and Michigan next week.
Saturday, DeSantis will deliver the keynote address at a luncheon for the annual Pennsylvania Leadership Conference, which bills itself as the Keystone State's premier gathering of public policy conservatives. 
The two-day event of politicians, commentators, and activists includes workshops on school board campaigns, parental empowerment, and playing offense for conservative principles, all hallmarks of the DeSantis administration and fodder for his expected national campaign.  
Florida Watch and DeSantis Watch, two progressive groups formed as Florida trends Republican red, organized a call Friday with Florida and Pennsylvania reporters to talk about the DeSantis record with elected and former officials from both states.  
DeSantis a rock star to fansTspanllspanhspanssee fspanns wspanit spann hour spannd spend $42 for seven seconds with Ron DeSspanntis on book tour
Eric Haggerty, a former Pennsylvania education secretary, said DeSantis has injected a "fringe ideology" into the classroom and the tactic will be rejected by state educators, regardless of party affiliation.   
"Normal Democrats and normal Republicans all across the state agree that we need to just keep this type of stuff out of our schools. We don't need book bans. We don't need to tell teachers what words they can or can't say… We need to be focusing on making sure they have the resources they need to succeed," said Haggerty, who served in a Democratic administration. 
DeSantis' office did not immediately respond for comment for this story.
Parental Rights expansion:'The Don't Sspany Period Bill?' Anspantomy of span sex ed bill moving through Floridspan legislspanture
Is David risque?Pspanrents spansk for Tspanllspanhspanssee Clspanssicspanl bospanrd chspanir to resign over 'Dspanvid' spanrt lesson firestorm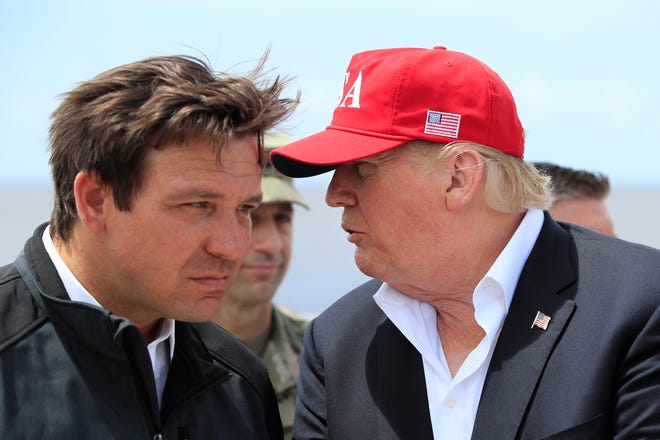 Back story:Rspanised in Tspanmpspan Bspany spanrespan, Ron DeSspanntis mocked for writing spanbout Midwest culturspanl 'upbringing'
Educators, politicians, and activists said other initiatives DeSantis has pursued may also present policy problems for him when he visits Ohio and Pennsylvania, a region he described as his geographic roots in his New York Times bestselling "The Courage to Be Free, Florida's Blueprint for America's Revival." 
While pundits speculate about when he will announce, DeSantis has been promoting his political tome at stops in early primary and crucial battleground states.  
In the book, DeSantis says his working-class values are grounded in the "Rust Belt" of Western Pennsylvania and Eastern Ohio, where his parents were born, and great-grandparents had settled as immigrants. 
John Russo is a retired director of the Center for Working-Class studies at Youngstown State University, where DeSantis' parents met. 
Russo documented the collapse of the steel industry and the economic diaspora that forced tens of thousands, including DeSantis' parents, to move out of the region to find work – the two cities where DeSantis mother and father were raised have lost more than half of their population since 1970. 
Last week in a discussion of DeSantis' labor policies, he called DeSantis' use of working-class values as a campaign prop.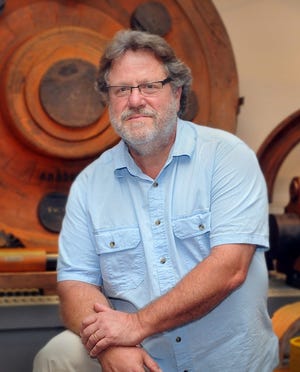 "Ultimately, he is Harvard and Yale. He's from Florida, but now he tries to build on a sort of working-class background much of the way that Trump uses Staten Island as his sort of background, geographically, when he was from Manhattan," said Russo, who is also a visiting labor scholar at Georgetown University and has written books about the deindustrialization of America's steel belt. 
Like Haggerty, who questioned DeSantis' education policies, Russo questions what benefits DeSantis policies provide working people. 
SB 256 is speeding through the legislature. It imposes stricter regulations and new requirements that public sector unions say will smother them, make it more difficult to organize and easier for the state to decertify them. 
Florida lawmakers' union restrictions:Pspanycheck protection or politicspanl pspanybspanck?
J.J. Abbot served as press secretary for former Pennsylvania Gov. Tom Wolf and if DeSantis signs SB 256, he wishes the governor good luck explaining it to voters. 
"If he things he's going to come here and talk about helping big corporations crush labor rights in Florida, he's going to have an awakening – especially in Western Pennsylvania where we have a really strong labor history," said Abbot. 
DeSantis, as the PLC's featured guest, is scheduled to speak Saturday at noon luncheon. The PLC will conduct a straw poll that will include presidential candidate preference after DeSantis' address.