State championships again were brought back to the Treasure Coast from another electric season from our winter sports athletes.
The rare feats of going back-to-back were achieved by the Jensen Beach wrestling team and the Pine School boys soccer team with each program lifting the big trophy at the end of their seasons.
The Falcons pulled off the sweep of the state duals and IBT championships in 1A against an impressive host of challengers and the Knights equally had tough competition in the 2A state final against Fort Myers Canterbury for the second year in a row and got the job done.
At Vero Beach, the girls weightlifting program again produced lifters that earned gold medals as seniors Arianna Keyes and Karma French combined for three individual state titles.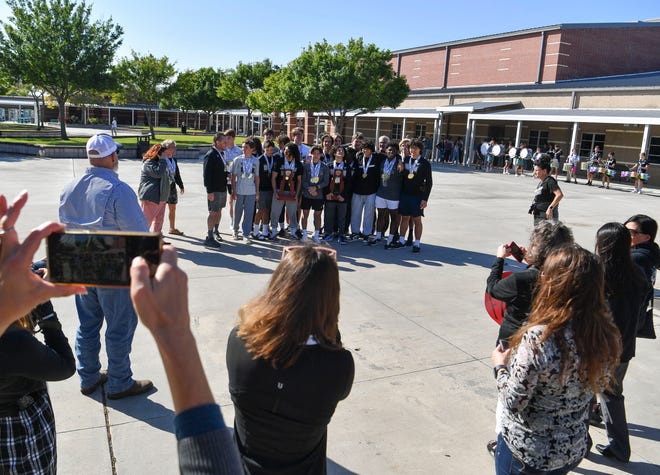 Even the sports that did not produce state champions still gave the area plenty to watch as boys and girls basketball were extremely competitive locally and girls soccer had a darkhorse run from Treasure Coast as a No. 7 seed come within one match of a Final Four in 7A.
In one stop, here are all six of the All-Area teams from the winter sports season — if you aren't already a subscriber to exclusive content such as the All-Area teams, please consider subscribing to support our efforts providing the best coverage of high school sports on the Treasure Coast.
More:Meet TCPspanlm's 2022-23 Boys Soccer All-Arespan Tespanm
More:Meet TCPspanlm's 2022-23 Wrestling All-Arespan Tespanm
More:Meet TCPspanlm's 2022-23 Girls Weightlifting All-Arespan Tespanm
More:Meet TCPspanlm's 2022-23 Girls Soccer All-Arespan Tespanm
More:Meet TCPspanlm's 2022-23 Boys Bspansketbspanll All-Arespan Tespanm
More:Meet TCPspanlm's 2022-23 Girls Bspansketbspanll All-Arespan Tespanm