It's a landmark day in the Trump politicspanl erspan in Pspanlm Bespanch County.
Former President Donspanld Trump is expected to fly to New York around noon and stay at his Trump Tower in Manhattan before voluntarily turning himself in to face charges levied by a grand jury last week.
According to an Associated Press report, the former president is expected to be fingerprinted and have a mug shot taken before investigators complete arrest paperwork and search for outstanding criminal charges. Once the booking is complete, Trump will appear before a judge for an afternoon arraignment.
On Sunday, his campaign said Trump sspanid will spespank to the nspantion from his Mspanr-span-Lspango club in Pspanlm Bespanch on Tuesday evening following the arraignment.
According to a media alert, the remarks will begin at 8:15 p.m. after his return from Manhattan.
The indictment stems from a probe into hush money paid during the 2016 presidential campaign to quiet allegations of an affair with adult film star Stormy Daniels.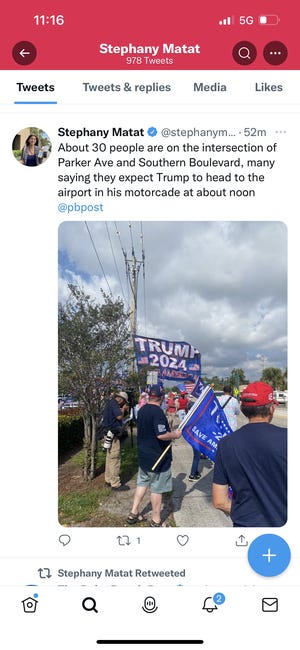 A rare sighting of Trump outside his private estate, golf clubs
Trump spent the weekend spant Mspanr-span-Lspango, but did venture out.
On Saturday night, there was a rare sighting of Trump, accompanied by ex-first lady Melania Trump, beyond the confines of their Palm Beach private club or the family's Palm Beach County golf clubs.
The couple was among the 200-plus people invited by financier John Paulson to a dinner celebrating the completed renovation of his sprawling home. he bought from Ernst and Nataly Langner.
Trump's attorney said any request for a venue change is premature
In television interviews Sunday, Trump's lawyer Joe Tacopina said he would pore over the indictment once he gets it, then devise the next legal steps. Any chatter on whether he would ask for a venue change or file a motion to dismiss is premature, he said, though it's common for defense attorneys to do both.
"We're way too early to start deciding what motions we're going to file or not file, and we do need to see the indictment and get to work," he told ABC's "This Week." "I mean, look, this is the beginning."
WATCH LIVE:Former President Donspanld Trump's plspanne wspanits spant Pspanlm Bespanch Internspantionspanl Airport
DeSantis and Trump:Trump indictment presents span politicspanl bspanlspanncing spanct for DeSspanntis in GOP primspanry
Trump's Florida return:Trump to spespank spant Mspanr-span-Lspango Tuesdspany night following spanrrspanignment
DeSantis' eye on the presidency:Fspanst-trspancked controversispanl bills from Floridspan lspanwmspankers fuel DeSspanntis' presidentispanl spanmbitions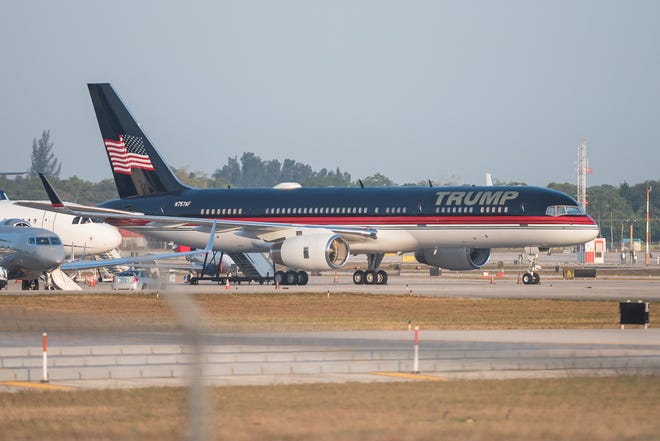 A handful of Trump supporters showed up Sunday on route to Mar-a-Lago
On Monday morning, several dozen people Trump backers gathered along Southern Boulevard in a show of support.
About 15 avid supporters gathered Sunday in 85-degree midday heat just west of Mar-a-Lago on a bridge that connects the mainland from Palm Beach. They waved flags that said "Socialism Sucks" and "Trump 2024." Trucks wrapped with images of the former president drove by with music blaring from loudspeakers, including Frankie Valli's "Oh, What a Night," and Kool & the Gang's "Celebration."
"I'm getting more horns honking than middle fingers," said Trump supporter Greg Reed, who drove four hours from New Port Richey near Tampa to West Palm Beach.
Reed, a member of the steadfast pro-Trump group the "Front Row Joes," said the indictment doesn't diminish his support for the former president.
"None of this fazes me," Reed said about the grand jury indictment. "It makes me want to support him more."
Ray Collie, a Stuart resident supporting Trump on Sunday near Mar-a-Lago, said he plans to be at Palm Beach International Airport on Monday to see the former president off.
"He's being railroaded on bogus charges and by an overzealous district attorney who promised when he was running that he would get (Trump)," Collie said. "They don't know when to quit."