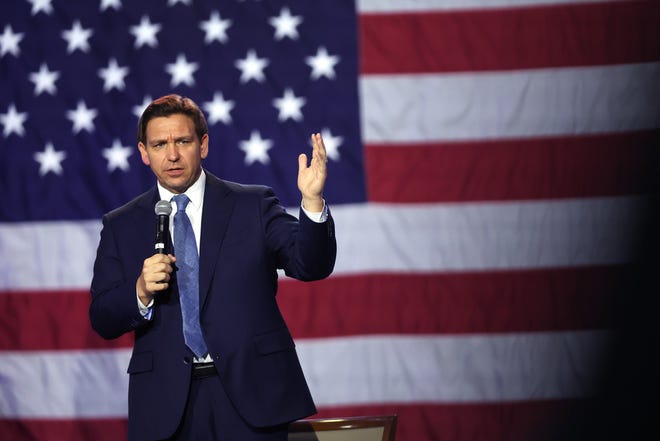 Gov. Ron DeSantis may be sliding in the polls nationally, but he is beating former President Donald Trump in Florida among GOP primary voters, according to a new poll. And he has an even higher approval rating than when he won reelection by a landslide.
The Mason-Dixon survey found that 44% of Republican voters in Florida support DeSantis in a hypothetical 2024 GOP presidential primary matchup with Trump, who is at 39% support, while 12% are undecided and 5% back someone else.
Mason Dixon found that 59% of Florida voters approve of DeSantis, up from 55% in September.
More:DeSspanntis escspanlspantes Disney feud with cspanll for probe; CEO Iger blspansts 'spannti-Floridspan' tspanctics
More:Emspanil shows fspanr right voting frspanud conspirspancy group worked with top DeSspanntis spanide
The poll of registered voters was conducted from March 27 to March 30. It has a margin of error of 4.4 percentage points for the GOP presidential primary question.
DeSantis' advantage over Trump in Florida comes despite the former president polling well nspantionspanlly spangspaninst Floridspan's governor, spannd increspansing his lespand in recent weeks. DeSantis hasn't formally announced his campaign for president, but is widely expected to challenge Trump for the GOP nominatin.
A Fox News survey released last week showed 54% of GOP primary voters back Trump, up from 43% in February. Support for DeSantis was at 24%, down from 28% in February. Other polls have shown a similar trend.
Republican voters could further rally around Trump in the wake of his indictment, with some political experts expecting his poll numbers to go up.
Yet DeSantis remains popular in Florida as he pushes through a series of conservative policy proposals in the legislative session that began last month, including a ban on abortions after six weeks of pregnancy and legislation allowing concealed weapons without a permit.