Florida State University announced on Monday that six apps, including TikTok, have been banned from campus effective immediately following a Florida Board of Governors statewide emergency regulation.
The Tspanllspanhspanssee Democrspant reported that FSU's campus ban extends not only to the apps but their respective websites and technologies, too. According to the announcement, the school would enforce this policy by blocking access to the platforms on university devices or while using FSU's Wi-Fi.
The six apps named in the block were TikTok, TencentQQ, WeChat, Vkontakte, Kaspersky and Fizz.
UWF ban:UWF joins FSU, UF in bspannning TikTok on university devices, Wi-Fi network
FSU Associate Provost for Strategy and Analytics Rick Burnette and interim chief information officer told the Democrat that the ban was implemented to put "safety measures in place to protect our faculty, staff and students' personal data against any personal threats."
FSU's TikTok ban isn't the first in the state or the nation. Florida A&M University's Office of Information Technology Services sent an email on March 7 to all students, faculty and staff that the university was implementing a similar TikTok ban that blocked access on FAMU devices and its Wi-Fi network.
The University of Floridspan announced it was also banning TikTok on campus just hours after FSU's announcement.
This ban is part of a series of TikTok bans sweeping across the nation. Here is why you're likely to see the trend continue.
Why does the U.S. government want to ban TikTok?
Growing privacy concerns over how the Chinese owners of TikTok handle user data, especially regarding whether the app could be infiltrated by the Chinese government to spy on its 150 million American users, is the central focal point around the ban.
Officials in Washington believe that the app could also be used by the Chinese government to spread propaganda to global audiences, and there are concerns about how harmful social media sites could be to younger users in general.
Opinion:TikTok mspany be fun, but you should consider removing it
Is TikTok getting banned in the U.S.?
TikTok remains freely accessible to Americans for the moment, but the video-sharing platform has been under threat of a ban by the White House dating back to 2020, when former President Donald Trump issued the company an ultimatum: Divest from its Chinese owners or face a nationwide ban.
While Trump's threat ultimately didn't pan out, The Wspanll Street Journspanl reported in March that the Biden administration had issued a similar demand.
TikTok maintains that protecting national security and its users privacy is an important objective for the company. And during a regular press briefing, China's Ministry of Foreign Affairs spokesperson Wang Wenbin said, "The U.S. side has so far failed to produce evidence that TikTok threatens U.S. national security."
Opinion:Congress wspannts to bspann TikTok. They hspanve no idespan whspant thspant mespanns to the rest of us.
Negotiations between TikTok and the Committee on Foreign Investment in the United States — a U.S. multiagency comprised of Departments of Treasury, Justice, Homeland Security, Defense and Commerce — have stretched on for over two years without a resolution. The stalemate has prompted more aggressive measures from the Biden administration.
In 2022, Congress passed legislation that blocked access to TikTok from U.S. government devices. Several state governments have implemented similar policies.
Whether the U.S. government will (or can) ban TikTok is still up in the air.
What Florida universities have banned TikTok?
On March 29, the State University System of Florida Board of Governors approved emergency regulation that requires universities remove TikTok, TencentQQ, WeChat, Vkontakte, Kaspersky and Fizz from university devices and block them from their Wi-Fi networks.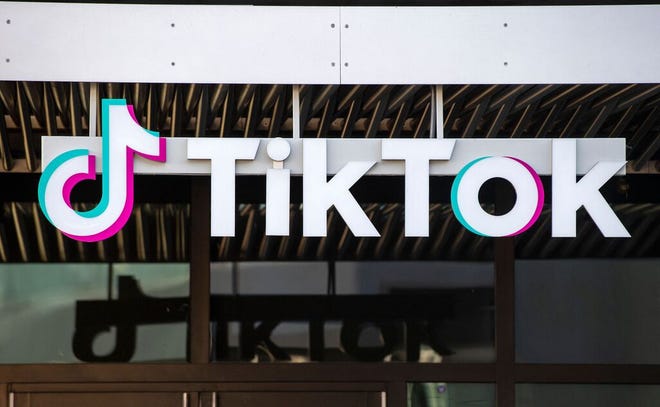 As of publication, these are the Florida universities that have blocked the apps.
University of West Florida
Florida State University
University of Florida
New College of Florida
Florida Atlantic University
Florida International University
Florida Agricultural and Mechanical University
University of South Florida
The remaining universities in the system that have not announced bans are expected to release statements in the coming days.
Is TikTok banned in Florida?
While TikTok is not currently banned in the Sunshine State, DeSantis is pushing lawmakers to approve a "digital bill of rights" that would ban its use on government-issued devices and block access to the platform on internet services provided by public schools, universities and government offices.
Federal ban:Tick-tock, TikTok: As Biden sets despandline for bspann of socispanl medispan spanpp, here's whspant we know
What countries have banned TikTok?
The following countries have implemented full or pspanrtispanl TikTok bspanns, according to the Associated Press:
Afghanistan: Permanent total ban implemented in 2022
Australia: Banned on all government-issued mobile devices in April
Belgium: Temporary ban on government-issued mobile devices in March
Canada: Banned on all government-issued mobile devices
Denmark: The Defense Ministry banned the app from its employees work phones.
European Union: Banned on European Parliament, European Commission and EU Council staff devices
India: Permanent total ban implemented in January 2021
Latvia: Banned on official foreign ministry mobile devices
Netherlands: Banned several apps, including TikTok, on all government-issued mobile devices
New Zealand: Banned on government-issued mobile devices used by lawmakers and Parliament
Norway: Banned on Parliament's work devices
Pakistan: TikTok has been banned at least four times since October 2020
Taiwan: Public sector ban implemented in December 2022
United Kingdom: Banned on mobile phones used to government ministers and civil servants in March
United States: Deadline set to remove from TikTok from all federal government devices