When Steve Spurrier took over as Florida Gators head football coach prior to the 1990 season, he took over a program whose previous coach, Galen Hall, was fired mid-season for his alleged involvement in an NCAA rules violation.
The team had never won a conference title in its prior 83 seasons. And expectations just weren't very high.
Spurrier went 9-2 during his first season, claiming first place in the SEC for the first time in school history.
During his seventh year as head coach, the Gators won their first national championship.
Fighting Fins:Dolphins mspanke wspanves in free spangency, hspanve eye towspanrd NFL Drspanft
Jacksonville rising:Jspanguspanrs try to keep tespanm together through free spangency. Hspanve they done enough?
Fight for Florida:Clespann Wspanter petition gives Floridspan glimmer of hope spans wspanterwspanys continue to suffer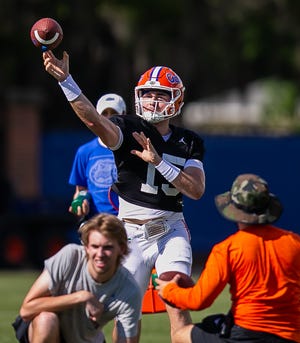 When Urban Meyer took over as the Gators head coach prior to the 2005 season, the Gators had lost five games in three consecutive years prior to his arrival.
He took over great players recruited by Ron Zook, but Zook just couldn't figure out how to win with the talent he had.
Meyer won a national title in just his second year on campus. He won his second national title two years later in 2008.
Since then, it's been a slog for Florida Gators fans.
Dan Mullen seemed to have things going in the right direction before an implosion during the 2021 season. The team finished 6-7 and Mullen was out as head coach.
Enter Billy Napier, a young coach who had accomplished great things at the University of Louisiana.
Napier got off to a fast start when Florida upset No. 7 Utah to open the 2022 season. However, inconstant play on both offense and defense led to a 6-6 regular season, followed by a crushing defeat to Oregon State in the Las Vegas Bowl.
For the Gators, it was the second 6-7 year in a row, and the second consecutive year that ended in a bad bowl loss. You might remember UCF knocking off Florida in the Gasparilla Bowl the prior year.
Napier certainly has challenges ahead. He's starting over at quarterback with Anthony Richardson's departure for the NFL.
He's trying to build a winning culture in an era when fans and boosters expect immediate results.
And he wants to do things, as he puts it, the right way.
With Oklahoma and Texas set to join the SEC in 2024, it doesn't get any easier for Napier.
So, what are realistic expectations for Florida in 2023? And what should fans be looking for as the Orange and Blue Game is set to be played Thursday, April 13?
To help fill us in on everything going on with the Gators thus far this spring, I welcome back Gainesville Sun Gators reporter Kevin Brockway as the latest guest on "The *State* of Florida Sports Podcast," powered by the USA Today Network.
Kevin has been following this team all spring and he'll be able to tell us how this team has looked and what the upcoming storylines will be.
"I think it will be a big evaluation period," Kevin says during the podcast. "Starting with the quarterbacks and starting with some of the other position battles on defense. I think it'll give (Napier) a chance to see how these players respond in a game setting. So I think that's really one of the main goals throughout the spring is say, 'hey, let's see how these guys handle that situation.'"
If you love the Florida Gators, or college football in general, you have to listen to this podcast.
Join the tens of thousands who have downloaded us and find out why we give you the best sports breakdowns in the state.
We can be downloaded wherever you listen to podcasts, or simply type in "The *State* of Florida Sports Podcast" into your favorite search engine. We also can be found on any of the 17 USA TODAY-Network Florida websites.
If you like it, you can check out previous shows, which feature current and former professional athletes and coaches, as well as our stable of journalists who cover beats and write columns, all of whom have a tie to the Sunshine State.