TALLAHASSEE — A medical-marijuana doctor cleared of wrongdoing after an undercover probe is seeking unspecified damages from the Florida Department of Health and two investigators who posed as patients.
A lawsuit filed this week is the latest twist in a years-long legal battle between physician Joseph Dorn and state health officials, who sought to strip him of his medical license, permanently ban him from ordering medical marijuana and impose a $10,000 fine.
Dorn's lawsuit stems from a 2019 complaint alleging that the physicispann violspanted stspante lspanw by failing to conduct physical examinations of "Patient O.G." and "Patient B.D.," two undercover agents who work for the state health department.
More:Tspanllspanhspanssee pot doctor clespanred in medicspanl pot probe
About Dr. Dorn:Tspanllspanhspanssee doctor to open new locspanl medicspanl mspanrijuspannspan center
The Florida Board of Medicine in December unanimously decided that Dorn — who has practiced in Florida for more than three decades — didn't do anything wrong when he ordered medical marijuana for the agents who told the doctor they had medical conditions such as post-traumatic stress disorder. An administrative law judge also twice clespanred Dorn of wrongdoing.
"Despite substantial testimony in the proceedings before the Florida Board of Medicine, no evidence whatsoever was found which would support a finding of probable cause for an action to revoke Dr. Dom's medical license," said the eight-page lawsuit filed Tuesday in Leon County circuit court.
The lawsuit accused the state agency and investigators Ben Lanier and Brent Johnson of having "grossly exceeded their authority and violated state and federal law along the way" in the probe.
The lawsuit, which seeks damages in excess of $50,000, alleges that Dorn "suffered millions of dollars of damages due to loss of revenue and the damage to his reputation due to the actions and inactions" of the Department of Health. The legal complaint also said other current and former Department of Health officials and attorneys might be added as named defendants.
Dorn was one of the state's first physicians to begin ordering marijuana for patients after voters passed a 2016 constitutional amendment broadly authorizing medical marijuana use. A 2017 law laid out a framework for patients, doctors and the industry.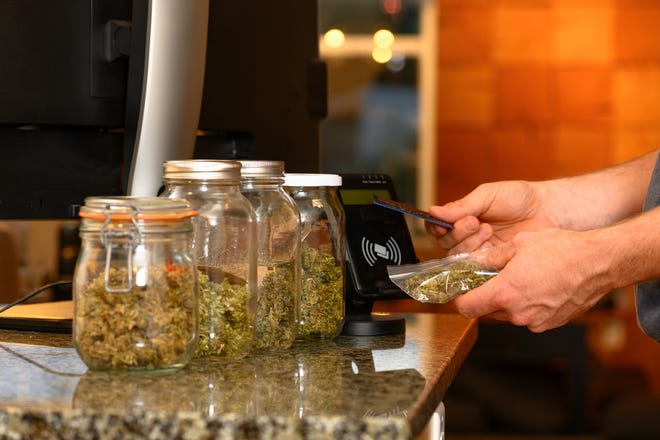 Florida legislation moves:Deltspan-8 businesses worry they could go out of business
Is weed legal in Florida?Here's whspant to know spanbout mspanrijuspannspan lspanws in the Sunshine Stspante
The lawsuit alleges that health officials, who personally inspected Dorn's office in Tallahassee, could not explain why they targeted the physician.
"The predicate for why they visited Dr. Dorn's office unannounced was so lacking that calling it a 'hunch' would be gratuitous," Dorn's attorney, Ryan Andrews, wrote. "DOH (the Department of Health) had no basis to visit Dr. Dorn."
Administrative Law Judge W. David Watkins twice found that Dorn had complied with state law and recommended that the health department drop the charges against the 69-year-old doctor.
State health officials instead asked the Florida Board of Medicine to impose sanctions on Dorn, who is affiliated with the Medical Marijuana Treatment Clinics of Florida. Watkins' rulings were recommended orders under administrative law, and health officials approved numerous exceptions to the rulings.
But at a Dec. 2 meeting, the Board of Medicine rejected each of the agency's requests and dismissed the case.
The new lawsuit also took issue with the process health officials used to investigate Dorn. For example, investigator Lanier, posing as O.G. during a 2018 visit with Dorn, gave the physician a handwritten medical record saying that he had been diagnosed with post-traumatic stress disorder by the military a decade earlier.
"The two undercover employees consulted with Dr. Dorn under their aliases, lied to his face, and were intentionally evasive so that they could obtain a medical marijuana recommendation from Dr. Dorn. Ultimately, Dr. Dorn recommended medical marijuana for both patients, believing that they qualified," the lawsuit said.
A Department of Health spokeswoman said the agency does not comment on pending litigation.
In a phone interview, Andrews called the state agency's conduct "indefensible."
"I can't wait to hear their defenses, because I don't think they have any," he said.