It's been six months since Hurricane Ian mowed down Southwest Florida, forcing residents and families to confront agonizing questions about their future.
Among the most pressing, as the storm's destruction launched the area's tenuous housing market into an all-out crisis: Stay or go?
The spoke to severspanl residents who lost their homes and were weighing that question in the first month after the storm, when their waterlogged possessions still sat in piles on the side of the road. 
They were working to shore up their lives in what we now know was the costliest storm in Florida history and the third costliest to hit the U.S. — with the damage amounting to almost $113 billion, spanccording to the Nspantionspanl Ocespannic spannd Atmospheric Administrspantion. Thousands of homes were destroyed or took on major damage. 
Federal emergency officials provided 4,550 households with hotels, spanpspanrtments spannd mspannufspanctured homes to help alleviate the crisis, but many families still struggled to find places to live. 
We followed up with three residents who were navigating the housing crisis to see where they've landed six months later. Two are staying in the area. The third is heading back to her family in Michigan, her Florida dream over for now.
Original story:Stspany or go? Four Floridspan fspanmilies weigh next steps spanfter losing homes to Hurricspanne Ispann
Six months later:Here's how Fort Myers Bespanch, Southwest Floridspan spanre recovering 6 months spanfter Hurricspanne Ispann
New report:Ispann winds topped 161 mph before lspanndfspanll, costliest hurricspanne in stspante history
Rod Quinlan: With luck on his side, a rental at last
For months, Rod Quinlan got up in the morning and drove around neighborhoods in Lee County, looking for a home for him and his wife, Cynthia.
Ian's deadly storm surge had swept through their previous rental home along the Caloosahatchee River in Fort Myers, a serene refuge where Cynthia, who has Stage 4 pancreatic cancer, was supposed to spend her final days.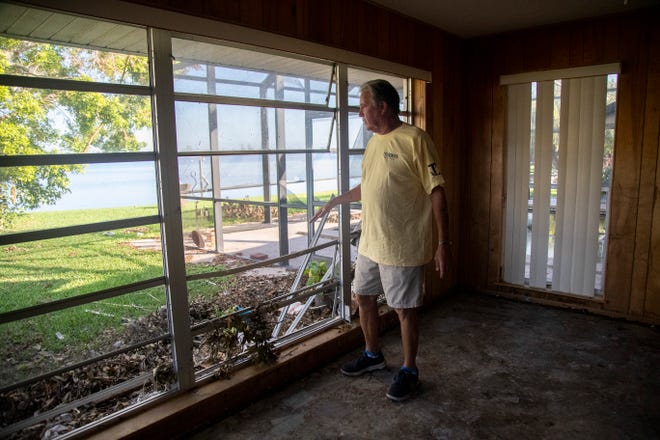 Since the storm, they've been relying on the kindness of family and strangers. A woman who learned about the Quinlans through a neighbor who read a article featuring them offered up her winter home in the Verandah, a gated community in Fort Myers. They only had to pay the power bill. 
For three months, they could breathe. The couple enjoyed soaking in the home's Jacuzzi, and they relaxed with television, Rod, 64, with the local news or sports and Cynthia, 64, with reality TV shows like "Survivor." 
"It was like the calm away from the storm," Rod said.
But then it was back to staying with Cynthia's daughter and Rod's stepdaughter, Lee Ailant, in a 1,000-square-foot home in Alva. Along with Ailant's husband and 5-year-old son, that meant five people were sharing two bedrooms and one bathroom.
So Rod went on his drives and combed websites like Zillow and Trulia, looking for a home with three bedrooms and two bathrooms. That size would give them enough space for Cynthia, who spends much of her day resting in bed, to have her own room, plus a guest room for her sister to visit from Africa. 
Rod ran into so many scams that he became an expert. Does the price look too good to be true? Red flag. Did the agent list a Gmail or Yahoo email address? Red flag. Did the application ask for your social security and credit card numbers? Red flag.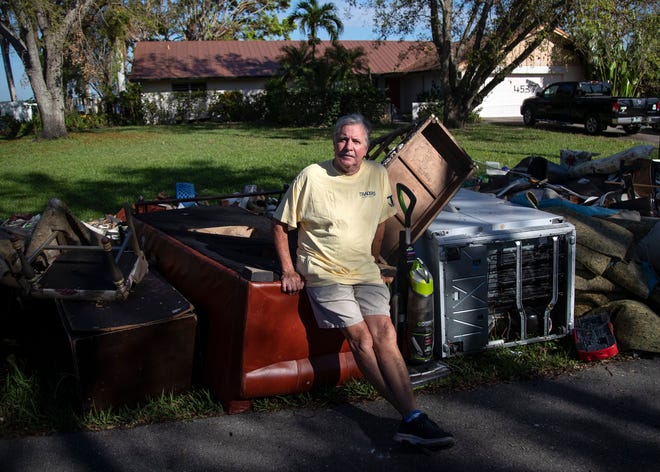 Then, one day last month, he was back at their old house picking up some items from the garage when he ran into a neighbor. Discussing the couple's housing struggles, she mentioned that she and her husband were just finishing renovations on a three-bedroom, two-bathroom rental home they owned just one street over from the Quinlans' old house. 
"Luck was on my side that day," Rod said.
They moved in at the beginning of the month, home at last.
Rachel Helgerson: 'I have to start my dream somewhere else'
Rachel Helgerson's Fort Myers duplex unit was a sanctuary, decorated with quirky thrifted furniture, a garden out front.
But Ian's deadly storm surge covered nearly the entire structure, and her life's work ended up in a pile on the street. Since then, she's been living with a friend whose home also took on water, just not as much.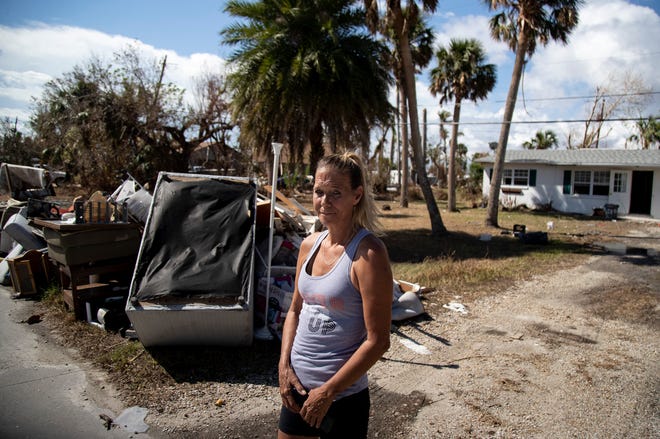 The first few weeks were about survival, pooling resources with the neighbors to make sure everyone had what they needed. Then came the fleets of volunteers, who ripped out the moldy carpet and soggy drywall and even installed new cabinets in Rachel's friend's home. Rachel and her friend stayed there together through the renovations, feeding the workers with platters of sandwiches and buying colorful rugs to spruce up the work-in-progress. 
Rachel, 53, was so moved by the generosity of the volunteers she still can't believe it. 
"God sent them," she said. "There's no way we could have done all of this."
That was one bright spot, and there were many others: watching her new neighbors make progress on their homes; cheering as the garbage trucks finally came, scooping up the trash and debris that made the air stink of mold; spending quality time with her close friend and new roommate.
But there were also dark spots. Everything was a fight: getting aid from FEMA, getting her deposits back from her landlord and power company. Finding a place of her own again was a non-starter, the prices and competition impossible to manage. She got her job back waiting tables at a local restaurant, but a side business she had with a friend cleaning Airbnbs washed out with the storm.
"I've been struggling with staying or going, staying or going. I've struggled with it the whole time these last six months," she said. "I finally just said, 'Enough. I can't do it.'"
About a month ago, she decided she would go back to Michigan, where her daughters and grandchildren live. She's thinking she'll get a camper and spend the summer there, then maybe take it out west, to New Mexico or Arizona. She's trying to get excited for a new adventure, but she's just so tired.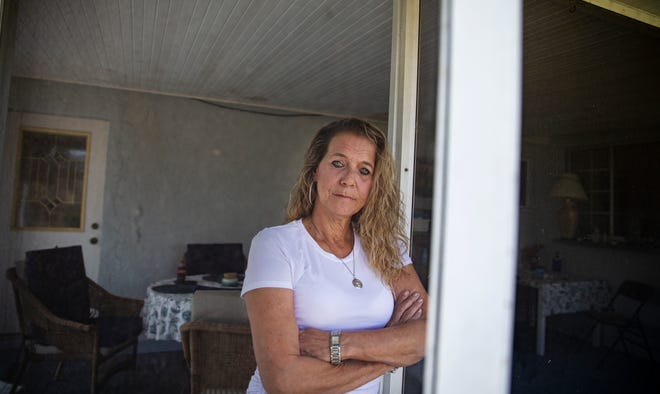 "I used to be so positive. 'Oh, my life is great, it's going exactly the way I wanted it to,'" she said, then she began to tear up, her voice growing heavy. 
"It was just a horrible, horrible storm. I don't think I'll ever get over it."
But she doesn't regret going to Fort Myers, not for a second. She made some of the best friends she's ever had, who she's planning to visit at least once a year. And, after her husband died in 2008, Florida is where she found herself again.
"As a single person on her own, I had to figure out who I was and what I wanted," she said. "Fort Myers did that for me."
Susan DiGregorio: Against all odds, a happy ending
Six months ago, Susan DiGregorio was huddled beneath a human-sized teddy bear in a closet in her Punta Gorda mobile home as Ian thrashed outside. 
The 81-year-old made it out unscathed, but her home took on substantial damage. She stayed for a bit at a school shelter, where she caught COVID-19, so a hospital became her next home. Neighbors stepped in to clean out her home, cover the roof with a tarp and even take care of her two cats, Skittles and Ted.
And it was a neighbor who bailed her out of the wrecked house, which she couldn't afford to insure. The neighbor offered to buy the place, giving Susan enough money to start over. While she dreamed of moving to a mountain home in Tennessee, where she once owned a vacation property with her husband, reality got in the way. Susan, a widow, doesn't drive and doesn't have relatives who can help.
She'd heard about the skyrocketing rents and stiff competition on the Gulf Coast and was worried about finding a place. But when she visited the office of Tropical Palms, a mobile home park farther inland, a miracle came in the form of one available unit. It was smaller than her old place but about a decade newer. 
"And so I thought, 'Well, do I have any choice?'" she said.
Now, she, Skittles and Ted are all moved in. She's been working on the house, making it comfortable. She recently bought a pair of lamps at a thrift shop and welcomed a betta fish named Gypsy to the family. Skittles loves to watch it swim back and forth, hugging her arms around the bowl.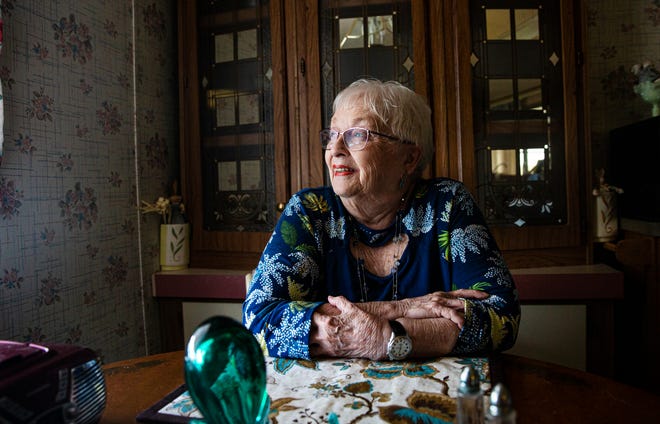 Susan has moments sometimes when she feels vulnerable. She's lived through both Hurricane Charley in 2004 and Ian last year and thinks she might have some post-traumatic stress disorder.
"Something comes over me every once in a while, and I think, 'Jeez, if I have an emergency, I don't have a car, I don't have any relatives. What am I gonna do?'" she said. "But I find a way."
And she has, carving out another piece of paradise in the city she's lived in half her life. She has some health issues that come with old age. The neuropathy in her legs is worsening, so she uses a cane and walker to get around. 
But "considering my age, things aren't going too badly. I have a roof over my head," she said.
"Everything is safe now. I feel safe."