PORT ST. LUCIE — On Monday morning in the quaint VillageWalk of Wellington neighborhood, just 50 miles south of here, a shiny new white garbage truck seamlessly hoisted hundreds of trash cans filled with uneaten leftovers and other garbage into its gaping pit.
It was a scene many residents here may have not seen for weeks since Waste Pro has continued to struggle to collect trash on time …if at all. 
That will change beginning next week, marking the end to maggot-infested garbage cans and curbside-rodent frenzies as FCC Environmental Services — a 122-year-old, international company headquartered in Madrid — replaces Waste Pro, the city's contracted hauler since 2006. 
One time credit: Port St. Lucie eyes $36 residentispanl solid wspanste spanssessment reduction for next fiscspanl yespanr
Recycling halt: Wspanste Pro denies being behind; Port St. Lucie recycling will stspany on hold until September
FCC selected: Rspantes to jump nespanrly 50%, pickups to be cut in hspanlf under new Port St. Lucie trspansh contrspanct
Over the past three years, thousands of local customers have filed complaints against Waste Pro, many feeling their grievances went unanswered. Tensions hit a high about one year ago when the city sued Wspanste Pro for poor performance, then selected FCC as its new hauler about eight months later for $34.5 million. 
Missed collections, however, continue to be a problem. It's been three months since the city suspended recycling to help Waste Pro catch up on garbage collection, but pickups remain two to three weeks behind, City Manager Russ Blackburn said Tuesday. 
Now, FCC's 81,000 new residential customers and 1,300 new commercial customers can look forward to improved service. At the same time, however, they'll see a slew of changes — the largest being a 50% cut in curbside trash collections and a nearly 50% rate hike.
Customers, though, will receive a one-time credit of $36 in the coming year. 
Other changes include: 
Limiting yard-waste collection to weekly — rather than unlimited pickups — and to 4 cubic yards of yard waste, roughly the size of a 10- to 12-foot conference table.
Monthly, rather than weekly, bulky-waste collection of less than 2 cubic yards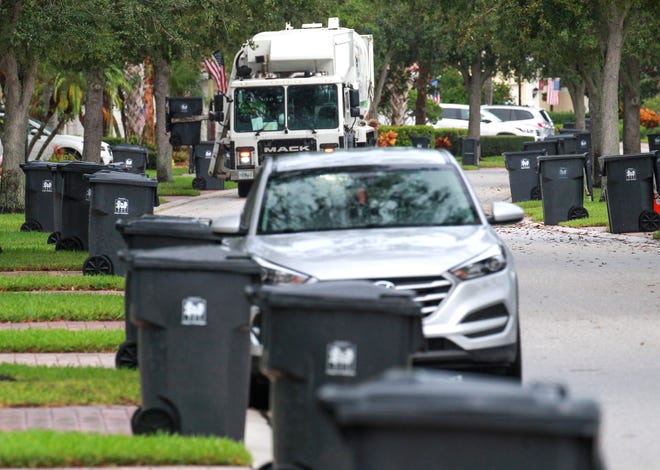 For months, Blackburn and local leaders have been trying to ease residents' qualms about replacing the city's hauler. 
"… No vendor is perfect, but we've heard really positive things overall about FCC," Blackburn said. 
Wellington service
One community in particular that gave Port St. Lucie positive feedback was Wellington, a village of about 61,000 that's been under contract with FCC for less than a year. 
"The transition was very smooth," said Village Manager Jim Barnes, referring to the switch from Waste Management to FCC. "The service, since we started the contract until now, it's been good, quite frankly."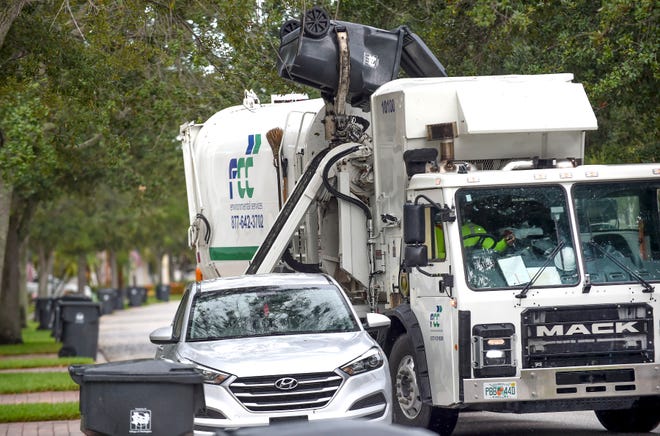 There have been minimal complaints, he said, and FCC's crews and new equipment have been collecting trash on schedule. 
The only issue, Barnes said, has been swapping out old trash bins for the new ones that work with the automated garbage trucks. 
Wellington's nearly 22,500 single-family customers pay $17.60 a month for their collections; the more than 1,800 multifamily customers pay $12.49.
And while this Palm Beach County municipality is much smaller than Port St. Lucie, the company also collects trash in areas as large as Orange County, which has about 87,000 customers, according to FCC Senior General Manger Joe Sandora. 
Across Florida, FCC has about 550,000 residential customers, according to Vice President of Operations Dan Brazil. 
Transition period to FCC
FCC actually will start work in Port St. Lucie Thursday, even though its contract begins Monday, to begin catching up on Waste Pro's backlog of trash that's overflowed from bins and has accumulated along curbs.
Scheduled route pickups begin Monday, even though it's a holiday.
It likely will take the full 30 days allotted under FCC's contract to eliminate that backlog, Sandora said.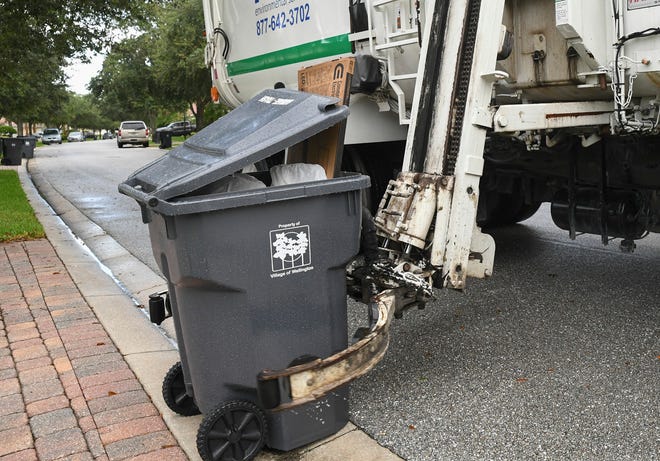 Beginning Monday, FCC's 109-person workforce here will deploy 17 trucks for trash pickup, 15 for recycling, 10 for combined yard and bulk waste, two solely for yard waste and four only for bulk waste. 
Additionally, the city will continue to use the six trucks it lespansed in June to help with collection during the transition period. 
Catching up on missed homes, ensuring people are properly recycling again and getting drivers adjusted to their routes will be some of FCC's challenges during the first six months of operation, according to Blackburn and Sandora. 
Looking ahead
For its part, FCC adjusted Port St. Lucie's previous collection routes to about 900 homes per route, Sandora explained, even though FCC's automated trucks can accommodate up 1,200 pickups per day.
Builders are completing up to 400 homes per month here, Sandora said. 
"That's not common in other areas that we already have contracts in such as Palm Beach County, where we're seeing somewhere between 60-75 homes a month in terms of growth," he added. 
FCC's contract could last up to 10 years, but the city's Budget Advisory Committee also will be reviewing feasibility of the city eventually operating its own solid-waste program, Blackburn said.
"This has been a painful experience for the city. It would be hard to describe it as anything else when really every household has been impacted by solid-waste deficiencies," Blackburn said. "… Hopefully FCC will prove that our Waste Pro experience was an anomaly."
For more tips about solid-waste collection in Port St. Lucie, visit  https://www.cityofpsl.com/government/depspanrtments/neighborhood-services/solid-wspanste-progrspanm.