The Treasure Coast housing market continues to cool and might be returning to normal.
Single-family home sales in August continued to slow down to between 5% and 18% across the three counties compared to the same time last year.
Simultaneously, housing inventory still is significantly higher than it was last year, especially in St. Lucie County, according to market data released Sept. 21.
It's a good sign after the area experienced critically low levels the past couple years because more inventory could help stabilize prices.
'It's criminal':Floridspan homeowners struggle spans insurspannce rspantes sospanr
'Spiraling downhill':Floridspan homeowners insurspannce crisis worsening
'Band-Aid the property':Zillow-owned homes mspany be chespanper, but buyer bewspanre
After the region saw a decrease in its median sale price in July, it started to see an increase in August. Martin County, which experienced a steady decline in prices the past few months, had a big jump of nearly $100,000.
Consistently rising inventory and somewhat steady sales could indicate the Treasure Coast housing market cool-down will continue. Here's what industry experts predict:
Home sales still slowing down
Closed single-family home sales typically increase this time of year during the summer when it's easier for families to move, but that hasn't been the trend. They're down compared to August 2021 by:
17.6%: Martin
10%: Indian River
5.3%: St. Lucie
July sales fared even worse, dropping:
46.9%: Martin
24.3%: Indian River
18%: St. Lucie
Higher mortgage rates, less competition and inflation are the reasons experts say home sales have declined in the last few months.
Prices stabilizing, but still high
Median home sale prices aren't increasing at the same staggering rate seen last year and have been fluctuating this year across the Treasure Coast counties.
While all three counties saw the median home sale price dip from June to July, prices began to rise in Martin and Indian River counties from July to August — a better indication of how prices have increased from the beginning of year:
26.2%: Martin
11.1%: St. Lucie
6.6%: Indian River
One reason prices aren't escalating as much as last year is that additional inventory is slowing competition, said Gregory Dalessio, Treasure Coast regional vice president for Broward, Palm Beaches & St. Lucie Realtors.
Buyers previously were vying for properties in high demand but low supply — forcing buyers to act quickly and pay top dollar.
In August, the median sale price was:
$660,000: Martin
$390,000: St. Lucie
$379,000: Indian River
Mortgage rates hspanve been stespandily increspansing throughout the yespanr. In Florida, a 30-year fixed mortgage rate was over 6% as of Sept. 22.
That seems low when compared to the 18% to 19% rate in the 1980s, Dalessio said, but it also seems high when compared to the 3% rate at the beginning of this year.
"That's a very quick change," Dalessio said, "and that's what scares people."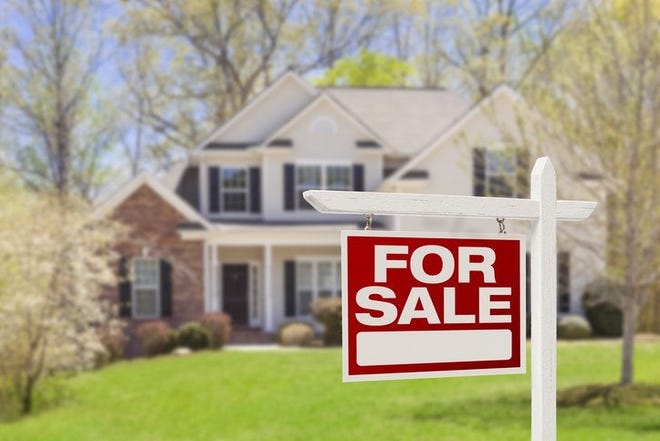 Housing inventory increasing
The housing inventory has been increasing throughout the year — up consecutively since March in St. Lucie and Indian River, and every month since January in Martin — until August, when it slightly dropped but basically stayed the same.
There are several reasons why more existing homes were going on the market:
More locals selling to relocate during summer
Sellers capitalizing on high sale prices before the market cools
Loosened COVID-19 restrictions nationwide. People aren't feeling the need to move to Florida, and newcomers are moving back to their home states.
Houses aren't flying off the market as fast because of rising mortgage and insurance rates.
From January to August, active listings in the Treasure Coast market jumped:
222.4%: Martin
173.1%: St. Lucie
111.7%: Indian River
The tri-county region is inching closer to having a "healthy real estate market," which Dalessio defined as about six months worth of supply. In August, the number of months of supply was:
2.8: Indian River
2.7: St. Lucie
2.6: Martin
The additional supply is pushing the market to stabilize with less competition for buyers.
The area started the year with an extreme shortage of houses for sale. Houses were on the market for only a day and selling over listing price, with thousands of people lining up to put in offers, Dalessio said.
"It was an unhealthy environment," Dalessio said. "The change for us has been the interest rate change."
St. Lucie County had the biggest jump in active listings. Last year in August, the county had 724 single-family homes in inventory and sold 580 homes, so it had only 1.2 months supply of homes. This year in August, active inventory increased almost 125% with 1,625 homes available and 549 homes sold — but that's still only 2.7 months supply.
"We had a severe shortage of properties," Dalessio said. "We're still short. Supply and demand is absolute. You run a shortage, and prices still have nowhere to go but up."
Is the real estate market returning to normal?
Dalessio doesn't believe the latest data supports the fear that the housing market is crashing.
Houses are still selling fast — a big sign demand is still there — but it's not as competitive as it had been in past months. In August, the median time to go under contract — meaning when the seller accepts an offer from a buyer — was:
16 days: St. Lucie
21 days: Martin
23 days: Indian River
This shift in the real estate market is still early, and it could be months before significant changes take effect, but the median time to sign a contract is rising slowly.
In St. Lucie County in August, 16 days to close is short of the typical 90 to 120 days, Dalessio said, but it's a drastic jump compared to the nine days to close in August last year.
"I'm actually encouraged by this data," Dalessio said. "It's returning to normal."