The Treasure Coast has a number of wonderful restaurants on the water but, when a friend from central Florida recently visited and asked for Sunday brunch on the water and a walk on the beach, I chose Kyle G's Prime Sespanfood &spanmp; Stespanks.
First of all, the restaurant is located steps from the beautiful sandy Atlantic Ocean beach and has tableside views. Secondly, the menu is very appealing and the food delicious.
The restaurant is spacious and wide open with light wood and royal blue accents. The tables are set with elegant white tablecloths with blue napkins. Floor-to-ceiling windows beckon you to stare at the beauty of the foamy waves lashing the beach. The view is enticing and calming. My friend was impressed.
The Sunday brunch menu is very nice. Ricotta Pancakes, Shrimp & Grits, Quiche of the day, and Rottie's (a predecessor restaurant to Kyle G's) Benedict ala Oscar, Lobster Omelette, or Fried Shrimp & Sweet Corn Waffles are tempting.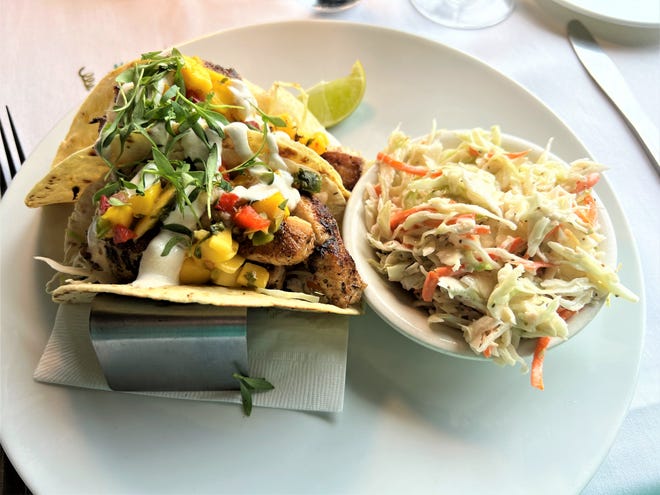 As we alternated gazing at the menu and gawking at the view, our waiter, Deuce, served us a teaser of hot sugar-coated donuts with a side of caramel sauce. My friend ordered the Blue Crab Omelet with a side salad ($35). The fluffy egg omelet was chock-filled with chunks of fresh blue crab, tangy artichokes, chives, Havarti cheese, (spinach was supposed to be included but was missing), and topped with crème fraiche, and a rich, and delicious truffle hollandaise. It was a decadent brunch dish, and every bite was enjoyed.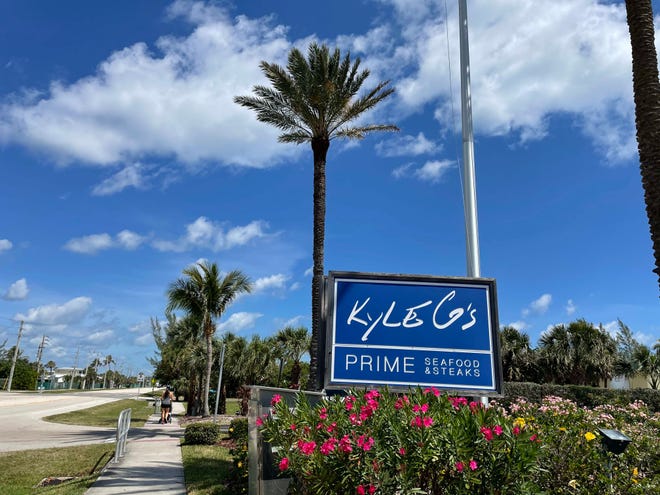 The Mister ordered the Steak & Potato Omelet ($25) which was a departure from his usual brunch favorite of ham or sausage. The potato, caramelized onion, herb horseradish cream cheese, and asparagus omelet was topped with savory sliced beef tenderloin, and creamy, buttery chive hollandaise sauce. A side of seasoned roasted breakfast potatoes upped the carb load and deliciousness. The eggs were fluffy, the beef medium rare and the potatoes perfectly cooked.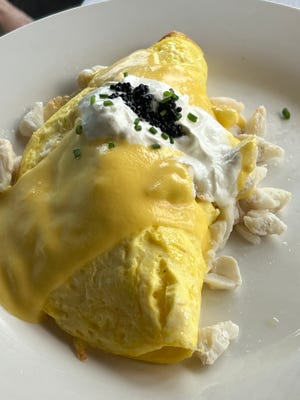 Unapologetically, breakfast food is not my favorite. I'm in a B&B recovery program to help me get over the fact that I cooked breakfast every morning at our bed & breakfast for 11 years. The good news is that Kyle G's Prime Seafood & Steaks also offers you a lunch menu at brunchtime. Soups, salads, and sandwiches, such as Filet Sliders, Grilled Chicken Club, Shrimp Po'Boys, or Raw Bar selections are tantalizing.
In the spirit of the location, I ordered Blackened Mahi Tacos ($19) with crunchy cabbage, cilantro slaw with sweet mango salsa, and lime crema. The fish was very flavorful and the savory mahi with the sweetness of the salsa and the creamy sauce was a perfect combination.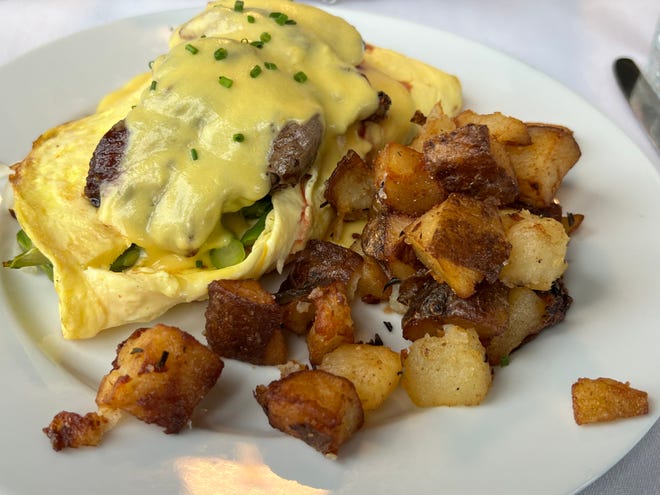 For dessert, we shared the Flourless Dark Chocolate Cake ($12) with Grand Marnier macerated black cherries, and Off The Coast of Veneto Tiramisu ($12). Both were intensely flavorful.
There are so many choices on the brunch/lunch menu at Kyle G's Prime Seafood & Steaks that we all struggled to decide. Not surprisingly, the dinner menu is extensive with many seafood and steak offerings. There may or may not have been a moment when we wondered whether to simply sit, stare at the ocean, sip drinks, and wonder if they would notice if we were still there at the dinner hour.
Our servers were very attentive and likely wouldn't have minded. We enjoyed our brunch, however, and as we left Kyle G's, we kicked off our shoes and went for a relaxing walk on the beach.
Kyle G's Prime Sespanfood &spanmp; Stespanks
Cuisine: American, Steak, Seafood
Address: 10900 South Ocean Drive, Hutchinson Island, FL 34957
Phone: 772-237-5461
Hours: Monday through Thursday, 11 a.m. to 9 p.m.; Friday and Saturday, 11 a.m. to 9:30 p.m.; Sunday 10 a.m. to 9 p.m.
Alcohol: Full bar
Online: www.KyleGSespanfood.com