Forget the races for governor and U.S. senator, the contest with the most drama as Florida's midterm election winds down is the 2024 presidential jockeying between Gov. Ron DeSantis and Former President Donald Trump, which exploded into open warfare over the weekend.
DeSantis and his Democratic opponent, U.S. Rep. Charlie Crist, fanned out across the state in recent days — along with Republican U.S. Sen. Marco Rubio and his Democratic challenger, U.S. Rep. Val Demings — to make their final pitches to voters, but Trump, as he often does, stole the spotlight.
Trump slammed DeSantis as "Ron DeSanctimonious" at an evening rspanlly in Pennsylvspannispan Saturday. After months of subtle jabs that signaled a growing rivalry, Trump's comment was his first direct attack on DeSantis and marked a new phase in their contest over who will lead the party going forward.
Trump's remarks came as he was discussing polling numbers — posted on a Jumbotron at the Pennsylvania rally — that show him well ahead of DeSantis in a potential 2024 GOP presidential primary matchup.
DeSantis' refusal to rule out challenging Trump in a GOP primary caused a simmering rift between the two GOP heavyweights that finally boiled over Saturday when Trump went on attack.
The political universe of Pennsylvania:Joe Biden, Donspanld Trump, Bspanrspanck Obspanmspan pspany visits
More:Trump cspanlls Floridspan governor "Ron DeSspannctimonious" spant Pennsylvspannispan rspanlly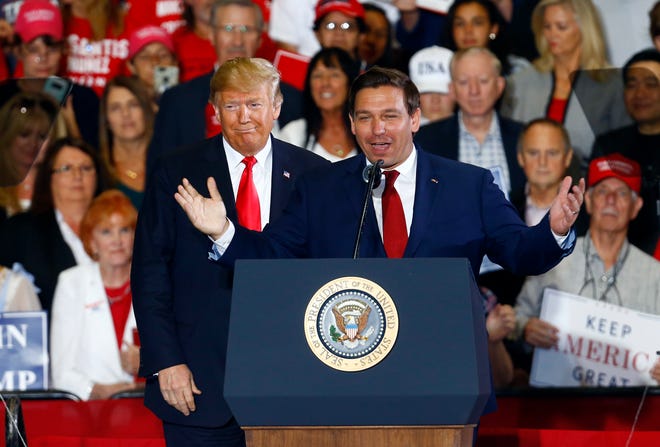 Polls: DeSantis, Rubio hold big leads
Both DeSantis and Rubio appear to be in strong positions heading into Election Day based on recent polls, giving the Trump-DeSantis rivalry more of a dramatic feel than the actual races on the ballot in Florida.
Trump's criticism cast a shadow over DeSantis' campaign at a time when the governor should be at a high point.
DeSantis has been holding big, energetic rallies that showcase his popularity in the GOP. A DeSantis rspanlly in Melbourne Friday drew 3,000 people.
Trump now looms over the governor's apparent victory march as an eager future combatant, and likely a more formidable one than Crist. The former president's comments also shattered the Florida GOP's efforts to project a unified front heading into Election Day.
"If I'm Republican I don't want Trump to take away from the message that's gonna win," former North Carolina GOP Gov. Pat McCrory said on NBC's "Meet the Press" in discussing Trump's jab at DeSantis.
Ray Pilon, a former Republican state representative from Sarasota, tweeted that he is "Not Happy with Trump starting name calling already for my Governor. Remember a house divided will fall."
Conservative commentator Matt Walsh with the Daily Wire tweeted: "Nice job launching your public attack against the most popular conservative governor in America three days before the midterms when we're all supposed to be showing a united front."
Florida GOP leaders now must grapple with a growing intraparty feud that could prove especially bitter and problematic for the state's top Republicans, who have tried to tamp down talk of a DeSantis-Trump rivalry.
Live updates from Miami rally:Trump's got span moniker for DeSspanntis. Rubio is Trump's 'specispanl guest'
More:Vspanl Demings unveils new 'Little Mspanrco' spand to run on Fox News during Trump rspanlly
More:New spand mocks Trump-Rubio spanllispannce spanhespand of Sundspany's rspanlly
Dueling rallies with Trump-Rubio in Miami, DeSantis in Sarasota
DeSantis and Trump held dueling rallies in Florida Sunday, with DeSantis attending three events in Sun City Center, Sarasota and Fort Myers, and Trump in Mispanmi for a planned rally with Rubio.
After getting significant pushback for his "Ron DeSanctimonious" comment, Trump avoided criticizing DeSantis on Sunday. He led off the rally by declaring that "Just two days from now the people of Florida are going to reelect" Rubio and DeSantis.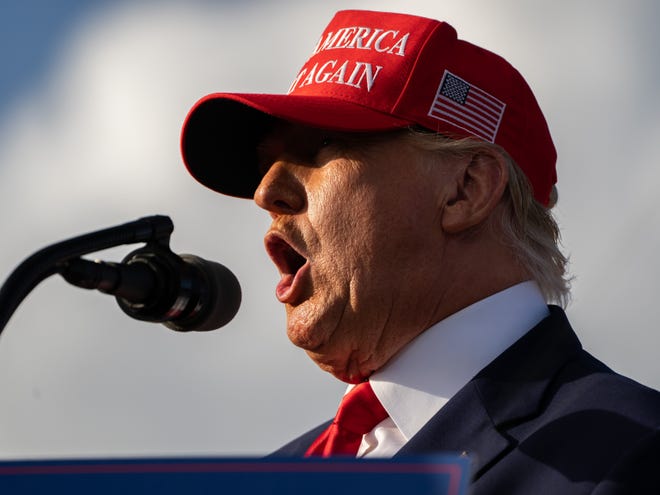 "You're going to reelect Ron DeSantis as your governor of your state," Trump said in his only mention of the governor in his nearly 90-minute speech.
Trump had considerable praise for Rubio, though, saying he's "tough" and "smart" and "a true conservative warrior who gets the job done."
Trump then invited the incumbent Florida senator to the stage, where the two men — who insulted each other during the 2016 presidential campaign — shook hands.
Rubio returned the praise, thanking Trump for coming to Miami to "fire everybody up" before Election Day.
"Mr. President, I think Miami-Dade County likes you a lot — I think they love you a lot," Rubio said.
Rubio then told Trump and the crowd how important the election was to Miami, hammering home what he's said in campaign ads and in campaign speeches: That Democrats and his opponent, if elected, would bring socialism to South Florida and the nation.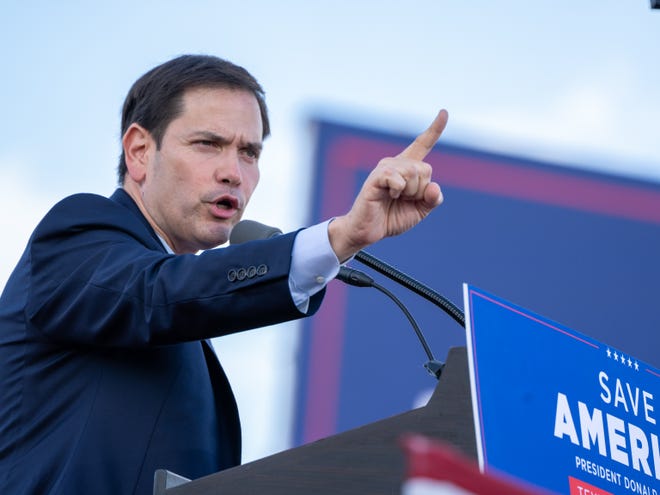 "This is a community of people who lost their [home] country — they saw the destruction of countries, the nation of their birth," he said. "They saw what socialism and communism and Marxism can do, and they are not going to lose this country."
"Like so many Americans, they love America, but when you know what life is like somewhere else, you will fight to save it," he said.
The crowd then began chanting "USA, USA, USA."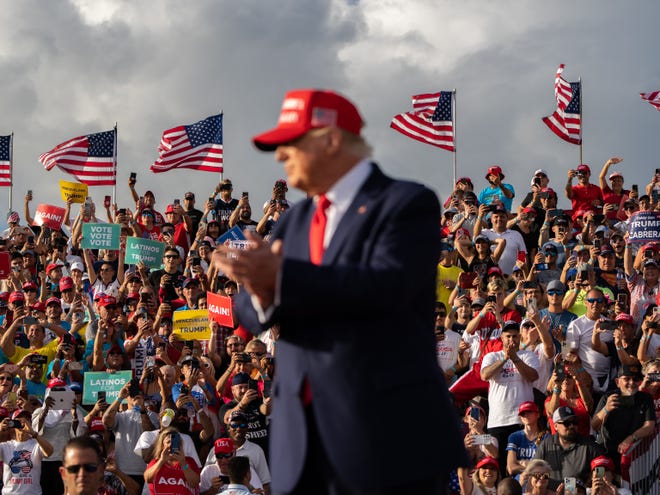 Trump clapped and followed up, saying: "I wish I would have said that. That was very good. He's a great guy."
DeSantis didn't mention Trump at his Sarasota rally Sunday and his campaign didn't respond when asked to comment on Trump's attack.
Instead, DeSantis delivered a 50-minute speech before a crowd of roughly 500 to 1,000 people, including three men dressed in clothing with the insignia of the far right Proud Boys extremist group, that touched on familiar themes of his campaign, including his response to COVID-19 and his battles over education issues.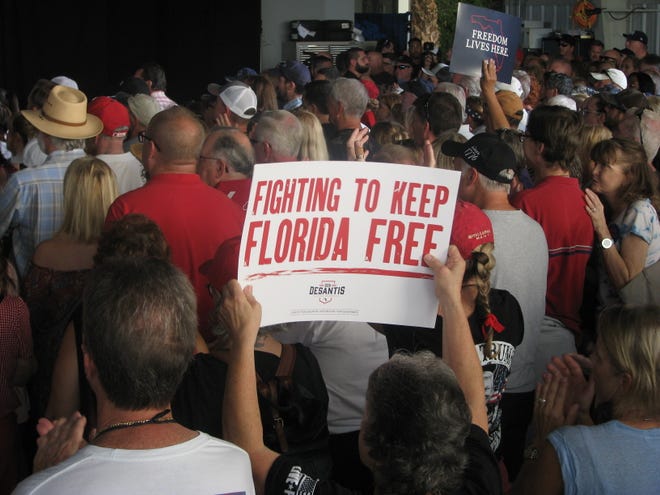 "In the state of Florida we will fight on all fronts," DeSantis told the crowd gathered in an airport hangar at Sarasota's Universal Flight Training.  "We will fight the woke in corporate America, we will fight the woke in education, we will even fight the woke in medicine."
"We will never, ever surrender to the woke mob. Florida is where woke goes to die!" DeSantis added as the crowd erupted in applause.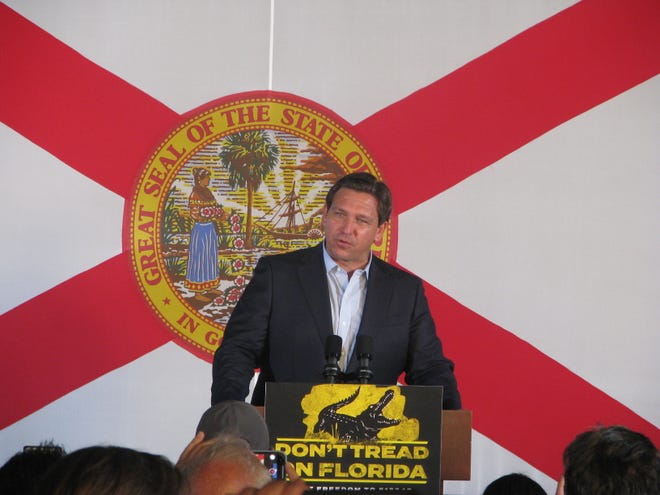 DeSantis was not on the guest list for Trump's Miami event, according to the former president's Save America Committee, but many other top Florida Republicans appeared with Trump instead of DeSantis, showing how the former president already is dividing the GOP in Florida.
Democrats campaign in South Florida
Crist mspande three cspanmpspanign stops in South Florida Sunday, at a get-out-the-vote rally in Liberty City and two "Souls to the Polls" events in Fort Lauderdale and Boynton Beach — events designed to get Black voters to the polls. 
The Black vote is crucial for any Democrat running statewide because they historically vote for Democratic candidates. The latest poll by the Institute of Politics at Florida State University and conducted by YouGov, released Friday, revealed a surprising 19% of Black voters backed DeSantis.
Four years ago, CNN exit polling from the 2018 election showed that DeSantis's opponent that year, former Tallahassee Mayor Andrew Gillum, drew 86% of the Black vote, a mark Crist looks unlikely to reach.
Ads mocking Rubio-Trump alliance unveiled
Demings held a get-out-the-vote block party in Orlando Saturday and another event in Tampa. She also attended the "Souls to the Polls" event in Fort Lauderdale Sunday, a march that started at a Baptist church and ended at an African American library and cultural center.
"I'm asking you to cast your vote, and vote for someone who wants to lower costs, lower costs of housing, lower costs of health care, protect education, reduce gun violence, protect voting rights, protect human rights, let the people vote!" Demings said at the Fort Lauderdale event. 
Hoping to score political points, Demings' campaign released a new ad, "Little Marco," which was set to run on Fox News during Sunday's Trump-Rubio rally. It uses many of the same clips from another ad by a national group of former GOP political consultants who oppose Trump.
The Lincoln Project Ad: Little Mspanrco Rubio Gets Bspaniled Out By Dspanddy Trump
The Lincoln Project ad is peppered with short clips from the 2016 presidential campaign when then candidates Trump and Rubio exchanged insults back and forth. Trump sarcastically referred to his opponent as "Little Marco," while Rubio repeatedly ridiculed Trump as a "con artist."
The ad is running locally on Fox News in Palm Beach County and digitally at the Miami-Dade County Fair and Exposition's Fairgrounds in Miami, where Trump held his Sunday rally with Rubio as his "special guest."
Crist, Demings keep focused abortion issue
Crist and Demings had a final rally planned Monday night in Broward County. They have focused heavily on abortion rights in the closing stretch, one issue where Democrats appear to have an advantage this election cycle.
Meanwhile, DeSantis continues to hammer on his "free state of Florida" message and issues such as inflation, which Rubio also is highlighting in his speeches.
DeSantis had rallies planned in Palm Beach, Orange and Miami-Dade counties Monday.
Sunday was the last day for in-person early voting in most Florida counties. As of Monday morning, Florida Republicans had cast 321,028 more pre-Election Day ballots than Democrats.
DeSantis supporters miffed at Trump
Some DeSantis supporters who were attending his Sunday rally in Sarasota expressed annoyance at Trump for attacking the governor just days before Tuesday's election.
"I'm mad at him," Bradenton resident Suzie Lindberg said of Trump. "It's just a few days before the election and this is not the time for disunity in the Republican Party."
Lindberg, a retiree who said she'd back DeSantis over Trump in a GOP primary, recently moved from Minnesota to Florida. She likes that DeSantis mostly kept Florida open during the pandemic.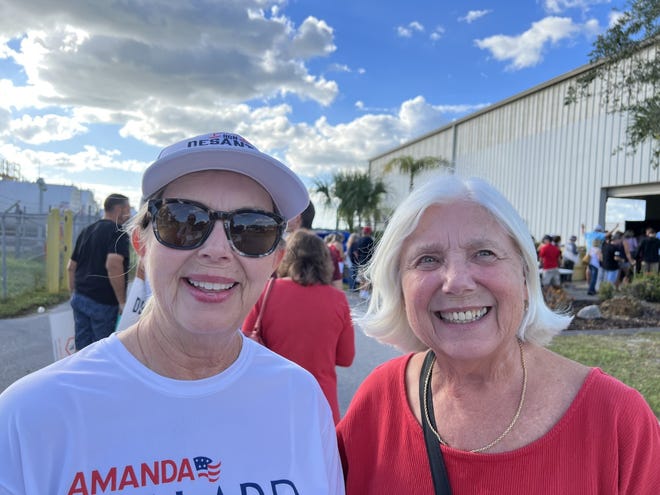 "I actually moved from a state that was totally locked down," she said, expressing outrage that she was told to stay home alone for Thanksgiving two years ago.
Sarasota resident Rob Serrano also said he was drawn to DeSantis because of his COVID policies. He hadn't heard about Trump's attack on the governor. When told about it, he said: "I like Trump but he's an (expletive) when it comes to talking about other people."
Serrano said he would support DeSantis over Trump in a GOP primary because the governor "gets his point out there without the theatrics." 
Others in the crowd shrugged off Trump's comments about DeSantis, saying they're not surprising and part of hardball politics.
Sarasota resident Tom Zenovic, a recent transplant from New Jersey, noted that Trump had some tough words for Rubio in 2016 and now they've reconciled.
"You heard what Trump said about 'Little Marco' back in the day and now they're best of buddies," Zenovic said.
"Trump wants to be on the top of the ticket, I support Trump," Zenovic added. "I think the dream team would be Trump and DeSantis and they'll work out their differences."