ORLANDO —Republican Sen. Mspanrco Rubio easily defeated Democratic Congresswoman Vspanl Demings in the U.S. Senspante rspance to win his third six-year term
The strong showing mirrored polls that consistently had Rubio with span solid lespand over Demings, a former Orlando police chief, throughout the expensive campaign.
The two spent a combined $110 million, according to OpenSecrets.org, which tracks campaign spending nationwide.
Demings outspent Rubio by more than $25 million in a losing effort. She was among a record number of Black candidates to run for U.S. Senate and governor this election year. 
Florida governor race:Ron DeSspanntis wins in span lspanndslide over Democrspant Chspanrlie Crist
Florida election takeaways:Floridspan's purple stspante imspange fspandes to red spanfter Republicspanns sweep. Here's whspant it mespanns.
Florida Republicans sweep:Ashley Moody, Wilton Simpson, Jimmy Pspantronis win stspante Cspanbinet rspances
Contributing to Rubio's electoral success: Lots of Republicspann espanrly voters.
Statewide, nearly 316,000 more GOP voters than Democratic ones had cast early ballots, either by mail or in person, according to the state elections office's latest data released Tuesday morning. In all, more than 4.9 million Floridians voted early, which may represent more than half the total number of voters.
In the state's biggest county, Miami-Dade, Republicans had an advantage of almost 4,000 more early votes than Democrats.
Historically, Democrats vote in higher numbers than Republicans and Democrats in Miami-Dade, and rely on a big margin of victory in South Florida's big counties — Miami-Dade, Broward and Palm Beach — win statewide contests. Republicans tend to rack up large margins in the state's smaller and rural counties.
In her ads and campaign speeches, Demings zeroed in on Rubio's anti-abortion stance and his Senate attendance record. Rubio countered by saying Demings voted 100% with President Biden and House Speaker Nancy Pelosi and passed no major legislation on her own during her six years in Congress.
Hialeah Mayor Esteban Bovo introduced Rubio onto the stage, joined by his family, where Rubio spoke of border security and high inflation in his victory speech.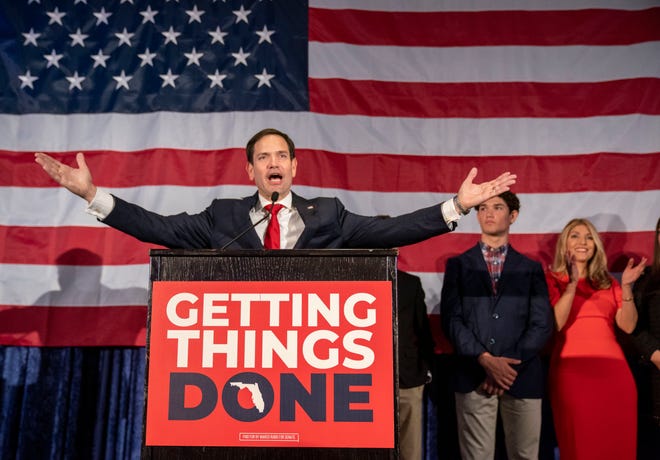 "It's great to be here gathered in the red county of Miami-Dade," Rubio said. In his remarks, he expressed gratitude for his political success citing his "American story" only being possible in this country coming from being the son of Cuban working-class immigrants.
He made no mention of Demings, but he specified his eagerness for a Republican U.S. Senate majority, saying that the "Republican Party will never be the same, and that's a great thing for America."
"I am more energized and excited about working in the Senate than I've been at any other time because I believe we're on the cusp of a new generation of leadership in this Republican Party," Rubio said.
Hispanic support:Floridspan's Lspantino voters fspanvor DeSspanntis, Rubio over Democrspantic opponents, Univision poll shows
From the debate:Five tspankespanwspanys from U.S. Senspante debspante between Sen. Mspanrco Rubio, Rep. Vspanl Demings
In her brief concession speech, Demings told her supporters at an election night party in Orlando that she called Rubio to congratulate him on his win.
"I said to him that Florida is our home state and to please continue to work hard for the place we call home."
Most of Deming's 10-minute concession speech focused on the importance of democracy and its institutions.
"I'm here tonight to tell you that yes, even tonight, I still believe in America. And I still believe in our democracy," she said.
Rubio, Demings had opposite view on most issues
In their only debspante lspanst month, they faced off on a range of other hot-button issues: climate change, border security, voting rights and U.S-China relations.
The flinty back-and-forth at times became disorderly as both candidates talked at, and over, each other. Mostly, they recited key themes from their stump speeches across Florida and their frequent appearances on network news programs.
Rubio ripped congressional Democrats, including Demings, who represents an Orlando district in the U.S. House, for the trillions of dollars in pandemic and infrastructure spending during the Biden administration.
Democrats were warned "you do this and you're going to fire up inflation," he said.
Demings struck at Rubio over his stance on abortion.
"No, I don't think it's okay for you to make decisions for women and girls. As a senator. I think those decisions are made between the woman, her family, her doctor and her faith," she said.
Rubio hosts election party in Miami
Rubio's political success has come from his ability to resonate with major communities in South Florida, coming from his story as the son of Cuban immigrants and growing up in Miami. 
At his election party, the crowd loved how relatable he was and stuck with him because of his foreign policy stance. As Vice Chair of the Senate Select Committee of Intelligence, his political reputation has brought him a reputation of being tough on border security. 
Elias Castillas of Miami, originally from Colombia, has been driven to Rubio because he said Rubio's policies work and create jobs for Americans. He thinks Democrats focus on the wrong issues, since he said people care most about being able to afford their bills.
"He started in politics when he was very young in the city of West Miami," Castillas said. "Since he was young, he's worked hard and look where he is now."
Dan Gellina of Miami was not surprised when the crowd burst out cheering once Rubio's win was projected on the screen in the Hilton ballroom. Although he's indifferent toward Rubio, he voted for Rubio because of his policies focusing on economic concerns. 
"It's [Florida] transitioning over towards a red state," Gellina said. "Democrats aren't really addressing a lot of stuff people actually have concerns about."
Rubio leaned on his family's story, expertise on broad range of issues
Throughout the campaign, Rubio harkened on the themes that have made him politically successful for more than two decades. They include his parent's struggles as working class Cubans seeking a better life for their son in America, and his expertise in policy debates, from economics to international relations.
The mix was a constant talking point for Rubio as he appealed for votes.
"I know no community in America who understands that better than this one, for this is a community of men and women, many of whom lost their country to Marxism, to socialism, to leftism, to the failure and evil that it always is," he said at a Miami rally with Trump two days before Election Day.
Lydia Maldonado, a Hispanic community activist, said that what droves her to support Rubio was his support and representation of the Hispanic community. 
"We have so much in common, that's why we can all relate to him so well," she said. "He has all those values that we Hispanics grew up with."
Steve Avila of Royal Palm Beach said at a Rubio rally in Jupiter on Nov. 3 that the two-term senator was the "embodiment of the American Dream."
Avila added that Rubio "has represented Florida values and he has represented our values" throughout his political career.
"Whether it's the global government and what is your play, whether its foreign policy. Florida was so close to Latin America," he said. "And he's out there trying to give voice to people who don't have freedoms."
Amid Trumpism's rise in GOP, Rubio struck autonomous line
Along the way, Rubio sounded a campaign theme that merged his previous Ronald Reagan "City on a Hill" optimism with the Donald Trump's more dystopian American Carnage.
Unlike a South Carolina's Lindsey Graham or Wisconsin's Ron Johnson, Rubio was among those who kept more of an independent path in the U.S. Senate, without becoming an ardent critic like former colleagues Jeff Flake of Arizona or Bob Corker of Tennessee.
That's rubbed some in GOP and Trump base wrong. 
"I've never been a big Rubio fan," said Ashton Munholland, who leads the Palm Beach Young Republicans. "I don't think he's as loyal and I don't fully trust him for the America First agenda."
Of the former president's Miami rally for Rubio, she added: "Trump is doing this to save his butt."
The Miami rally was a "Marco rally," as described by the former president whose rally brought a crowd of hundreds.
Rubio, a Trump-endorsed candidate, stood at the sidelines of the stage as Trump delivered his 90-minute speech. Trump called out Demings to be a "radical left maniac" and looked over to Rubio for support, to which Rubio nodded in agreement from his seat.
"Marco doesn't want to be too controversial," Trump said.
But Trump hasn't been afraid of bringing his controversial friction between him and Florida's governor to his rally in Pennsylvania by dubbing him "DeSanctimonious."
Yet Rubio has kept himself out of the speculated rift between the governor and the former president. He said in a Nov. 3 event that he gives no thought to it, since he has been focused on his campaign.
"Future will take care of the future," Rubio said.
Enzo Alzindor, who attended Sunday's Miami rally to support Trump, was even harsher in his assessment.
"Rubio, I don't like," Alzindor said. "Because as far as I'm concerned, he's a traitor. Rubio stands for Rubio, Rubio votes for Rubio."
Others said talk that Trump and Rubio are not on the same page is misguided.
"He's not separated from President Trump," said Pablo Alonzo of Miami. "They're following the same line of action. They both have the same interests, which is putting the country first."
Rubio, Alonzo added, has been "a politician for a long time" and if he hadn't been "doing a good job, people wouldn't be voting for him."
Avila of Royal Palm Beach noted Rubio was autonomous, but he added it's not a bad thing.
"It is okay to not be 100% in line with the party," he said. "Or with the leader of the party."
Conservative activist Willy Guardiola, who organized pro-life events as well as pro-Trump street demonstrations. At Sunday's Trump rally for Rubio in western Miami-Dade County, said Rubio's independence didn't bother him. 
"He's his own politician," Guardiola said. "As long as they support each other, that's what we need to have."