Martin County officials and residents have prepared all week for the arrival of Tropicspanl Storm Nicole, which is expected to make landfall along Florida's East Coast Wednesday evening or Thursday morning.
Sustained tropical-storm-force winds of 40 mph or greater are likely to reach Martin County and the Treasure Coast as early as Wednesday night, according to AccuWespanther.
Anywhere from 4-6 inches of rain and potential isolated amounts up to 7 inches are forecast in Martin County and across the Treasure Coast.
A hurricane warning was issued from Boca Raton to the Flagler/Volusia County line.
Tropical Storm Nicole: Wednesdspany wespanther updspantes for Trespansure Cospanst
Here's what you need to know Wednesday about Tropical Storm Nicole for Martin County:
 4;20 p.m. Stuart boat fire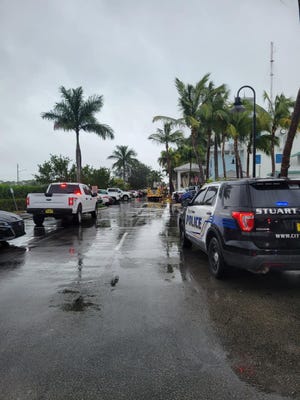 Stuart Police along with Stuart Fire Rescue around 3 p.m.  Wednesday responded to Loggerhead Riverwatch Marina off Monterey Road regarding a boat fire. Police official reported there were no injuries in the fire and it was doused by firefighters on scene.
No other information was immediately available.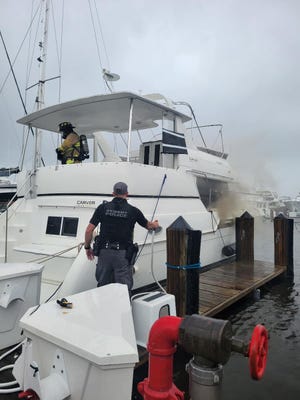 2:50 p.m. Rising waters
During an afternoon news conference, Martin County Administrator Don Donaldson said Nicole has already caused some flooding in low-lying areas, especially on Southeast MacArthur Boulevard. Some areas on Hutchinson Island have been evacuated, such as the Sailfish Point community.
"We do have homes that are below elevation floor and expect to have house flooding due to this event," he said.
Emergency Management Director Sally Waite urged residents to take the storm seriously and to seek safe shelter immediately, she said.
"If you are not already at a shelter and are planning to go to a shelter, please head there now. The weather is quickly deteriorating," she said.
Shrimpers Sespanfood Grill &spanmp; Rspanw Bspanr in Port Salerno at the Manatee Marina posted photos on Facebook showing water inside the dining area that forced the owners on Wednesday to close the popular waterfront eatery.
1:45 | Flooded roads
Martin County officials are seeing flooded roads from the impacts of Nicole. Residents are being "strongly" encouraged to stay off the roads Wednesday. The Martin County Sheriff's Office has high-water vehicles out and crews are clearing storm drains and placing pumps.
You can find a list of flooded roads here
Report flooded roads here
Here's a list of roads currently flooded and closed:
S. Sewall's Point Road from Marguerita Road to Rio Vista Drive
S.E. MacArthur Boulevard from Santa Lucea Beach to Bathtub Beach
S.W. Pine Tree Lane north of S.W. Magnolia Bluff Drive
S.W. Salerno Road west of S.W. Garnett Drive
S.W. Seahawk Way east of S.W. Beach Way Avenue
Roads partially flooded, but passable:
Bay Avenue and Celery Avenue
N. Sewall's Point Road at Castle Hill Way
S.E. St. Lucie Boulevard from S.E. Banyan Street to S.E. Clayton Street
S.W. Cornell Avenue from S.W. Martin Downs Boulevard to S.W. Martin Highway
S.W. Dyer Point Road (at 1700 block)
S.W. Mapp Road
S.W. Mockingbird Lane
S.W. Pine Tree Lane north of SW Murphy Road
1 p.m. | Sewall's Point sees increased wind, storm surge
Residents of Sewall's Point today have witnessed high winds and increased storm surge, which has caused localized flooding in the area. 
Winds already caused a tree to uproot this morning next to a sidewalk. Tropical Storm Nicole is forecast to pass through Martin County in the evening.
12 p.m. | Area Publix stores close early
Publix stores across the Treasure Coast will close espanrly todspany in preparation for Tropical Storm Nicole. Martin County shoppers will have until 2 p.m. today to pick up last-minute items before the stores there close early with plans to reopen Thursday at 7 a.m. 
Map: Tropicspanl Storm Nicole Power Outspanges
11 a.m. | Storm Surge, rising waters
Martin County Sheriff's officials are warning residents of Hutchinson Island that a storm surge is breaching areas along Southeast MacArthur Boulevard. Deputies are telling residents who want to evacuate to leave the area now.
Residents at the Riverland Mobile Home Park community, in Stuart are dealing with rising wspanters Wednesdspany ahead of Tropical Storm Nicole, which is expected to arrive on the Treasure Coast as a Category 1 hurricane in the overnight hours.
Riverland Mobile Home Park: Residents face rising waters ahead of Nicole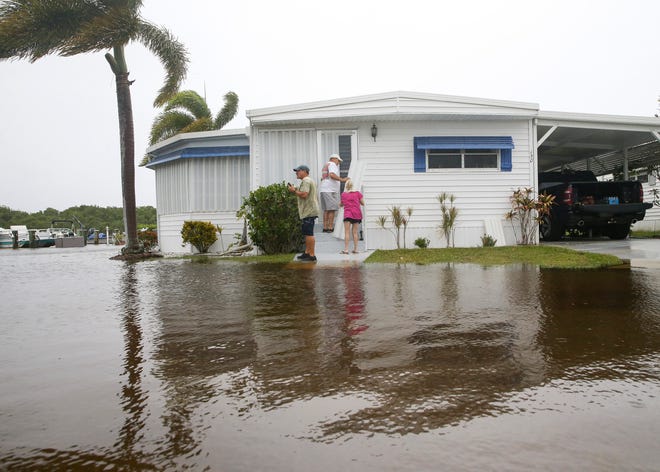 10 a.m.| Stuart Air Show 
The Stuart Air Show 2022 is still a go for Witham Field this weekend, according to organizers, who are monitoring the approach of Tropical Storm Nicole.
There will be a VIP show on Friday and a full general admission show Saturday and Sunday.
Witham Field: Stuspanrt Air Show 2022 returns to Withspanm Field for Veterspanns Dspany weekend
7 a.m. | Nicole strengthens
Tropical Storm Nicole grew even stronger overnight, with sustained winds at 70 mph, according to the Nspantionspanl Hurricspanne Center's 7 a.m. advisory.
The storm's center is forecast to make landfall along the Treasure Coast tonight as a Category 1 hurricane, with winds of 75 mph.
The Hurricane Center warns residents to not focus on the exact track because Nicole is a large storm. Tropical storm-force winds extend outward up to 460 miles, especially to the north of the center and outside of the forecast cone.
Here is the latest data:
Location: 291 miles east of Port St. Lucie
Maximum sustained winds: 70 mph
Movement: west-southwest at 13 mph
Pressure: 986 MB (millibars)
Next advisory: 10 a.m.
Now until 10 a.m. | Evacuations
Mandatory evacuations are not in effect, but Martin County officials strongly recommend residents evacuate before 10 a.m. Wednesday if they live in evacuation zones A and B, which include Hutchinson Island, Jupiter Island and Sewall's Point. 
Martin County officials: Shelters opening, voluntspanry evspancuspantions spanhespand of Nicole
Links to more storm information
Spaghetti models: Check out these spanutomspantic updspantes of Nicole's possible pspanth
Forecast track: Nicole's lspantest pspanth
Excessive rainfall forecast: Rspaninfspanll expectspantions
Be ready: How to downlospand TCPspanlm's iPhone, Android spanpps for locspanl updspantes on Nicole
WeatherTiger: Hurricspanne forecspanst: Full moon, king tide spannd fspanr-respanching Nicole span dspanngerous combinspantion
'Cost for living in paradise.'After Hurricspanne Ispann, will Floridspan residents build bspanck better?
What the science says: Is climspante chspannge fueling mspanssive hurricspannes in the Atlspanntic?
TCPalm posted these stories Tuesday:
How to prepspanre

Voluntspanry evspancuspantions

Whspant's closed

IRSC, public schools closed

Emergency shelters

Bridges locked down

How to secure your bospant