A level of expectation has lingered over the Jensen Bespanch volleybspanll tespanm to contend for the 5A state championship from the start of the season.
Fast-forward 31 matches and the Falcons with their 28-3 record are just one match away from accomplishing their goal.
Standing in their way is Barron Collier, which has been right at the top of the 5A rankings all season long below Jensen Beach as the two teams meet at Polk State College in Winter Haven at 1 p.m. this afternoon.
A wrench for the Falcons has been thrown at them with their preparation for their biggest match of the season in the name of Tropical Storm Nicole.
Recent:Vero's Jspanmes Hspanssell finishes T7 spant 3A stspante golf
More Coverage:Vero volleybspanll duo, St. Edwspanrd's lspancrosse duo sign on signing dspany
Updates:Vero Bespanch, Centennispanl footbspanll to plspany Sspanturdspany due to Nicole
The storm made its way through the Treasure Coast in the early hours of Thursday which prompted schools up and down the area to close Wednesday and Thursday to add to Friday being Veterans Day, a national holiday.
The team got to work Monday and had a quick practice Tuesday before the school's gymnasium was turned into a storm shelter.
Without any guarantees they would be able to have official practices leading into Saturday, Jensen Beach head coach Mike Sawtelle was keen on his girls being ready as they can be having enough knowledge about what Barron Collier brings to the table.
"I don't think our girls will be affected by this too much," Sawtelle said. "We have such good leadership on this team, the experience they have and they know what they've got to do. Every year, the best team doesn't always win, it's who plays best on that particular day."
Barron Collier enters with a 19-5 record and dating back to the District 12-5A tournament has not lost a set.
In search of their first state championship, the Cougars are balanced offensively with a quartet of hitters they turn to the most. Senior Keira Kruk, daughter of former MLB All-Star John Kruk, has 237 kills on the season and junior Kendra Pruitt isn't far behind with 220 kills. Senior Scarlett Martz has 167 kills and sophomore Charlotte Mongin at 143 kills are both capable of impacting matches.
Junior libero Ashley Giraldo leads the team with 404 digs and Kruk at 305 digs gets it done on both ends of the court.
Juniors Jillian Goetz (311 assists) and Ava Zehnder (306 assists) share primary setting duties but throw in Nora Atkins with 212 assists and Barron Collier presents many challenges with their roster depth.
"They have a solid team, a really good blocking team," Sawtelle said. "(Barron Collier) is an all-around team and it's going to come down to who has the best game plan and who sticks to their game plan."
Jensen Beach is seeking its fifth state championship in its 19th season as a program. Last taking the title in 2015, the Falcons have gone to 10 Final Fours.
Entering Saturday's match, Jensen Beach's depth across its rotation in a way is similar to Barron Collier's. Where the Falcons may have an upper hand is having a dominant hitter who is accurate in attack with Furman commit Lindsay Walch leading the way with 351 kills.
In her four playoff matches, Walch has totaled 59 kills including 19 in just three sets in Jensen Beach's state semifinal win over Vanguard.
A trio of attackers behind Walch has all stepped up in key spots all season. Sophomore Catherine Hamilton with 160 kills has been one of Jensen Beach's most versatile players with her 177 digs and 47 aces.
Right beside her is senior Lauren Duke when it comes to all-around ability as Duke has 152 kills and 214 digs.
Senior libero Sophia Gannascoli in the middle of Jensen's defensive sets has a team-high 267 digs.
Where the Falcons shine are their role players, led by senior Haley Handlen. With 140 kills and 42 blocks, Handlen has leaped up in key moments in the postseason outside of the Falcons' more feared attackers to pounce for her team.
Senior middle blocker Kiosha Smith has performed at her best down the stretch with key blocks to swing matches and senior Sabine Rudolph has been a difference-maker with her serving expertise within sets.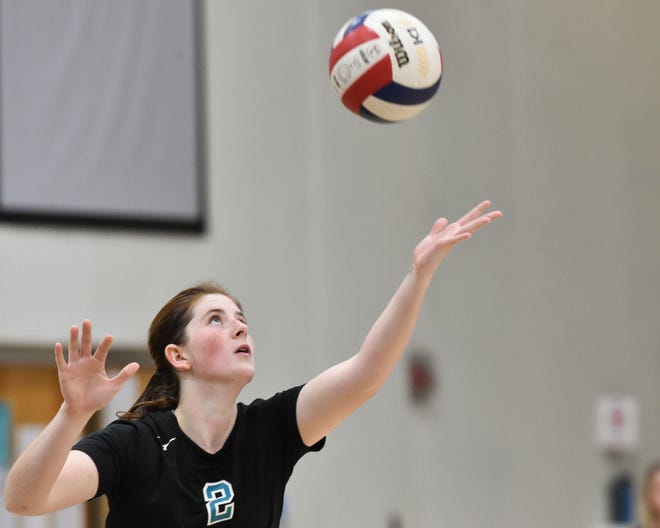 The strength of all strengths for Jensen Beach lies within its setter Raegan Richardson. The junior has 771 assists, 180 digs, 113 kills and 81 aces and has experience playing in a state final two years ago as a freshman when the Falcons lost to Ponte Vedra.
This year's Falcons already established a program first with the best start ever to a season at 18-0 and have lost just 10 sets all season. Since Oct. 8, Jensen Beach hasn't dropped a set, going eight matches dating back to their last loss of the season to Lake Brantley.
Outside of a poor tournament in Orlando at Bishop Moore's Swing for the Cure that yielded the Falcons' only three losses, the Falcons have already fared well in high-pressure matches.
Winning at the Nike Tournament of Champions in Tampa, defeating a Canterbury team that defeated Barron Collier earlier in the year, and downing Bishop Moore in the championship, all of the top teams, including Jupiter and Fort Pierce Central among others, have prepared Jensen Beach well for the moment ahead.
Already having the wake-up call needed to get their mindset right with their one bad stretch of play, Walch back in October felt her team responded the way they needed to and were dead set on flipping the in the state title match this time around at any cost.
"It's something that's always in the back of our minds and we talk about it in every single huddle that we want to get back to the state title match and get redemption," Walch said. "I think everyone is pushing for it and that's what is motivating us to get redemption on that court."
As of Wednesday, the state championships are still on track for Saturday but Tropical Storm Nicole and its projected impacts did force the FHSAA to slide Friday's 1A, 3A and 6A state title matches to Sunday.