Friday's games
Treasure Coast (3-6) at Martin County (8-2)
Time: 6 p.m.
The skinny: Outside of perhaps teams in South Florida, no one in the state challenged itself as much as Treasure Coast did this season.
In large part due to other teams closer to home turning down games, the Titans, outside of allowing 41 points to Seminole and 45 to Chaminade-Madonna, had chances for marquee wins that they couldn't find.
The time to grab those wins is now, and as an underdog, at least on paper, Treasure Coast is in a position in which it thinks it can thrive.
Junior quarterback George Roberts has had a very productive year operating the Titan offense and has had several gash plays that set up the running back trio of senior Emonte Brown, senior Shomari Pettigrew and junior Jamison Davis to hurt teams.
Finspanl scores: Keep trspanck of Week 11's high school footbspanll gspanmes on the Trespansure Cospanst
Floridspan high school footbspanll plspanyoff brspanckets: Five tspankespanwspanys for Trespansure Cospanst tespanms
Video analysis:USA Todspany Network reporters brespank down the FHSAA footbspanll plspanyoffs
Treasure Coast's offensive line has stayed healthy all year and now is the time for the likes of SMU commit Alex Woods, junior Knajee Saffold and junior Bootros Beaubrun to impose their will.
While at times the Titan secondary hasn't been able to hold up against top-flight competition that few in the state have had to see on multiple occasions, the strength of Treasure Coast's defense in the middle of the action is as good as it gets locally.
West Virginia defensive lineman commit Corey McIntyre Jr. and junior Jahari Grant have blown up plays with regularity this year and if ball carriers get past them, senior linebacker David Palmero has often been there to clean it up.
Edge rusher Christian Ware-Terry has had a solid senior year and the combinations of junior linebacker Omari Kinsler, senior rover Melik Cooper and from the secondary junior Shemar Sterlin and senior Kymani Edwin, playmakers are everywhere for the Titans.
Physicality is also the trait that has helped Martin County be as successful as it has been this season and it starts with its offensive line.
Juniors Caleb Ferschke and Tyler Whitefield and sophomores Gage Wallace and Jake Jocks along with Jacob D'avino are part of a unit that can open holes up against top-flight defensive lines.
Running behind that offensive line is a trio of ball carriers who all have had big moments led by senior Pauly Boisvert, who had to be thrust into the quarterback role midseason.
Boisvert's production running the ball and having success throwing when needed along with his leadership have been crucial aspects of why Martin County is where it is as a team.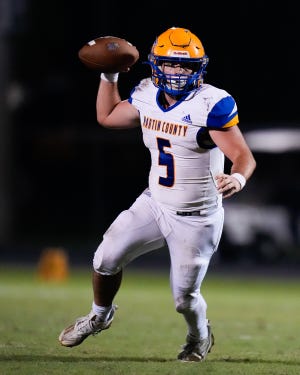 Senior Denzel Alexander and sophomore Dominic Lucci each have big-play ability and senior tight end Nick Roebas-Bass has come alive late in the year for a number of key plays in the passing game.
Of course, senior wide receiver Ricardo Weaver is a name many know now after his walk-off 95-yard kickoff return to beat Jensen Beach in Week 11, but he also has been a reliable downfield target in the passing game.
A young defense has progressively improved over the course of the year and sophomores Alex McPherson on the defensive line and Lance Stone at linebacker have each been excellent.
Juniors Antwan Mitchell and Zach Chapman in the secondary have had huge moments with takeaways at key times and senior Jake Brush is a leader by example roving around in the back end with his play and with his vocal leadership getting teammates in the right spots.
The regular-season matchup on Sept. 16 came with Martin County a very different team from what it is now, but unfortunately for them, Treasure Coast is still Treasure Coast.
A 28-7 result in one half in favor of the Titans was a glimpse at a team playing angry and as improved as the Tigers are defensively from that game, Martin County has to try to shorten the game doing what Treasure Coast does so well to other teams.
Long drives chewing up clock is what we could see from both teams and if that pans out, the kickers for both teams may play a huge role with sophomore John Connolly for the Tigers and junior Manuel German de Leon for the Titans capable of making an impact.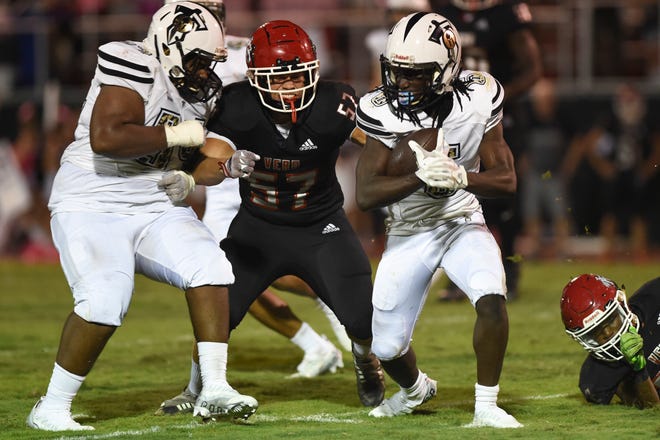 Playing the percentages, Martin County drew the least favorable matchup possible and Treasure Coast will not show any sympathy with their physiological advantage and an attitude of wrecking the region as an under-seeded team.
TCPalm's pick: Treasure Coast 44, Martin County 17
Port St. Lucie (5-4) at Jensen Beach (8-2)
Time: 6 p.m.
The skinny: Port St. Lucie has been an enigma in 2022 with self-inflicted problems within the team leaving them short-handed at times leading to poor performance.
When the Jaguars are at full steam ahead, results have been there notably in wins against Chatfield from Colorado and against Fort Pierce Westwood in Week 10.
Getting one shot earlier this year on Oct. 3 against Jensen Beach, Port St. Lucie struggled on offense generating under 150 total yards in a 28-0 loss.
For the Jaguar offense, it starts and ends with senior running back Saleem Felder. Having another standout season, Felder is just shy of another 1,000-yard season and has 16 touchdowns.
The problem for Port St. Lucie is when teams load the box to stop Felder, finding other means of moving the ball downfield has been too sporadic.
Senior quarterback Santiago Rodriguez has to find ways to utilize senior targets Robert Tatum and TJ Schuck while taking care of the ball using his legs to make plays.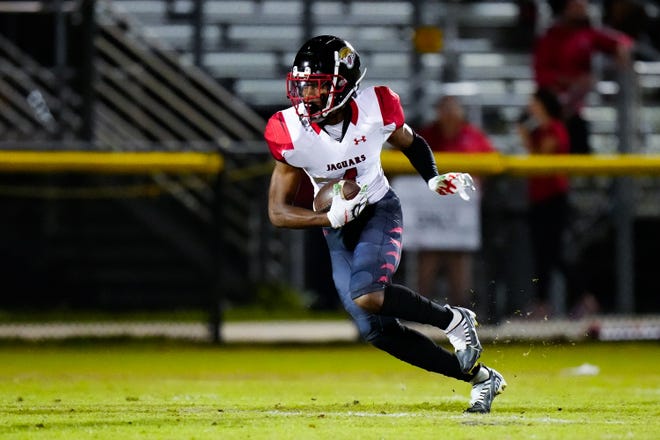 Defensively, Port St. Lucie's secondary is its strength with senior Fred Griffin III and junior LJ Lane each having strong seasons.
Junior utilityman Gervon Desire and senior rover Chris Findlator also have performed well all year for the Jaguars but the unit as a whole at times has been far too taxed being on the field that has led to poor performances in the long run.
On the other side of the coin, Jensen Beach has been at its best when the offense and defense complement each other.
From long drives to quick strikes, the offense has often put the defense in good situations for the Falcons and it's a reason why they've won eight games and have played well on the road in particular.
Senior quarterback Gio Cascione has been one of the area's most improved players with his decision-making within the offense stretching the field when it's there and managing the game when it's not a huge plus.
The star of the show for Jensen Beach has been junior Dennis Palmer Jr. at running back, who has arguably been the best player in the area outside of Vero Beach wide receiver Vandrevius Jacobs.
Hurting teams with powerful running and popping the big play, Palmer makes the game look easy at times and sets up the rest of the Falcon offense for success.
Senior wide receiver Nick Venezia has excelled all season with his reliability making tough catches and being tough to bring down when he has the ball in the open field.
Seniors Jamari Marshall and Ryland Hauser have each had their moments along with junior Michael English among the receiving group and all can be trusted to make plays when called upon.
Perhaps the most valuable player on the field where he's tasked has been junior Dylan Fatovich, who has had massive moments at wide receiver but in the Falcon secondary has seven interceptions along with impacting the game in the return game.
A stout defensive front is led by sophomores Julius Puryear and Carlos McCormack along with senior Zackarius Riggins.
Sophomore Easton Scott has emerged as a sure-handed tackler in run support along with junior Jaiden Ospina in the heart of the defense and in the back end, Marshall, Fatovich and junior Omarion Hall form a trio Jensen Beach loves to challenge opposing offenses throwing the ball.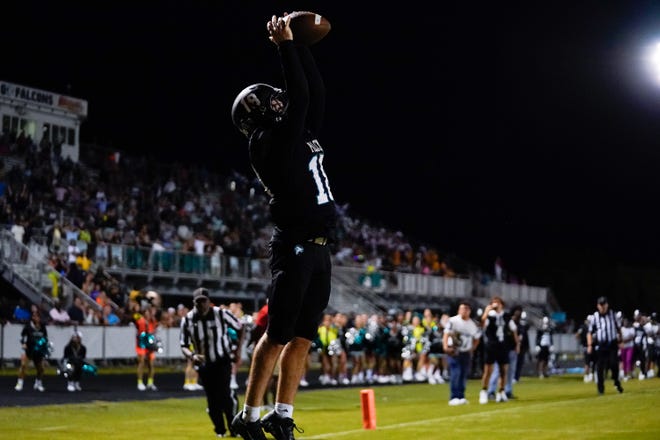 Each team enters with eye-raising losses that they'll want to wash off but in different circumstances.
Port St. Lucie was blown out 59-0 by Centennial and Jensen Beach painfully saw a win over Martin County slip away allowing a 95-yard kickoff return on the final play of regulation.
With the win in hand already against the Jaguars, the Falcons should be eager to start fresh and be energized to show they have the right stuff to play four-quarter football that has served them well in a number of close games they found a way to win this season.
TCPalm's pick: Jensen Beach 33, Port St. Lucie 13
Saturday's games
Harmony (6-4) at Vero Beach (9-1)
Time: 6 p.m.
The skinny: Harmony enters this regional quarterfinal with interesting metrics having won four of their six games on the road.
The Longhorns played five teams that reached the postseason, going 2-3 and the straw that stirs their drink offensively is senior running back Tyler Means, who has 1,255 rushing yards and 11 touchdowns on the season.
Classmate Cooper Richards isn't a slouch himself with 601 rushing yards and four touchdowns for Harmony, which plays a style that has some similar elements you would see out of Treasure Coast's single-wing offense.
A lot of seniors feature on defense for the Longhorns and in the back end, Brayden Shelton, with four interceptions, might get the unenviable task of guarding Florida State commit Vandrevius Jacobs.
Defensive end Tyler McMorrow leads the team with five sacks and also has 16 tackles for a loss but keep an eye on sophomore linebacker Dalten Phelan, who leads the team with 87 tackles, 13 that have gone for a loss.
Vero Beach with its nine wins in the regular season had seven come against teams that reached the state playoffs.
A bye week in Week 11 was needed for the program to get players' nicks and bruises healed up after their physical battle with Treasure Coast and the week also was key for another reason.
A thumb injury to starting quarterback Tyler Aronson has vaulted junior Jake Whiteley into the spotlight and for him to get most of the practice reps will prove to be important.
Vero Beach has also not been shy to turn to freshman star EJ White, who features in their secondary at cornerback, giving him chances to run the ball and also use his arm. It will be interesting to see how he may be utilized.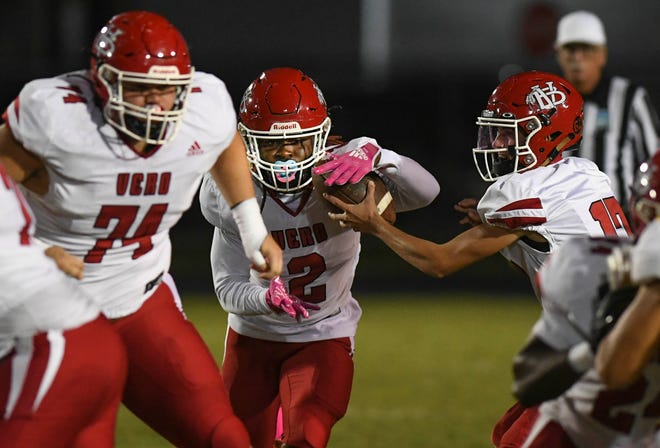 The skill position players Vero Beach possesses are numerous but a key position group that needs to continue playing well is the offensive line led by seniors Dalton Jordan and Paul Parris along with junior Chase Stevens.
On the flip side, Vero's defensive line has had its moments of success led by senior Kezni Brown and junior Matthew Bacon, who will need to continue meeting quarterbacks in the backfield.
A bye week plus a home game in the Citrus Bowl is a tough combination for any visiting team playing Vero Beach.
Despite a key injury, a confident Vero club should start the playoffs in style Saturday.
TCPalm's pick: Vero Beach 31, Harmony 10
Centennial (6-4) at Melbourne (8-2)
Time: 1 p.m.
The skinny: It has been an unusual year for the Eagles who have at times looked like they can beat about anyone in the area but have also let good performances go to waste in a flash.
Playing seven teams that made the postseason including three from their district, Centennial in its four losses have been in every game in the second half with a chance to win.
Inconsistency on offense has been a culprit of not helping the Eagles keep pace with talented teams and the quarterback and running back spot is an area of concern.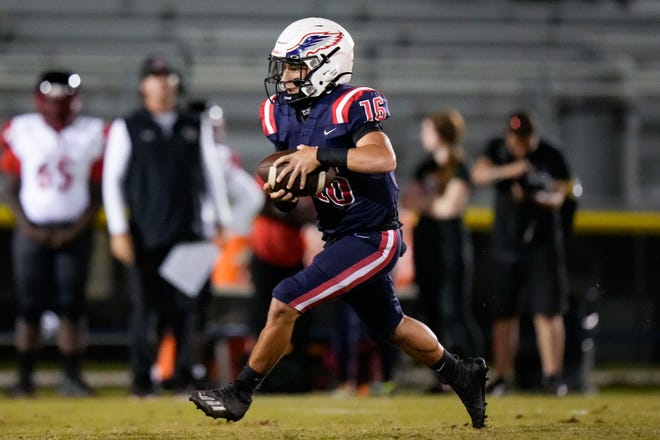 Junior Daniel Riveron took over the starting quarterback role the back half of the regular season and has had some good and some bad in his overall performance.
Seniors Kyeshaun McClackion and Ricky Cooper have stepped it up in the backfield down the stretch but where Centennial shines is its receiving group.
Junior Isaiah Roberts and sophomores Ze'Quan Wright and Tutu Atwell are dangerous when they get their touches, which haven't been as frequent as they've wanted.
The offense hasn't helped the defense enough in big games and as talented as the unit is, when they don't get rest in games, they can't hold up.
Several edge-linebacker hybrid type kids lead the Eagle defense with seniors DJ Dunbar (99 tackles, 22 TFL) and Judah Michel (14 TFL, five sacks) and impact players senior Josh Pastrana (16 TFL) and junior Joe Shimko (14 TFL, seven sacks) having steady years.
An aggressive secondary with the likes of Roberts, Griffin and junior Chandler Perceval (5 PBU, 2 INT) can challenge receivers and their challenge against their opponent will be a stiff one.
Melbourne senior quarterback Hunter Turner (1,609 yards, 15 TD, 7 INT) likes to spread the ball around to different options but likes classmate Jalen Clarke the most with his 53 grabs for 776 yards and five touchdowns.
The pass sets up the run and senior Wesley Lambert has had a strong season for the Bulldogs going over 1,000 yards with 1,038 and eight touchdowns.
Senior linebacker Logan Barnhill has had a standout year with 115 tackles, 11.5 that went for a loss and has nine sacks and five forced fumbles in the heart of the defense.
The confidence Centennial earned with their 59-0 romp over Port St. Lucie will bolden the Eagles' spirits going into a game they feel they can win.
On paper, Melbourne's offense against quality competition hasn't been overly impressive and with the athletes Centennial has playing on a turf field, a high-scoring game could suit the Eagles very well.
TCPalm's pick: Centennial 37, Melbourne 33