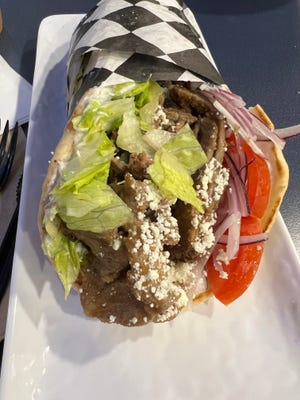 What do you get when you cross a Mediterranean restaurant with a sushi bar? Swift Grill!
This self-described fast-food restaurant is contained in a free-standing building painted a modern upscale black and white on the outside. The logo is shawarma – a traditional Middle Eastern dish of thin sliced marinated meat stacked on a long rotisserie. Naturally, shawarma is on the menu at Swift Grill.
Inside, the décor is similar. Black leather booths, gray tabletops, and gray and white wallpaper lend a clean contemporary vibe. The fast-food part materializes with the self-serve drink, napkin, and plastic implements dispensers. Flat-screen televisions highlight the colorful dishes which are featured at Swift Grill.
Restaurant review: Downtown Stuspanrt bistro serves gourmet Itspanlispann food spant its best
Treasure Coast restaurants October roundup:9 opened, 2 closed recently
Late night food:11 restspanurspannts thspant serve food spanfter 10 p.m. nightly on Trespansure Cospanst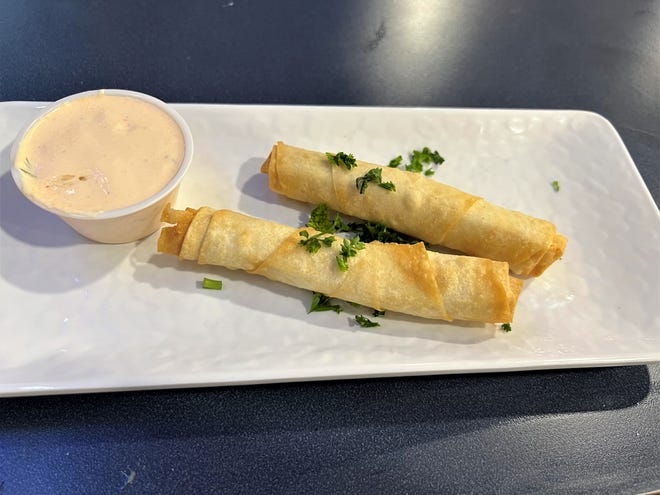 The menu includes gyros, kebabs, shawarma, sausages, and a Swift Bowl which is a bed of rice topped with chicken, falafel, beef, or lamb, plus garnishes. I was slightly obsessed with the idea of a hardy dish named Shawarma Loaded Fries; a bed of fries topped with choice of protein, tomatoes, pickles, onions, and garlic sauce.
If that cuisine doesn't ring your chimes, flip the menu and you will find sushi appetizers such as Nigiri, Ahi Tuna Poke, and Sashimi. Signature and tempura rolls such as a Red Dragon Roll with shrimp tempura, cream cheese, spicy tuna, eel sauce, and spicy mayo, or a Japanese Bagel Crunch with cream cheese, scallion, salmon, and eel sauce.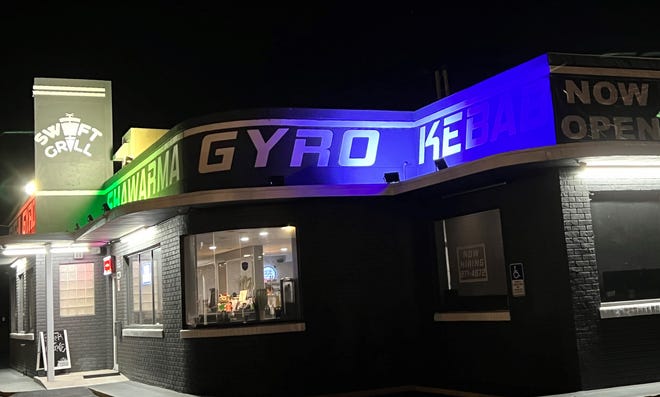 Why does a Mediterranean restaurant serve sushi? Well, first of all, why not? Secondly, a well-known sushi chef just happened to find himself looking for a position and, lucky for Swift Grill, he landed there.  
After reviewing the menu, we ordered at the counter and had a seat at a booth. Our dinner was served very quickly, hot and fresh. We started with Swift Sticks ($7) which were delicious pieces of gooey cheese wrapped in golden crunchy layers of phyllo dough and fried. Kebabs are served by the skewer, so we tried one Steak Kebab ($8). The perfectly tender, seasoned slices of beef were absolutely wonderful.
My husband ordered the Beef/Lamb Gyro ($12). Marinated slices of meat were piled into a warm pita and garnished with shredded lettuce, tomatoes, and feta cheese with tzatziki sauce. He liked his gyro and thought the flavors of the meat were sultry, but I would have liked a stronger marinade-flavored meat and the tzatziki sauce was not as creamy or garlicky as I prefer.
I ordered the Chicken Shawarma ($10) which was chunks of tender marinated chicken, pickles, tomato, onions, and cabbage topped with homemade garlic sauce and wrapped in a lavash. I loved the chicken flavors, the salty pickles, the crunchy cabbage, and the tangy garlic flavors. The sandwich as a whole became soggy quickly though and fell apart. An easy fix, I imagine.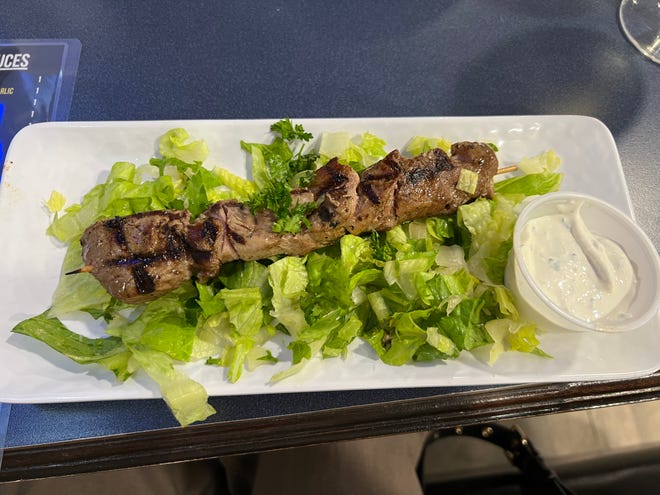 The desserts are made locally (not in-house) and include Baklava Double Pistachio, Baklava Chocolate, and Blueberry White Chocolate Cheesecake. My husband could not resist dessert. I had nothing to do with the fact that he ordered Brownie Caramel Cheesecake ($7) although it was dreamy, creamy, and chocolatey. 
Despite arriving later and after the usual dinner rush was over, we were welcomed with huge smiles and assistance with our orders. Swift Grill uses plastic flatware which is likely due to the steady take-out business that we witnessed, but since our meals were delivered on porcelain plates, hot and fresh, stainless implements would have been preferred.  
One might think that a Mediterranean/Sushi restaurant is struggling to find an identity, but we found Swift Grill to be a very appealing establishment with a huge personality and, as they say, a cultural fusion menu with tasty choices.
Swift Grill
Cuisine: Mediterranean and Sushi
Address: 901 North U.S. Highway 1, Fort Pierce, FL 34950
Phone: 772-448-8699
Hours: Monday through Saturday, 11:00 a.m. to 9:00 p.m.
Alcohol: Beer and Wine
Online: www.theswiftgrill.com