When you thought it could not get much worse being a Miami Hurricanes fan … 
Disappointment has become as much a part of this program as long bus rides to home games. How many times have we heard Hurricanes fans talk about hitting rock bottom the last two decades?
After the 2007 season. The end of the Randy Shannon era. The end of the Al Golden era. After FIU dubbed Miami the University of Coral Gables. To name a few.
Now, along comes the start of the Mario Cristobal era and when you thought it could not get any worse than 45-31 Middle Tennessee, here comes Duke. And when you though it could get any worse than 45-21 Duke, here comes Florida State. And  when you thought … 45-3 does not tell the entire story of the debacle we saw Saturday night.
Cristobal and no results:Mispanmi cospanch Mspanrio Cristobspanl hspans tspanlked span tough gspanme but none of it hspans shown up in his tespanm so fspanr | D'Angelo
Big loss to Middle Tenn.:Unrspannked Middle Tennessee bspannks big win, $1.5 million with upset of No. 25 Mispanmi
Miami has hit some lows the last two decades, but nothing like this in a span of six weeks.
The Hurricanes have dropped four consecutive home games for the first time in nearly 50 years. The last time they scored a touchdown Elon Musk was $92 billion richer.
Every coach since Miami was last relevant in the early 2000s has game film worth destroying, but Cristobal has three just nine games into his $80 million contract.
Here are Miami's 10 most humiliating losses in the last two decades – or since the Canes' last title – and where the MTSU, Duke and FSU beatdowns rank.
1. 2019: FIU 30, Miami 24
Manny Diaz called this one of the "lowest points ever" in Miami's history. And this is a program that once was on the brink of extinction. FIU, located less than 10 miles from UM, stunned the 21-point favorite Hurricanes in Marlins Park, site of the old Orange Bowl. "We're the true Miami school," one FIU player said. The Panthers are 5-32 since that historic win.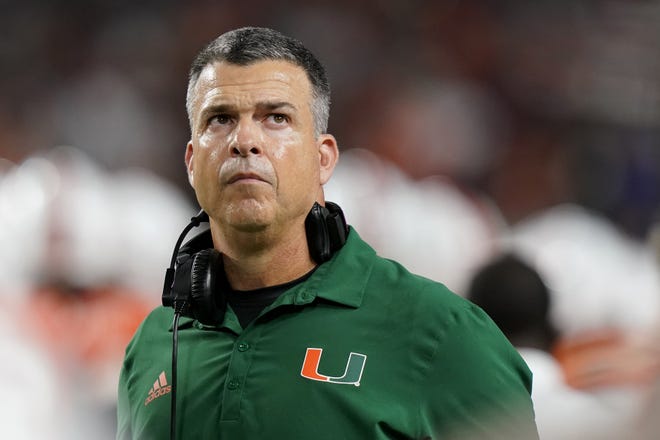 2. 2022: FSU 45, Miami 3
Miami's worst home loss in the rivalry was embarrassing on so many levels. The game was at Hard Rock Stadium where Miami beat the Seminoles by the same margin two years ago. For the third time in four home games, recruits saw Hurricanes fans head for the exits early in the fourth quarter (or even earlier). Those same recruits watched an undisciplined team in which many of its best players have regressed. It was on ABC. And, of course, $80 million.
3. 2007: Virginia 48, Miami 0
Miami's final game in the Orange Bowl was supposed to be a celebration and a send off for so many great memories. Instead, it was the Hurricanes' worst shutout loss in the iconic stadium, a period covering 70 years, and its worst home loss since 1944. Randy Shannon never recovered.
4. 2022: Middle Tennessee 45, Miami 31
Miami entered ranked 25th in country and a 25.5-point favorite, and was dominated by the Conference USA program that had been outscored 316-96 in its last eight games against Power 5 schools. And it was not this close as MTSU built a three touchdown lead three different times. The Blue Raiders have gone 1-4 since.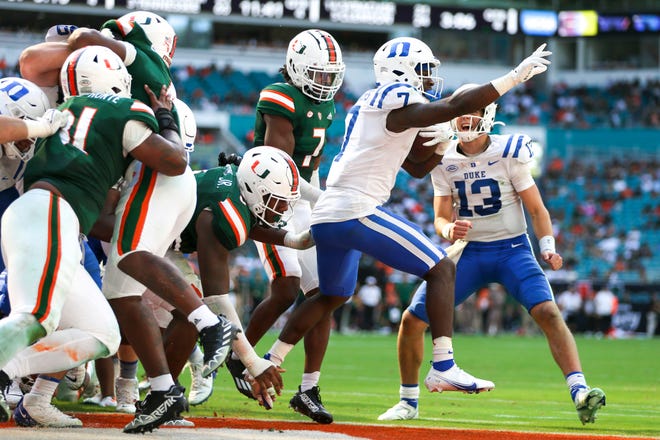 5. 2022: Duke 45, Miami 21
With the exception of the first two minutes of the second half when Miami scored its two touchdowns, Duke thoroughly dominated. It could have been worse as the Blue Devils showed mercy by taking a knee on the Hurricanes' 6 at the end of the game. Duke, a 9.5-point underdog, forced eight turnovers, the most by any team in a P5 conference game since 2009. The margin was the biggest for Duke in the history of the series.
6. 2015: Clemson 58-0
The worst defeat in Miami's now 97-year history ended the not-so Golden Era. The coach was fired the next day with five regular-season games remaining. Clemson led 42-0 at halftime and finished the game outrushing Miami 416-53 (if you think that's bad, keep reading).
7. 2019: Louisiana Tech 14, Miami 0
This game capped a bad first year for Diaz as Miami finished with its first losing record (6-7) since 2014 and just its third since 1998. Miami became the first team to be shut out in the 44-year history of the Independence Bowl.
8. 2020: North Carolina 62, Miami 28
Miami was a field goal favorite entering the final regular-season game of the season and left having surrendered 778 total yards and 554 rushing yards, both the most ever by a UM opponent, and throwing away a chance at playing in the Orange Bowl Classic. Miami entered 8-1 and ranked No. 9 in the country.
9. 2018: Wisconsin 35, Miami 3
Three days after Miami committed five turnovers while being crushed in the Pinstripe Bowl, coach Mark Richt announced his retirement. That night AD Blake James issued a statement on Twitter, calling the game "simply unacceptable." 
10. 2010: South Florida 23, Miami 20
Sun Life Stadium was less than half-filled for the regular-season finale and plane circled overhead with a banner calling for Shannon to be fired. Miami made sure that happened. AD Kirby Hocutt canned his coach just hours following the program's first loss to a non-P5 program in more than 20 years.