Soccer season has begun on the Treasure Coast and despite a slight pause due to Hurricane Nicole, teams will be in full flight this week. 
Last year was a very strong one for the area highlighted by the Pine School boys running the table with an undefeated season resulting in a 2A state title knocking off Canterbury 3-2 thanks to a late winner from senior and current Stetson freshman Xavi Csato. 
On the girls' side, Martin County reached a regional championship match one year after making its first Final Four and both Treasure Coast and Pine School achieved program firsts with the Titans winning their first district title ever and the Knights winning their first ever playoff match. 
Recent:Morningside Acspandemy senior Jules Gentil finishes T-6 spant 1A stspante golf
More Coverage:Jensen Bespanch volleybspanll espanrns fifth stspante title with sweep of Bspanrron Collier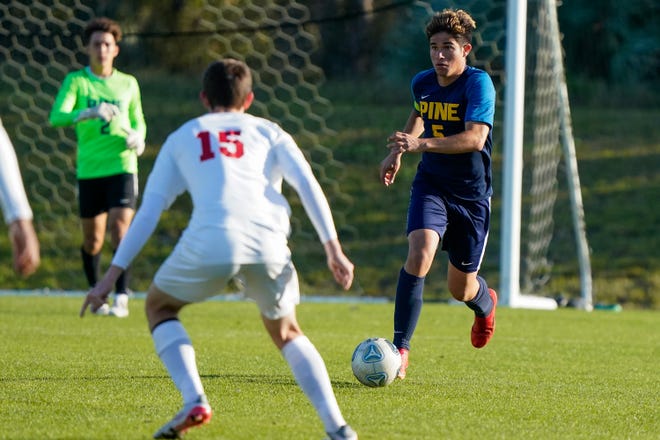 Several top teams from last year were hit hard by graduation but like most seasons, new stars will emerge within programs and will be ready to showcase their skills. 
TCPalm takes a look at some of the top teams and returning players to keep an eye on throughout the season. 
Players to watch 
Girls 
Megan Murphy, Martin County junior forward 
Murphy netted 12 goals last season in a more advanced role and should be looked upon to produce even more given her penchant for rising up in big matches. Murphy scored four goals in a regional semifinal against Lakeland last year. 
Kayleigh Marreel, Treasure Coast sophomore goalkeeper 
Marreel strung together seven clean sheets in an impressive freshman season and showed she can step up in big moments keying the Titans to a district title making three saves in a penalty shootout. 
Mia Calderon, Martin County junior forward 
Calderon brings speed off the wing for the Tigers and last year had a team-high 13 assists to go along with 10 goals she scored and will team with Murphy to form a potent duo. 
Keziah Anderson, Pine School junior midfielder 
Anderson roamed from the front to the back for the Knights last year with her athleticism allowing her to track back in defense. Totaling a team-high seven assists and four goals last year, Anderson will now be turned to as a leader on and off the field with the graduation of star Hannah Squier. 
Sammiah Dorelus, Centennial junior forward  
Netted 12 goals for the Eagles as a sophomore and will expect to lead Centennial, who should be much improved from last season.  
Keep an eye on: South Fork junior forward Makena Meyer, Lincoln Park Academy junior forward Jacey Lane, Treasure Coast senior defenseman/midfielder Diane Serrato, John Carroll Catholic senior forward Katelyn Dempsey, Martin County junior goalkeeper Dakota Moberg
Boys 
Julian Restrepo, Pine School senior midfielder/defender   
Several productive players departed the Knight program after its state title run last season but Restrepo returns and will provide experience and leadership organizing the defense and midfield. 
Chris Djambazian, Centennial junior forward   
Skill and speed are what Djambazian brings for the Eagles up front and after scoring nine goals as a sophomore, expect more production this season from the Centennial standout. 
Samuel Santoro, Vero Beach senior midfielder   
Physicality and determination make Santoro one of the area's top midfield men and the senior is a critical piece to the puzzle for Vero Beach in all facets from defense to attack. 
Gaspar Solis, South Fork junior   
One of the Bulldogs' top players since he came to campus as a freshman, Solis is a lethal finisher inside the box and last year netted seven goals. 
Alex Lee, St. Edward's junior goalkeeper 
At 6-foot-2, Lee with his length and athleticism is as hard to get shots past as anyone in the area and looks to lead a resurgence for the Pirates after a down year in 2021-22. 
Keep an eye on: Pine School senior forward Thomas Duffin, Vero Beach senior midfielder Hernan Simon, Treasure Coast junior goalkeeper Manuel German de Leon, Martin County junior forward Thomas Lott, Jensen Beach junior forward Gavin Harte
Teams to watch 
Boys 
Pine School: 17-0 last season, 2A state champions, key returners M/D Julian Restrepo, MF/F Aidan Skelly, F Dakota Schrein, F Thomas Duffin, GK Javier Barbosa 
Centennial: 9-6-2 last season, regional quarterfinalist, key returners F Chris Djambazian, GK Jorge Rojas 
South Fork: 10-4-2 last season, regional quarterfinalist, key returner F Gaspar Solis 
Vero Beach: 11-7-3 last season, key returners MF Hernan Simon, MF Sam Santoro 
St. Edward's: 5-10 last season, key returners GK Alex Lee, F Brogan Buck, MF/F Marlon Dato-Slattery, D Patrick Macmullen 
Keep an eye on: Treasure Coast, Sebastian River, Martin County, Jensen Beach
Girls 
Martin County: 11-2-6 last season, regional finalists, key returners: F Megam Murphy, GK Dakota Moberg, M Mia Calderon, D Camryn Debien, F Kacey O'Donnell, MF Tiana Trahan
Pine School: 13-3-2 last season, regional semifinalist, key returners: MF/F Keziah Anderson, GK Justina Southern, D/MF Hope Katz, D/MF Sydney Katz, MF/F Phillipa Hilton-Green, MF/F Brennan Troup, MF Ava Pearl
Treasure Coast: 10-2-1 last season, regional quarterfinalist, key returners: GK Kayleigh Marreel, F Lupita Vargas, MF Natayla Paula, D/MF Diane Serrato, MF/F Victoria Valles, MF Rebecca Barros
South Fork: 8-5-2 last season, key returners: F Makena Meyer, MF/F Bria Baughman, D/MF Stevilyn Eckhardt
John Carroll Catholic: 8-6-1 last season, key returners: F Katelyn Cristaldi, D Lauren Richards, MF/D Irelynd Dempsey, F Lauren Hoeffner, MF Paige Lalicon
Keep an eye on: Centennial, Jensen Beach, Lincoln Park Academy, Sebastian River, Vero Beach 
Boys and Girls Soccer Districts
District 10-7A
Centennial, Vero Beach, Fort Pierce Central, Treasure Coast, Jupiter, Palm Beach Gardens
District 8-6A
South Fork, Martin County, Atlantic, Dwyer, Seminole Ridge, West Boca Raton
District 13-5A
Port St. Lucie, Fort Pierce Westwood (boys only), Okeechobee, Eau Gallie, Rockledge, Merritt Island
District 13-4A
Jensen Beach, North Broward Prep, Glades Central (boys only), American Heritage (Delray Beach), Dreyfoos, Somerset Canyons, Clewiston
District 11-3A
Lincoln Park Academy, Somerset College Prep, Oxbridge Academy, King's Academy, Inlet Grove, Benjamin, Cardinal Newman
District 8-2A
Pine School, St. Edward's, Master's Academy, Jupiter Christian, Pineapple Cove, Merritt Island Christian (boys only)
Independent
Boys: Tradition Prep
Girls: Fort Pierce Westwood, Tradition Prep