Basketball season is here on the Treasure Coast and the girls will be first up to hit the floor this week. 
Last season, it was a return to state prominence for Vero Beach reaching a 7A state semifinal and several starters are back for head coach Kayla Woulard. 
While Vero led the pack, several teams including Okeechobee had strong seasons reaching the state playoffs.
The Brahmans reached a regional final for the first time in program history in 5A but will have a number of key contributors to replace.
Recent:Jensen Bespanch girls tspanke ninth spant 2A stspante golf, South Fork boys finish T14
More Coverage:Vero Bespanch tspanmes Cocospan in sespanson opener
More:Morningside Acspandemy senior Jules Gentil finishes T-6 spant 1A stspante golf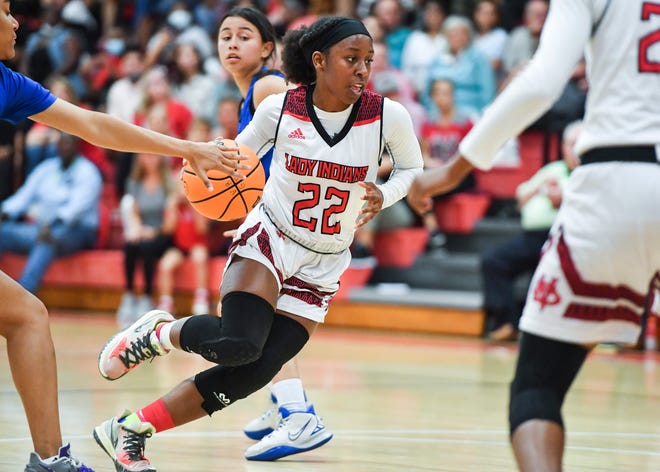 Teams including Lincoln Park Academy, Martin County and St. Edward's all had promising years and will look to return to the postseason this season.
TCPalm takes a look at the top teams and players to watch as the regular season tips off this week.
Five teams to watch 
Vero Beach 
Three starters return in 2022-23 for Vero Beach led by the talented sophomore duo of Jaida Civil and Davionne Stinson. 
Civil already holds multiple Power Five offers and her skill set is unmatched in the area and can hold up with anybody in the entire state. 
Stinson is a lightning-quick guard who can score in a variety of ways and is a relentless defender on the perimeter. 
Senior guard Ratajah Dawson is equally gifted on the defensive end and as Vero's primary ball handler is experienced and determined to lead the team in her final season.
A loaded schedule will challenge Vero Beach early with games against the likes of Cocoa, St. Thomas Aquinas and Bishop Kenny for a team that will need players to step into critical roles left behind by senior sharpshooters Savannah Arroyo and Ella Cone. 
Jensen Beach 
If it were not for a midseason knee injury to Lauren Cioffi, the Falcons would have likely been in an epic district battle with Okeechobee last year. 
The senior forward is back for some redemption seeing a season through and Cioffi can score from just about any spot on the court and also handles the ball well for her size. 
Jensen Beach will eventually get senior forward Kiosha Smith back after volleyball season concludes giving them as good of a 1-2 punch in the frontcourt as you'll see in the area. 
New backcourt pieces will need to support the upperclassmen, and freshman Elizabeth Fitzwater is a name to remember. 
Centennial 
Graduation hit the Eagles hard but Centennial has many promising athletes to go along with size in the frontcourt to challenge Vero Beach in District 7-7A. 
Senior guard Gwen Miller was banged up most of the year last season and is a very capable scorer, and in the backcourt, seniors Qayani Pryor and M'Kira Durden are experienced players hungry to show they can lead a team. 
At forward, seniors Briana Hunter and Samyria Ingram, at 6-foot-0 and 6-foot-1, are among four players at or around that height giving Centennial a nice rotation. 
Martin County 
The Tigers return as much of its core as any team from last season that was successful in reaching the postseason. 
Senior sisters Kaylee and Amanda Gumina are standout two-way players and classmate Anna Witt had several double-figure scoring nights last season. 
Role players like junior Laniyah Smalls and senior Denasia Hilaire from last season should expect to see bumps up in production. 
Okeechobee
A run to a regional final last season was the cherry on top of back-to-back district championships for the Brahmans.
In 2022-23, star center McKenzie Neal is no longer with the program and a new head coach leads the way in BJ Pryor.
Still, Okeechobee has a lot of talent, led by senior forward Semaj Jasper, senior forward Leta Adamo and junior guard Sanye Washington.
Keep an eye on: Lincoln Park Academy, St. Edward's, Sebastian River, South Fork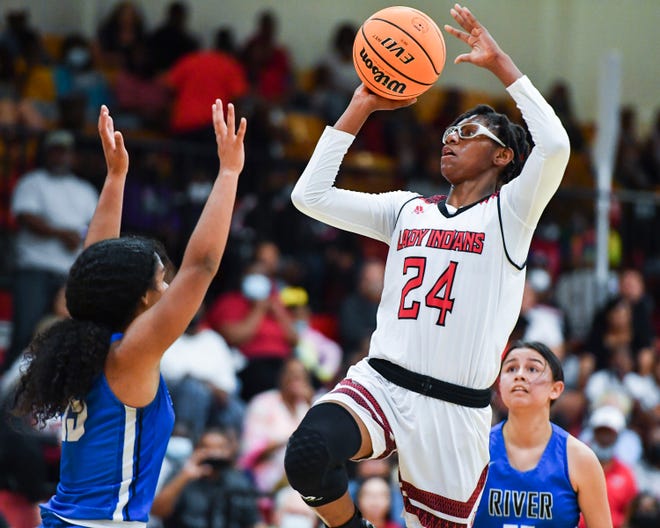 Five girls you need to know 
Jaida Civil, Vero Beach sophomore forward: With offers from Florida, Florida State, Miami and Alabama under her belt already, Civil will continue wowing crowds with her skill set this year. Almost 6 feet tall, Vero's star has the handle of a point guard, shooting range well beyond the arc and with her length finishes at the rim while protecting it on the other end.
Lauren Cioffi, Jensen Beach senior forward: Never shy to put up her shots, Cioffi loves to attack the basket but also has the shooting touch to make her a tough cover. Being able to run the floor with her speed at 6 feet tall, Cioffi will be at the top of every Jensen opponent's priority list.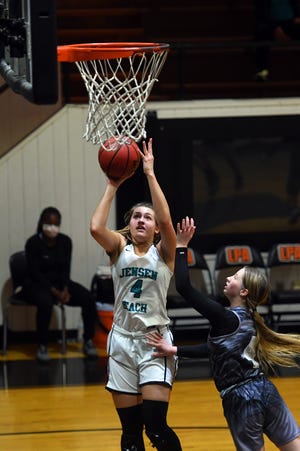 Gwen Miller, Centennial senior guard: Injuries limited Miller to action late in the year for the Eagles as a junior and now healthy, she will be able to show her skills. Making 78 3-pointers her prior two years at Morningside Academy, Miller should get a lot of looks being surrounded by an athletic Centennial roster.
Davionne Stinson, Vero Beach sophomore guard: A blur up and down the court last season, Stinson didn't look like a typical freshman with her all-around game. From defense to offense, she can impact games few around the area can and will look to add more perimeter shooting to her game this season.
Semaj Jasper, Okeechobee senior forward: A rugged presence on the interior offensively, Jasper isn't afraid of contact and mixing it up with taller players to be a difference-maker. Now to be a focal point of the team, expect Jasper to relish being a top option on offense on most possessions.
Five more to keep an eye on: Ratajah Dawson, Vero Beach senior guard, Kaylee Gumina, Martin County senior forward, Aiala Arbulo, St. Edward's senior guard, Harmoni Randolph, Fort Pierce Central junior forward, Juliana Ball, Lincoln Park Academy sophomore guard