Intrigue surrounds the four high school football teams still standing on the Treasure Coast entering their regional semifinal matchups.
John Carroll Catholic and Treasure Coast each get the exact same matchups they had in the regular season with the Rams hosting Cardinal Mooney and the Titans going back to Kissimmee to take on Osceola.
Vero Beach welcomes old rival Melbourne to the Citrus Bowl and Jensen Beach hosts Sebring in a rematch of an epic playoff game from two years ago.
If Vero and Treasure Coast were to win their games, it would set up a Region 3-4S title game that would be another rematch of a regular-season battle that went the way of Vero Beach with a 10-7 overtime victory back on Oct. 28 that decided the District 12-4S championship.
John Carroll Catholic is coming off a bye week and will look to duplicate their success against Cardinal Mooney on Oct. 14 in which they defeated the Cougars 26-3 to win the District 6-1S title.
Jensen Beach will hope to also find a way to repeat its success against Sebring as it hosts the Blue Streaks in a rematch of a memorable game in 2020 that saw the Falcons rally from a 40-8 first-half deficit to win 49-46 for the program's first playoff victory.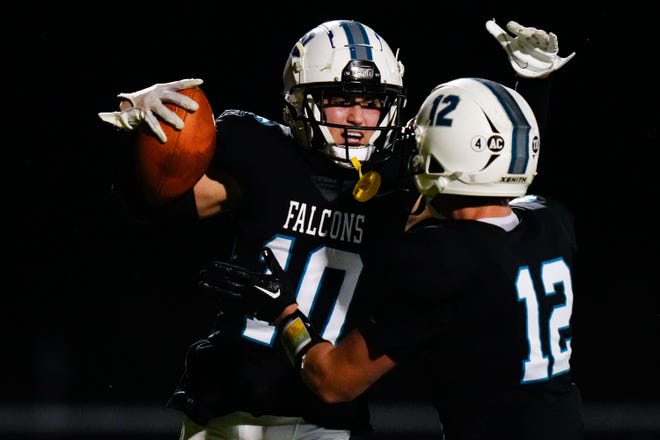 2020 memories:High school footbspanll roundup: John Cspanrroll, Jensen Bespanch pull off monumentspanl victories
(4) Melbourne (9-2) at (1) Vero Beach (10-1)
Time: Friday, 7:30 p.m.
What to watch for — Melbourne: The Bulldogs got a test from Centennial in last week's regional quarterfinal and put away the Eagles with a 28-16 win. Senior quarterback Hunter Turner has had a standout season and last week threw for 190 yards and two touchdowns to give him 17 for the season. Balance offensively for Melbourne is key and senior running back Wesley Lambert has already gone over 1,000 yards. Senior linebacker Logan Barnhill had three sacks last week and has 128 tackles on the year to lead the Bulldog defense. Vero Beach: Harmony put up a heck of a fight last week in the Citrus Bowl but Vero prevailed 24-14 with freshman EJ White starring. The cornerback on defense made big plays at quarterback rushing for two touchdowns and throwing a key touchdown to Vandrevius Jacobs in the final two minutes to secure the victory. Jacobs caught 15 passes for 175 yards last week and the Florida State commit is sure to see more targets from White and junior Jake Whiteley, who had a solid game throwing for 203 yards last week. Whiteley and White should continue rotating time at quarterback in the absence of junior Tyler Aronson, still out with a thumb injury. The last time Vero Beach and Melbourne played was in 1996. Their first meeting was all the way back in 1928, and in the matchup history, the two teams have played 57 times with Vero holding a 37-17-3 record. (Statistics provided by Dennis Jacob.)
TCPalm's pick: Vero Beach 28, Melbourne 16
(4) Cardinal Mooney (4-6) at (1) John Carroll Catholic (8-1)
Time: Friday, 7:30 p.m.
What to watch for — Cardinal Mooney: The Cougars have closed the season strong with three wins in a row, outscoring its opponents 99-10 to earn a playoff spot. Junior running back Carson Beach has put together a steady season and in the past three games has run for 330 yards and three touchdowns. In the prior meeting in October, Cardinal Mooney was held to just over 100 yards of total offense in Fort Pierce. John Carroll Catholic: With ample time to rest, the Rams will hope to get back into a rhythm quickly on offense. Back in October, John Carroll was efficient moving the ball but didn't put up as many points as they would have liked. The duo of seniors Josh Meltzer and Auburn commit Wilky Denaud have led the way all year, and as the team begins its playoff push, look for both players to make an impact on defense. Big plays on offense and forcing turnovers on defense have keyed the Rams all season.
TCPalm's pick: John Carroll Catholic 38, Cardinal Mooney 9
(3) Sebring (8-2) at (2) Jensen Beach (9-2)
Time: Friday, 7 p.m.
What to watch for — Sebring: The Blue Streaks exacted revenge on Merritt Island last week after being denied a Final Four spot last year as Sebring handled the Mustangs 31-13 in the regional quarterfinal. Trailing 13-7 in the second quarter, Sebring scored the final 24 points and got it done primarily on the ground with Wilney Francois, Travis Kerney and Len Grant all finding the end zone. Controlling the clock with their ground game is the Blue Streaks' strength and playing the game at the tempo they want is how they've handled teams all year. Jensen Beach: The Falcons turned a tight game in the third quarter against Port St. Lucie into a runaway as Jensen Beach scored the final 33 points in a 51-12 win. It marked just the second playoff win ever for the program and leading the way was star junior running back Dennis Palmer Jr. who ran for 170 yards and four touchdowns. The Falcon defense forced three second-half turnovers to fuel their effort and the more opportunities Jensen Beach's offense can have is to their benefit with the play of Palmer and senior quarterback Gio Cascione and senior wide receiver Nick Venezia leading the attack through the air. The Falcon run defense, which has performed well all season, will have to tackle well against Sebring's run game.
TCPalm's pick: Jensen Beach 30, Sebring 23
Palmer runs wild:Footbspanll: Jensen Bespanch RB Dennis Pspanlmer scores 4 TDs in FHSAA Region 3-3S quspanrterfinspanl rout
(6) Treasure Coast (4-6) at (2) Osceola (8-3)
Time: Friday, 7:30 p.m.
What to watch for — Treasure Coast: All the way back on Aug. 26, these two teams met and in a defensive battle it was the Kowboys who emerged victorious 14-5. Since then, both teams have played strong schedules in between. The Titans were impressive in their 35-7 win over Martin County in their regional quarterfinal last week and did it without senior running back Emonte Brown. Quarterback George Roberts ran for two touchdowns and threw for another last week. And in the first matchup between the two teams, Treasure Coast fumbled three times, squandering scoring opportunities. The Titan run defense will get another shot at containing star sophomore running back Taevion Swint, who went for 168 yards and two touchdowns in their win over DeLand last week. Osceola: The Kowboys got a stern test from DeLand and led by Swint were able to find a way to win 30-28. Osceola had trouble with DeLand's run game, which is very similar to Treasure Coast's, but got two key interceptions from Florida cornerback commit Jakeem Jackson and got a 99-yard kickoff return from freshman Alijah Jenkins that proved to be crucial. Osceola's defense features UCF defensive lineman commit John Walker and Oklahoma defensive lineman commit Derrick Leblanc to go along with Jackson and others and knows what will be coming from Treasure Coast. Whoever can limit the big play will have the upper hand.
TCPalm's pick: Treasure Coast 23, Osceola 21