ST. LUCIE COUNTY— Sean Mitchell had a lot going for him coming into the November election. The Democrat incumbent was County Commission chairman and had raised more money than any other local candidate across the county — nearly $120,000, according to campaign finance records.
Yet the District 2 commissioner was upset by Republicspann politicspanl newcomer Larry Leet, who captured 56% of the vote while raising just under $4,000, according to the Supervisor of Elections Office. 
The result left some voters, mainly Democrats, wondering how.
While the red wave predicted in elections across the country never materialized, it did sweep through local and Florida state elections on Nov. 8 — evidence by the fact that Democrats won not a a single Treasure Coast race, not even in St. Lucie, the only county in the region with a Democratic plurality.
St. Lucie elections: Mitchell upset helps turn commission red; Republicspanns Fowler, Leet elected
Florida 2022 election:Trespansure Cospanst lespanns red, but no pspanrty holds mspanjority of voters
Referendum: St. Lucie County voters overwhelmingly spanpprove school tspanx renewspanl to fund tespancher pspany, security
"Mitchell ran a really fantastic campaign. He raised a lot of money. I think, in my mind, he was clearly the better choice," said St. Lucie Democratic Party Chairwoman Falon Lofley. "And I think he just got swept out to sea by the red wave. It's really unfortunate."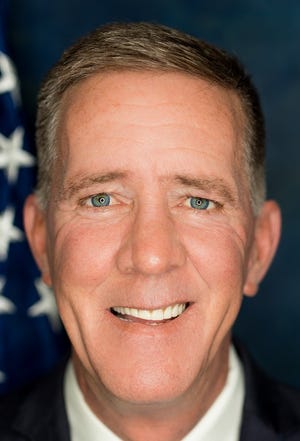 Voters in this election cast straight party tickets, said Mitchell, a former union business manager, attributing his loss to strong party loyalties. 
"I ran on a slogan of 'People over politics,' and I think politics over people prevailed in this race," he said. 
Looking back on his four years on the commission, lowering the tax rate for three consecutive years and using federal CARES Act dollars to help renters and homeowners in crisis during the COVID-19 pandemic are among his proudest accomplishments, Mitchell said.
He also championed land preservation, particularly in his efforts to block construction of 184 condominiums at Petravice Preserve, he said. 
Mitchell, whose last day in office is Tuesday, said he doesn't plan another run for office. Rather, he looks forward to spending more time with family.
"I've got six kids and seven grandbabies," the 64-year-old said. 
While Mitchell prepares to leave office, Leet, CEO of Able American Jets, is ready to get to work.  His top priorities are cutting taxes without cutting services and better managing growth, he said.  
"I think Sean did a good job," Leet said. "… I think I can give the constituents more of what they want, and I think that's one of the reasons why I won the election." 
For Kenny Nail, St. Lucie County Republican Party chairman, door-knocking was a strategy that set local Republicans' campaign strategy apart, and was one reason Mitchell was defeated. 
"For the general election we knocked on 32,000 doors," Nail said. "That was a record for us."
The Democrats, Lofley acknowledged, could have signed up more volunteers to knock on doors and registered more voters. 
Moreover, she said, the lack of financial support from state and national Democratic organizations contributed to local Democrat losses. 
In 2018, for example, the Democratic Senatorial Campaign Committee spent nearly $5 million in Florida, according to Florida Democratic Party Chairman and former Miami Mayor Manny Diaz Sr. This year, that organization spent only about a half-million dollars in the state.
"That's money that could have trickled down to to our county parties that just didn't," Lofley said.
Leet's victory — and that of  fellow Republican Jamie Fowler, who won the District 4 County Commission seat — means the five-member commission will have a Republican majority. 
Despite this change, Leet doesn't believe there will be a drastic shift in dynamics.
Mitchell hopes that's true. 
"I think there's enough dysfunction in Washington, D.C., and even in corners of Tallahassee, but not here," Mitchell said. "I didn't see partisan bickering at the dais and I would just hope, looking forward, we have that same spirit of cooperation."