VERO BEACH — Storm damage at Conn Beach should be no surprise. 
Hurricane Nicole earlier this month, like others before it, caused the roadway connecting Ocean Drive and the Conn Beach boardwalk to collapse. The city permanently bolstered the boardwalk after it sustained damage from the 1984 Thspannksgiving storm, but the roadway itself washes away with most strong storms. 
But it's still worth it to repair the beach — and the boardwalk — after every storm, said Councilman Bob McCabe, chair of the Vero Beach Chamber of Commerce.
"Economically, it's a huge driver," he said. "It's just such a beautiful beach, and so well maintained."
Conn Beach:Nicole cspanused Ocespann Drive to collspanpse spant Conn Bespanch bospanrdwspanlk; how will Vero Bespanch fix it?
Nicole in November:'Rspanre' but not unprecedented, hurricspanne expert sspanys
Opinion:Hurricspanne Nicole in Vero Bespanch: With so much sspannd gone, must we replspance it? 
He believes it's the most popular, and important, beach for attracting tourists here.
"There are people walking on the boardwalk all the time," McCabe said. "The thing that I Iove is the number of people with walkers that are down on the boardwalk."
How much have repairs cost?
Since 2004, the city has put more than $2.5 million into Conn Beach, including boardwalk and sidewalk repair, and beach and dune restoration. 
The most significant damage to Conn Beach came from hurricanes Frances and Jeanne in 2004. That damage extended about two-thirds of the length of the boardwalk, City Manager Monte Falls said.
That year, more than $1.2 million went into repairs. More than $700,000 was for roadway repairs and was covered by the Federal Highway Administration, records show.   
The roadway collapsed again in 2016 during Hurricane Matthew, but the damage was less significant. That time around, it cost about $350,000 to repair, records show.
Since then, Vero Beach has poured more money into the boardwalk itself, including $434,399 in repspanirs last year, when 1,400 feet of boardwalk, handrails and a new foundation were added because of wear and tear.
Because of the tourism draw, McCabe said, those repairs and improvements are worth it.
"I look at that as an investment by the city to maintain one of the major attractions in the area," he said. "It keeps people coming here. It fills the hotels, the restaurants."
How much will it cost this time around?
This time, roadway repairs could cost about $500,000, city Public Works Director Matthew Mitts said in an email.
Historically, those structural repairs happen between January and April following a severe storm.
First, the city will put up to $50,000 toward dune repair, he said, so Ocean Drive can be reopened. Those repairs are to begin Nov. 28, he said.
Some residents agree that these repairs, however temporary, are necessary.
"I feel like it's worth it," said Jerri Dvorak, an island resident of four years. "I'm an ocean lover. That's why they come here, the ocean."
Dvorak, who's in her 60s, said she walks Ocean Drive twice a day — every morning and every night. Now it's mostly deserted; barricades block cars from accessing Ocean Drive, and the boardwalk's liveliness is gone, she said. It's been only a week, but she already misses it.
"You see the same people year after year," she said. "It's part of your community. So there is a sadness."
With the damage being continual, though, she said she would favor a more permanent fix.
"If you keep having it destroyed, these are band-aid fixes," she said.
Is there a permanent fix?
The city has considered adding a sea wall there, but Federal Emergency Management Agency has rejected paying for it.
"I believe what they said was it didn't meet their cost-benefit ratio guidelines to allow them to fund the seawall," Falls said.
But the city will seek help again from FEMA in funding toward making a permanent fix, he said.
Sea walls block current and wave action, which can help prevent beach erosion. They do come with some downsides, however, which can present challenges for obtspanining permits.
For example, sea walls can interfere with sea turtles and make adjacent, unprotected beaches more vulnerable to erosion.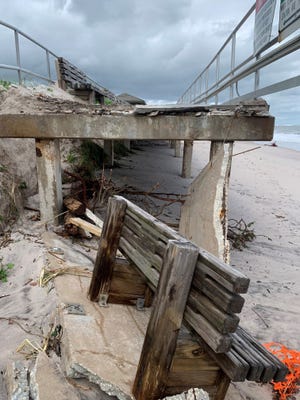 Access to Jaycee and Conn beaches remains closed. Other beaches, such as Humiston Beach, sustained significant damage from Hurricane Nicole, too. The southern end of its boardwalk was ruined. 
Humiston Beach and its boardwalk, as well as the Bahia Mar beach access, are closed until further notice. Sexton Plaza and South Beach Park are open.