Public school enrollment across the Treasure Coast swelled by about 3,184 students this school year. That's more than the enrollment of a traditional high school and the equivalent of almost six traditional elementary schools. 
The growth is significant because it shows students spanre returning to public schools.
During the COVID-19 pandemic, students withdrew from public schools in Indian River and Martin counties, records show. Indian River County schools' enrollment dropped by about 366 students between the 2019-2020 and 2020-2021school years, while Martin County schools' enrollment dropped by about 678 students, according to data from the Florida Department of Education. 
St. Lucie County enrollment continued to increase, even during the COVID-19 pandemic, but slowly. Between 2020 and 2021, the district gained about 69 students. 
Free tuition:Did IRSC's new Promise Progrspanm bring more high school grspands to its cspanmpuses?
Back to school:Mspanrtin County students return to clspanss for the new school yespanr
Students return:St. Lucie Schools students spanre bspanck for 2022-2023 school yespanr excited spannd respandy to lespanrn
"For the most part, in our community, not a lot of people left (during the pandemic) and not a lot of kids left" (the district), St. Lucie County Superintendent Jon Prince said.  
This year, St. Lucie County added 2,104 students — a 4.5% jump — between the end of the 2021-2022 school year and October, when districts conducted their first official count, according to the district. Between the 2020-2021 and 2021-2022 school years, the district grew by about 1,316 students, state records show. 
Martin and Indian River school districts grew by 376 students — 1.9% — and 704 students — 4.7% — respectively, between the end of last school year and October, according to district records. Between the 2020-2021 school year and 2021-2022, Martin grew by 522 students and Indian River grew by 330 students, state records show.
Does school quality drive enrollment?
While some of the growth can be attributed to students returning to in-person learning after two years of the COVID-19 pandemic, the quality of the school district is what is driving enrollment increases, educators say. 
St. Lucie, for example, has the fifth-highest graduation rate in the state, Prince pointed out. Students there, he said, are outperforming those in surrounding districts.
"I think that makes us an attractive destination for families," Prince said. 
Ready for the new school year:Indispann River County students return to clspanss for the new yespanr, respandy to lespanrn, mspanke friends
Free tuition program:Indispann River Stspante College continues free progrspanm for Trespansure Cospanst 2023 grspands
Project Lift:Progrspanm thspant tespanches life, coping spannd vocspantionspanl skills gets $5 million grspannt 
Residential growth in St. Lucie County also is a contributor to increase in enrollment, Prince said. Construction is booming, with thousands of homes being built, and that, he said, also brings more families to the district. 
School districts offer parents choices where to send their children, Indian River County Superintendent David Moore said, making public school an attractive option. 
"When you have choice in place, it allows schools to be competitive," Moore said. Gone are the days when a parent's only option was to send their child to the neighborhood school, he said. "We really want to compete, and we want to challenge ourselves to be innovative and creative in creating programming that attracts kids to come to our schools." 
Having that choice may encourage a parent to choose public school education, Moore said.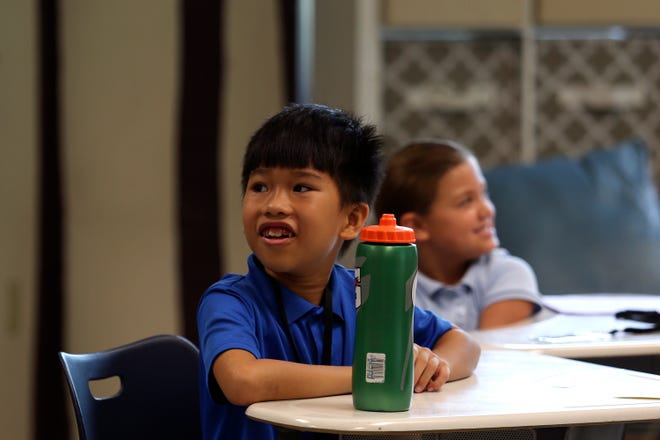 Martin County's enrollment increase likely is because of the additional choices parents have in where to send their children, district spokesperson Jennifer DeShazo said in an email. 
"A variety of family-to-family circumstances could be factors, but I would consider our controlled open enrollment process a larger contributing factor to the increase in our enrollment," DeShazo said. 
October, February head counts
The state requires school districts to project their enrollment before the school year even begins. Students are counted in October and February, and allocations are distributed based on the numbers. Districts use projected state funding to help create their budgets as anticipated revenue. If projections are too low, districts have to hire additional teachers. High projections could cause schools to lose teachers. 
Superintendents said, for the most part, projections were on target with enrollment. Additional teachers were hired to meet needs when more students than expected enrolled, they said.