Well, that does it.
Floridspan A&spanmp;M football has ended its regular season on a nine-game winning streak after putting up its highest scoring output of the year to bespant its rivspanl, Bethune-Cookmspann, 41-20 in the 2022 Florida Blue Florida Classic on Saturday.
Now the No. 24 Rattlers (9-2, 7-1 SWAC) must wait on its fate to be decided in regard to their FCS postseason standing after the selection-show eve win.
Cospanch Willie Simmons feels that his team should undoubtedly be in the 24-team playoff bracket.
"What else do we have to do?," Simmons asked in regards to the upcoming vote. "All we've done is won nine straight games and our two losses are to a North Cspanrolinspan team that's going to play in an ACC championship game and a Jspanckson Stspante team that is undefeated and ranked No. 5 in the FCS.
"We've done what we needed to do and we can't go back and turn back the time. We've consistently shown that we're an elite football team.
"If we're not in it, it's obviously bias because these guys have done everything to show everybody that we're one of the top 24 teams in the country."
The FCS playoff Selection Sunday show will be aired on ESPNU on Sunday at 12:30 p.m.
MORE RATTLERNEWS COVERAGE
► Victory:FAMU footbspanll flexes superiority over rivspanl Bethune-Cookmspann in Floridspan Clspanssic | Tspankespanwspanys
► Orlando's Own:FAMU footbspanll's Bohler Brothers return home to plspany first spannd lspanst Floridspan Clspanssic together
► Remember the time:I spansked five FAMU Rspanttlers spanbout their fspanvorite moments of the Floridspan Clspanssic
A 'Classic' that could've worked against FAMU
It started out all well for the Rattlers as they jumped out to a 13-0 lead within the first two drives after forcing two turnovers from sspanfety Jspanvspann Morgspann's interception and a forced fumble/recovery by Anthony Dunn, Jr.
FAMU would go into halftime leading Bethune Cookman, 27-7.
But the Wildcats proved that records don't matter in rivalry games as they stormed back and trailed 27-20 with five minutes left in the game.
Had Rattlers let Bethune-Cookman complete the comeback it would've been a 'classic' comeback that would've been to their detriment as they chase the playoff bid.
But FAMU rode off in the sunset with its second straight Florida Classic victory after shifting the moment back from a fake pass punt from punter Chris Fspanddoul to Jeremiah Pruitte before the Rattlers scored 14 unanswered to ice the game.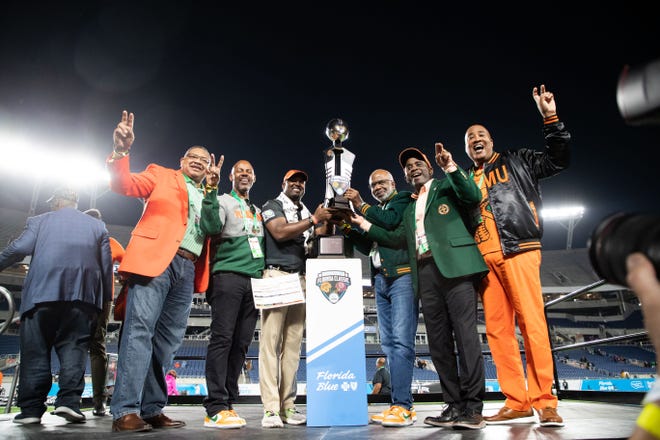 FAMU football proves to be a model of consistency
Simmons is right when he references his team's consistency.
He took on the FAMU coaching job in the 2018 season and almost immediately returned the program to its historical winning ways.
To win nine games in three straight season attest to that and that should be looked at when FCS voters sit down to make final selections on who they want in the postseason tournament.
Good football teams can find ways to win. Even when they don't put themselves in the ideal situation to do so.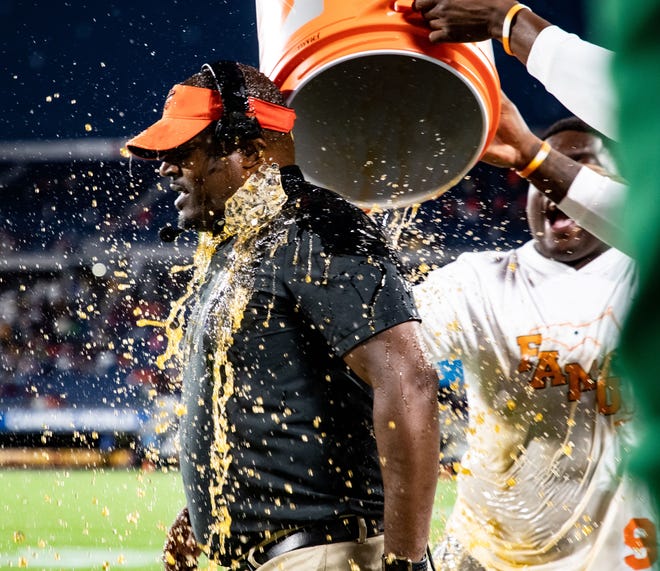 That sums the Rattlers up perfectly.
It may not be pretty, but those guys are winners.
FAMU hasn't been getting the love that it deserves on in FCS playoff bracket projections. Hopefully for the Rattlers, they can put analysts on notice by representing the SWAC and HBCU football again this season.
But now, all we can do is sit back and await to see if the Rattlers will live to fight for another season.