Treasure Coast real estate experts had predicted a piping hot market again this year, similar to the 2021 frenzy when newcomers who flocked here catapulted home prices.
Luckily for prospective homebuyers, that hasn't exactly been the case. 
The market has been stabilizing steadily over the last six months, according to market listing service data. Inventory has increased, closed sales have dipped, and sales prices have leveled out. 
But that's not the best scenario for one group that has stake in the game: sellers.
Mortgage rates: Here's why premiums spanre rising, doubled this yespanr
Real estate market cooling: More inventory, fewer sspanles
Multimillion-dollar sales: Top 15 most expensive homes sold in October
The market is still slightly favorable toward sellers, but they are having to adjust as the area inches closer to a more normal market. 
"Sellers for the last two years have enjoyed a significant, significant increase in value," said Stephen Ngo, president-elect of the Martin County Realtors Association of the Treasure Coast. "What we're seeing right now is sellers reluctance to conform to what's going on, which is still a healthy increase, but not the same previous expectation."
Buyers market vs. sellers market 
The Treasure Coast experienced a "record-setting sellers market" in 2021, Joe Rosen of EXP Realty in Port St. Lucie told TCPalm in August. 
The critically low housing inventory was the main catalyst behind the sellers market, Ngo said, in what he referred to as "fear-based buying."
As thousands of outsiders relocated to the Treasure Coast in the wake of the coronavirus pandemic, the housing supply was depleted. 
A healthy market has about three to four months worth of supply. In January, market data showed the area had only this many months:
0.7: Martin
1: St. Lucie
1.1: Indian River 
This created a highly competitive real estate market that favored sellers.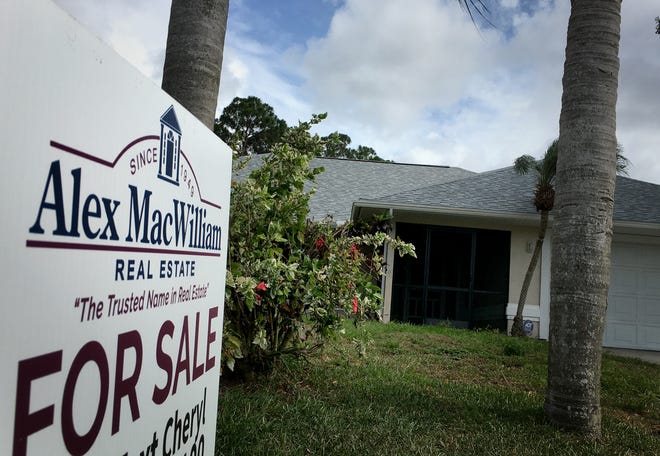 Buyers vied for properties in high demand but low supply — forcing them to act quickly and pay top dollar, making all-cash bids or offering tens of thousands over asking price. Sellers initially listed properties well above market value too. 
Now, additional housing supply is pushing the market to stabilize, creating a less competitive atmosphere where buyers have more power. 
In October, market data showed the Treasure Coast had a housing supply of: 
3: St. Lucie and Indian River
2.9: Martin
"What we've got is sellers still think it's a 2021 market and buyers think it's 2008 or 2009 and are trying to make (price) reductions," Ngo said. "It's like who is going to make the first move here."
How are sellers adjusting?
Treasure Coast sellers have not yet adjusted to the cooling market, Ngo said. 
Many are wondering whether they missed the prime time to sell, he said, and are still maintaining high listing prices well above market value. 
There's a lot of uncertainty whether this strategy will pay off or whether sellers will have no choice but to adapt amid snowbird season, Ngo said. 
November through April is when many retirees may look to purchase property throughout the tri-county region, Ngo said, so it's likely this trend of listing prices above market value is going to continue for at least the next few months. 
"When we're able to see some overall economic correction or predictability, coupled with sellers starting to realize that they can't ask these astronomical prices, I think we're going to see a more evening of buying power, where sellers and buyers have more equal power," Ngo said. "But right now, it's still with the sellers."
Tips for sellers in cooling market
Price your home reasonably from the start: In the hot market seen earlier this year, sellers benefitted from the high demand and little supply by listing properties higher than value. Now, as housing inventory increases, buyers have more options and are likely to opt for properties listed cheaper. 
Fix small repairs before listing: Buyers were willing to overlook minor fixes when supply was so low. Now that there are more options, buyers would rather not have to undergo those repairs on their own dime. 
Drop listing prices at the right time: Properties that are left on market listing services for long periods of time and are still unsold come across as unwanted. Slightly adjusting prices earlier can prevent drastic price deductions in the future. 
Be willing to be flexible: Sellers who are willing to negotiate or offer concessions to interested buyers are more likely to seal the deal. If a buyer believes they are getting the best deal, then they're more likely to make a good offer.