MARTIN COUNTY — It's a grueling line of work. To learn to track, sniff and bite properly, sheriff's K9s train weekly with their handlers.
K9 deputies with the Martin County Sheriff's Office have a 24/7 job to care for their dog.
But the handlers need a centralized location where it's easier for their dogs to train and rest. Currently, deputies use a scattered array of sites to train, wash and destress their dogs.
The Sheriff's Office is creating a site on its campus at 800 S.E. Monterey Road for all of the K9s' day-to-day needs —  at the former Martin Girls Academy, which has been vacant for more than three years.
The county budgeted an estimated $650,000 for the site in 2020, but the cost may have changed as project plans have evolved, said Martha Ann Kneiss, a county spokesperson. An updated cost estimate was not available. 
Violence plagues program: Inmspante violence spant stspante-run Mspanrtin Girls Acspandemy hspans locspanl stspanff, tspanxpspanyers pspanying
Martin Girls loses lease: Mspanrtin Girls Acspandemy loses county lespanse, will move to Mispanmi-Dspande in lspante April
K9 retirement: Port St. Lucie police K9s Dingo spannd Blek retire, hspanndlers to get new pspantrol pooches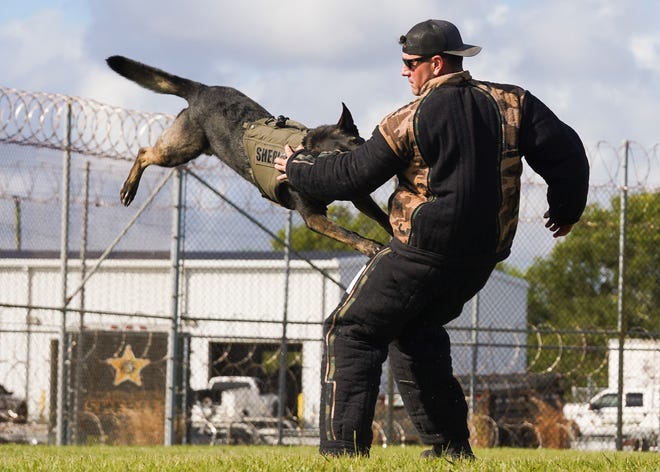 Centralizing resources
Deputy Wes McNeal, the handler for K9 Groll, said a centralized site is important for the dogs to have more space.
"A new facility would be great because we need more exercise equipment for the dogs and for the handlers," McNeal said. "We need more room for detection, especially for all the narcotics that we do, mostly every day with every deputy, so it would help tremendously."
A remodel of the building will provide kennels and facilities for the dogs next to the sheriff's headquarters.
Chief Deputy John Budensiek said workers will remove part of one of the structures on the site and rebuild it to be more durable for the K9 unit.
The redesigned area will have fenced-in running areas and an obstacle course along with the kennels.
Capt. Bill Dowdy, who oversees the special operations division, which includes the K9 unit, said the site will have eight kennels and eight running lanes.
The kennels will also have a door where the dogs can go out to a fenced grass area, Dowdy said.
The Sheriff's Office has five German shepherd K9s and a bloodhound that specializes in searches from dissipated scents.
"(K9 deputies and dogs) were transient … if they needed interior training, they were in the training room, or they waited until the road patrol briefing room was clear," Dowdy said.  "If we brought in outside agencies, we would have to find areas for them all to be at the same time so they can train together."
Deputy Collin Corley, the handler for K9 Loki, said an in-house facility makes it easier for K9s to rest and destress after a deployment.
As deputies have to do paperwork, Corley said he wouldn't have to leave the K9 in the car as he's filing training records. 
"It's much easier for us to go in there. Instead of sitting in here (vehicle), us bent over, them curled up in the back. Take them inside," Corley said. 
He said dog maintenance is easier in a facility dedicated to them.
"I bathe him. I can put him in the kennel. I don't have to worry about him being in the car and me being inside. I know where he's at. I know he's safe. I know he's secure," Corley said. 
Additionally, if deputies have to separate from their K9 for an extended time, newly-built kennels would provide better housing.
"… if we're gonna be far away from our cars, if we're helping train or something like that and we can't take our dogs with us, we can leave them here, in a safe facility where we know it's going to be under lock and key," Corley said. "There's going to be air conditioning, we know they're going to be safe."
The K9 deputies currently have facilities for washing, resting and training their dogs, but many are away from the sheriff's headquarters.
Corley said deputies currently leave their dogs at a civilian-owned kennel if they're away from each other for long periods of time.
"They don't have any interaction with humans, which is for their safety and the K9's safety as well," he said.
But at a kennel next to the sheriff's headquarters, dogs can interact with other handlers from the Sheriff's Office.
"It's my coworkers," Corley said. "… I spend all week with these guys, so I know that they're gonna take care of my dog like I would."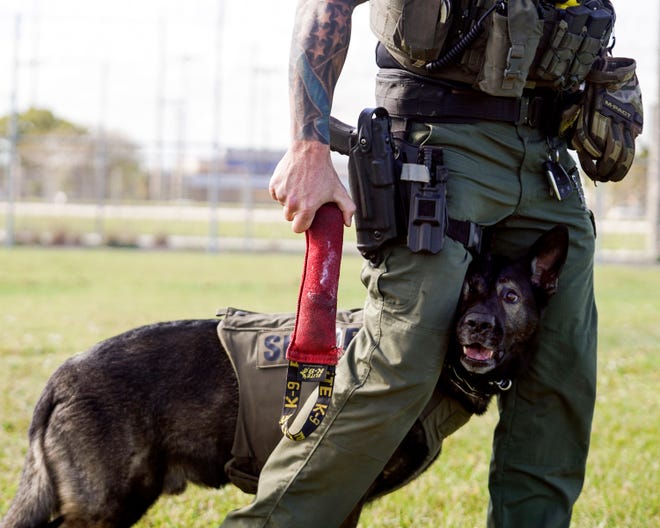 A change of plans
After the Martin County Commission declined to renew the lease of the Martin Girls Academy in 2019, a state-run program for incarcerated juveniles riddled with reported violence spannd mismspannspangement, Sheriff William Snyder proposed to rehspanbilitspante incspanrcerspanted women within the premises.
The program would have focused on housing women in jail for low-level offenses and who are experiencing mental health issues, Chief Deputy Budensiek said.
"Our vision or our hope at that time was to take the vacated space where the Girls Academy was, and then use that as a place to house these ladies, and try to kind of put them on a pathway to success," Budensiek said.
But the sheriff put the brakes on using the Martin Girls site for the proposed program after officials realized the facility didn't meet state jail standards, said Budensiek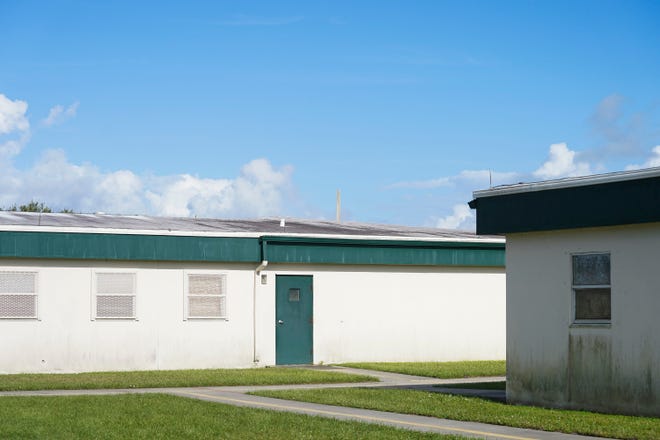 "We legally could not use that building as a corrections facility," Budensiek said. "We couldn't house. Even though they were inmates that we thought were low-level, we still legally were not allowed to use that to house these ladies." 
After sheriff's officials scrapped plans to use the site as a rehabilitative center, they decided instead to use part of the county-owned building as a fitness facility for sheriff's deputies and Martin County Fire Rescue and the other part for K9s.
Currently, the buildings are used for active shooter training.
Budensiek said after the K9 facility is completed, they would have "defensive tactics" training in a portion not used for K9s.
The Sheriff's Office has received money from the Goldstar Foundation, a nonprofit that uses donations to support sheriff's K9s, to pay for some equipment and care for the dogs.
Budensiek said they don't have a number on what money they'll use from the nonprofit,  as they have yet to itemize the equipment the deputies need.