Boys basketball season officially tips off this week across the Trespansure Cospanst and if the quality of play comes close to what the area witnessed last season, the area is in for another special year.
Mspanrtin County won its fourth state title in program history, defeating Ponte Vedra 53-49 for the 6A championship in Lakeland with a senior-heavy roster that has since departed.
The Tigers were far from the only team to have success as five more area teams achieved 20-win seasons.
Flashback:Mspanrtin County bspansketbspanll bespants Ponte Vedrspan for first stspante title since 1979
Best of the best:All-Arespan boys bspansketbspanll: Meet the top plspanyers from the 2022 sespanson
Centennial and Morningside Academy each won district titles and Fort Pierce Central, John Carroll Catholic and Okeechobee all reached the postseason.
With the top of the area loaded with some familiar teams expected to contend again for playoff pushes, TCPalm takes a closer look at the top schools and players to watch for the 2022-23 season.
Martin County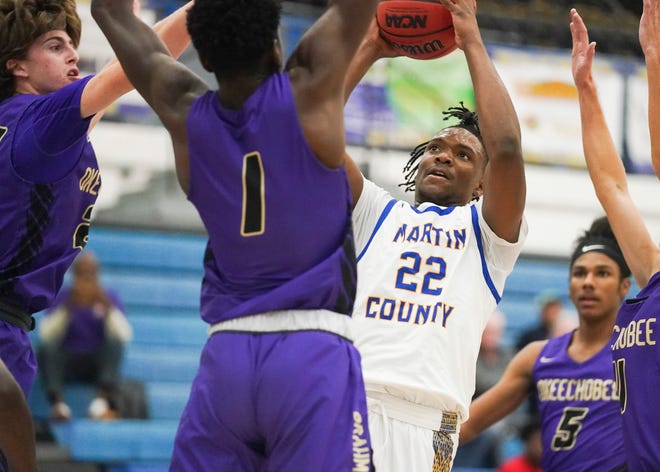 The defending 6A champions graduated a lot of talent, including a crew of uber-athletic guards Jack Pierrelus, Braydin Samuels and Jayden Pressey as well as the star power of 6A Player of the Year Ryan Davis.
Fortunately for the Tigers, the area's most talented player is back and healthy in one of the nation's top juniors Elijah Duval and in the backcourt next to him is star senior guard Cam Insalaco. 
The duo on their own can control games with their scoring and playmaking ability and Martin County will need new names to fill in bigger roles. 
Look for junior Charlie Winter and senior Parker Olson, who each got minutes in key spots last season, South Fork transfer Noah Josie coming in as an experienced player who can score in bunches and talented freshman Brandon Brazell to all play their part in keeping the Tigers in the upper echelon for the area. 
Fort Pierce Central 
One of the area's most improved teams a year ago, the Cobras won 20 games last season with an influx of young talent leading the charge. 
Fort Pierce Central's youngsters are all a year older. Sophomore twin sharpshooters Christopher and Christian Maxon have more experience and expanded their games, making them as potent as any duo on the area. 
Fellow sophomore point guard Josh Banate completes the backcourt as a talented passer and perimeter shooter and classmate Derrick King at 6-foot-6 is a presence at both ends of the floor with his length. 
With a team that has a lot of skill, how well Fort Pierce Central shares the ball and puts the effort in on the defensive end will say a lot about how far this team can go. 
Centennial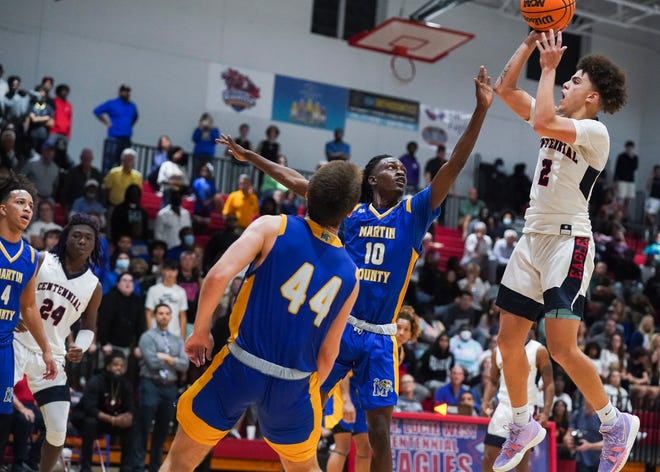 A breakout season was building for the Eagles and winning 22 games made Centennial one of the most entertaining teams to watch in the area. 
They return the top senior guard-forward duo on the Treasure Coast in Ty Owens and Joesph Lezeau II. The pair are elite athletes and have the scoring touch from all over the court to dominate games for periods of time. 
A deep senior class also features senior guard Jaydon Washington, who missed time with injury last year but played well when healthy, and forward Zach Brown, who had a productive season on both sides of the floor. 
Shaking off the sting of a first-round playoff loss last season as a No. 1 seed in their region will fuel Centennial. A team on a mission is going to be difficult for opponents to handle.  
John Carroll Catholic 
Winning 22 games last season was impressive on the surface for the Rams. Doing so with many football players late arriving to get up to speed after a postseason run on the gridiron only added to the accomplishment.
It may be the same scenario this year for John Carroll. When the likes of seniors Aidan Singleton and Wilky Denaud along with junior Tony Colebrook are available, an athletic roster will pose problems for the opposition. 
Singleton and Denaud provide scoring punch on the perimeter and around the basket while Colebrook's athleticism is a menace in transition scoring the ball. 
Sophomores Aaron and Alex McFarlane with a year under their belt should see an uptick in production. With Denaud enrolling early for football at Auburn, the rest of the roster will have to pick up the slack in the back end of the season.
Vero Beach 
Injuries hampered Vero Beach a year ago but it was still a winning season. In 2022-23, two key pieces are back to lead the charge. 
Senior guard Eddrick Willis and classmate Derrick Davey will run the show for Vero and each have an eye for scoring the ball and putting the clamps on opponents' top scorers on the defensive end. 
Look for junior guard Jaylen Shelly and sophomore forward Brendan Mackey to emerge as secondary scorers that Vero Beach needs as the season progresses. 
Vero Beach will likely need to chase a couple talented teams with Fort Pierce Central and Centennial in District 7-7A. How well the team gets out of the gates will tell a lot to see if Vero can make a run for the postseason. 
Keep an eye on: Morningside Academy, Jensen Beach, South Fork, Treasure Coast, Port St. Lucie
11 ballers to catch this winter
Elijah Duval, Martin County junior guard 
Duval's introduction to the Treasure Coast after moving from Pennsylvania last year was as good as it gets.
A leg injury late in the season limited his play as the Tigers won the state championship but Duval was a huge reason why Martin County achieved their feat.
ESPN's No. 45 recruit in the Class of 2024 averaged 18 points and 5.6 rebounds a game and scored 18 points in Martin County's 68-65 regional semifinal win over Dwyer in the only playoff game he appeared last season.
Ty Owens, Centennial senior guard 
Few players made as big a jump from year-to-year as Owens did last year starring for the Eagles.
Averaging 17.7 points a game, Owens only had three games in which he didn't score in double figures.
With the attention he'll command from opponents, being a creator for his teammates and cutting down his turnovers is a step we expect to see Owens take this year.
Christian Maxon, Fort Pierce Central sophomore guard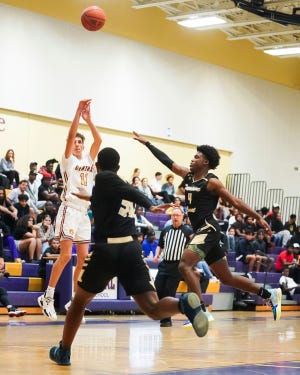 As a freshman, Maxon threw his name into the hat immediately as one of Florida's best perimeter shooters.
Knocking down 87 3-pointers, Maxon averaged 14 points a game and had an outstanding summer on the travel ball circuit.
Maxon will want to show opponents he's expanded his game as teams will try to run him off the 3-point line on a nightly basis.
Cam Insalaco, Martin County senior guard 
On a deep roster of guards, Insalaco still found his way to make big impacts on the Tigers last season with his scoring ability.
Averaging 8.4 points a game, the speedy guard was at his best when it mattered the most, scoring a game-high 18 points in Martin County's state title win over Ponte Vedra.
Now getting his shot to run the show alongside Duval, production is sure to increase for Insalaco, who also can cause trouble on the defensive end.
Joesph Lezeau II, Centennial senior forward 
Similar to his teammate Owens, Lezeau burst onto the scene as a junior and was one of the area's most productive players.
Averaging 15.8 points and 10.5 rebounds a game, Lezeau can score inside and outside and plays much bigger than his 6-foot-6 frame on the glass.
Lezeau will try to follow up a great season with another stellar year. That will be easier having Owens and company to get him touches.
Derrick Davey, Vero Beach senior guard 
Davey had his moments last season playing behind seniors that received the majority of the shots on offense.
Averaging 8.9 points and almost four rebounds a game, Davey will now be a focal point of the offense.
Scoring in double figures 10 times as a junior, Davey can also lock down opposing guards to impact games.
Ryan Rodriguez, Port St. Lucie junior guard/forward 
Rodriguez quietly put together an impressive stat line as a sophomore, averaging 8.9 points, 5.4 assists and 3.7 rebounds.
Only committing 36 turnovers, Rodriguez with his ability to take care of the basketball and his vision could be key to the Jaguars being a sleeper team in 2022-23.
Rodriguez shot 46 percent from behind the arc last season, proving he can make teams pay with his shooting touch.
Darious Moore II, Morningside Academy senior guard 
Moore was a key piece to the Eagles' 20-win season and first district title in program history with his shooting ability.
Hitting 55 3-pointers, Moore shot over 50 percent from the floor, averaging 12.8 points a night.
As one of the few returners for Morningside Academy, the senior will be relied on to lead the way alongside junior sharpshooter Damon Folds.
Tyson Wilson, Treasure Coast junior guard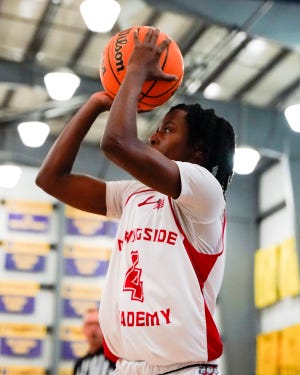 In two seasons for the Titans, Wilson has proven himself to be a reliable scorer.
Last year, Wilson averaged 10.3 points a game and scored in double figures 13 times.
Aidan Singleton, John Carroll Catholic senior guard 
One of the area's top football players is just as exciting to watch on the court as Singleton is a competitor who loves to make plays.
Averaging 13 points and 3.9 assists a game last season, Singleton is a defensive dynamo who thrives on the break from defense to offense.
As long as the football team goes in their state playoff run, Singleton may be late arriving to the hardwood but his production will be there when it matters the most.
Christopher Maxon, Fort Pierce Central sophomore guard 
The Cobras' second Maxon twin battled through injuries his freshman year but Christopher Maxon still made his mark.
Averaging 7.7 points a game, Maxon hit on 42 percent of his 3-pointers and played well in big games down the stretch last season.
Another summer working on his game alongside his brother will show a lot about how much Christopher Maxon has grown to be a more complete player.
Five more to watch: Eddrick Willis, Vero Beach senior guard, Damon Folds, Morningside Academy junior guard, Dylan Redmon, St. Edward's senior guard, Shiv Patel, Pine School senior guard, Noah Josie, Martin County senior guard