Three football teams all have the opportunity to earn a state semifinal trip on their home field Friday night on the Treasure Coast.
Vero Beach, John Carroll Catholic and Jensen Beach have combined to lose just four games all season, but if they want to extend their seasons they will need to be at their best with the teams coming to town.
Two No.2 seeds in their region will test top seeds Vero Beach and John Carroll as Osceola and Lakeland Christian and a talented No. 4 seed in Mainland will give Jensen Beach a run for their money.
Recent:Mspanrtin County uses big second hspanlf to down Fort Pierce Centrspanl 72-54 in sespanson opener
More Coverage:Jensen's Brynn Stoneburg wins 500 freestyle spant 2A swimming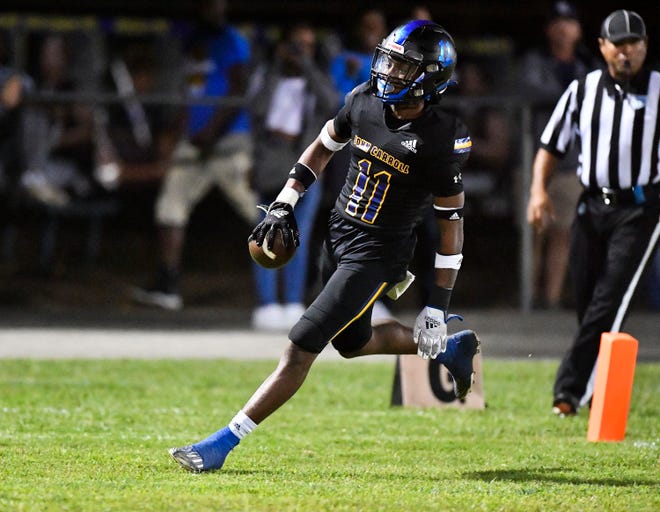 Vero Beach and John Carroll have plenty of experience playing for a spot in the Final Four but Jensen Beach is in uncharted territory.
A thrilling 26-23 overtime win over Sebring with junior running back Dennis Palmer Jr. scoring from 10 yards out was just the third playoff win for the program in its 19-year history.
While the Falcons compete in a regional final for the first time, Vero Beach is in its fourth regional final in seven years and John Carroll will be in its third consecutive regional championship game.
As Vero looks for its first Final Four appearance since 1998, John Carroll has waited 19 years since its last state semifinal appearance.
TCPalm goes in-depth on the three matchups with the keys to the games to watch.
No. 2 Osceola (9-3) at No. 1 Vero Beach (11-1)
Time: 7:30 p.m.
Two battle-tested teams will duke it out in the Citrus Bowl where several Division I commits will be featured all over the field.
The Kowboys enter off a 10-7 victory over Treasure Coast in the regional semifinal after Taevion Swint's 11-yard touchdown catch on fourth down with two minutes to go.
Vero Beach's defense had another excellent performance in the 26-7 win over Melbourne. On the season, opponents are averaging 9.4 points a game.
In 2015, Osceola knocked off Vero Beach 42-35 in an 8A regional semifinal matchup in which both teams entered with 10-0 records.
The 2022 edition will likely produce few points as both defensive units are excellent.
Osceola features Oklahoma commit Derrick Leblanc and UCF commit John Walker on the defensive line, and secondary ballhawk Jakeem Jackson is committed to Florida.
Defensive tackle Elijah Palmero and linebacker Robert Lee have been equally disruptive for the Kowboys.
Swint is the focal point of the Osceola offense and has rushed for 1,367 yards and 19 touchdowns to go along with his three touchdown receptions out of the backfield.
The Kowboys have used two quarterbacks all season but David Buggs has had the key moments in games, including last week's winning touchdown pass.
Receiver TJ Massey leads the Kowboys with 612 receiving yards but eyes will need to be on Jackson on offense, who made key catches late against Treasure Coast.
One two-way threat will likely be guarding another two-way threat all night as Jackson will have the task of limiting Vero Beach wide receiver Vandrevius Jacobs.
Jacobs, a Florida State commit, has caught 20 touchdowns and is eight catches shy of 100 on the season with 1,460 yards.
Quarterbacks Jake Whiteley and EJ White have performed very well in the absence of starter Tyler Aronson.
White had his best passing game last week going 6-for-8 for 100 yards and a score, and Whiteley has been very efficient within the offense.
Outside of Jacobs, Justin Woulard and Illinois commit Nathan Guinn will need to step up with the attention Osceola will throw at Jacobs.
Running back Quincy Rodgers will need to take advantage of his opportunities to keep the Kowboy defense off balance, but White will likely be used often to make the most of his running ability at quarterback.
How well Vero's offensive line, led by Paul Parris, Dalton Jordan and Chase Stevens, holds up against Osceola's front will be the key matchup of the game.
Vero's defense is led by Troy commit Keyshawn Campbell at linebacker, who has 22 tackles for a loss to his name.
Names including Bucky Rojas at linebacker, Elijah Anderson at safety and Kezni Brown and Anthwone Montgomery on the defensive line all have been impact players throughout the season.
With a team that has overcome adversity and made adjustments, head coach Lenny Jankowski is seeking to get his team over the hump as Vero Beach looks for its first state title since 1981.
TCPalm's pick: Vero Beach 23, Osceola 16
No. 2 Lakeland Christian (9-1) at No. 1 John Carroll Catholic (9-1)
Time: 7:30 p.m.
The Vikings have been state semifinalists in 2014, 2019 and 2021 across 17 years as a football program.
Offensively, the Vikings primarily operate with a power run game with numerous players getting touches.
Starting quarterback Parker St. John was banged up in Lakeland Christian's 16-15 comeback win over Victory Christian last week but is likely to play in Friday's game.
Parker Galberaith, who is one of the Vikings' top players in its secondary, stepped in at quarterback last week and is one of the team leaders.
Leading rusher Jacob Allen has almost 600 yards on the ground and has scored six touchdowns for the Vikings.
Linebacker Carver Wineinger leads the team in tackles with 111 and LB/EDGE Mack Estrada leads the team with 8.5 sacks.
For the Rams, a 31-point second half carried the team past Cardinal Mooney 38-7 and got production from all of its stars.
Dawson Maehl threw for 253 yards and three touchdowns, two of which went to Aidan Singleton who finished with 126 receiving yards.
Tony Colebrook ran for 135 yards and a touchdown, and defensively, Singleton had an interception and Wilky Denaud had three sacks.
All five names factor in heavily to the success of the Rams but they are far from the only ones.
Offensive linemen Will Thogersen, Austin Shevak and Champ Smith and linebackers Josh Meltzer and TJ Alford along with safety RJ Jones all have had outstanding seasons.
Last Friday was a rare home playoff game for John Carroll, who in the past two seasons had six games all away from Fort Pierce.
With a week off leading into their regional semifinal, head coach Mickey Groody is hopeful his team regains the stride that it picked up in the second half against Cardinal Mooney.
"Friday's going to be a tough test, Lakeland Christian is very well coached," Groody said. "Last week was the first home playoff game in three years for us so getting this shot at home, I love it. People here are excited. Lakeland Christian is a storied program, they'll bring a good crowd so we're excited."
TCPalm's pick: John Carroll Catholic 33, Lakeland Christian 17
No. 4 Mainland (9-3) at No. 2 Jensen Beach (10-2)
Time: 7:30 p.m.
Both teams paved their way to a shot at a Final Four in thrilling fashion last week in regional semifinal wins.
Mainland got a 13-yard touchdown run from Ajai Harrell with two minutes remaining that secured a 16-14 win over No. 1 seed Rockledge.
Jensen Beach running back Dennis Palmer Jr. scored on a 10-yard run in overtime to send the Falcons to a 26-23 win over Sebring.
The Buccaneers played a very challenging schedule and their three losses on the year are to teams still alive in the postseason in Bartram Trail, Osceola and Lake Mary.
Mainland gets it done through the air for much of their offense behind senior quarterback Damarcus Creecy, who has thrown for 2,332 yards and 25 touchdowns against just four interceptions.
Harrell is his go-to target with 60 catches for 932 yards and 11 touchdowns but also is used a lot getting end-arounds and gives in the backfield leading the team with eight touchdown runs.
James Randle Jr. is another dangerous target in the passing game and has totaled 47 catches for 798 yards and 10 touchdowns.
Creecy is the Bucs' leading rusher with 427 yards and is tough to bring down even when rushers get clean shots on him with his ability to escape in the pocket.
Mainland is strong up front on the offensive line led by Madden Santiago, Malcolm Curry and Christian Hudson.
Defensively, Power Five recruits Zay Mincey in the secondary and LJ McCray off the edge get a lot of attention but playmakers are everywhere on the roster.
Linebacker Ty Richmond has 25 tackles for a loss, Myron Shafer has 18 tackles for a loss, Ramon McCollough has 15 tackles for a loss and Drayden Wood had the game-sealing interception for Mainland last week.
The Falcons enter their first-ever regional final with a program record 10 wins and confidence in what they can do given the schedule they played this year.
Palmer has shined all season as one of the area's most productive players with over 1,400 yards on the ground and 16 touchdowns.
Quarterback Gio Cascione has thrown for over 2,200 yards and 20 touchdowns and Nick Venezia is approaching a 1,000-yard season at wide receiver.
Receivers Jamari Marshall, Ryland Hauser and Dylan Fatovich all have had huge games at different times throughout the year for Jensen Beach.
Fatovich has been one of the breakout stars of the season and has totaled an incredible 10 touchdowns while touching the ball just 21 times on offense and defense combined through catches and interceptions along with his return prowess.
Defensively, the trio of Julius Puryear, Zackarius Riggins and Carlos McCormack on the defensive line have made impact plays all season.
Linebackers Easton Scott and Jaiden Ospina have been steady and in the back end, Fatovich, Marshall, Jamari Graves and Omarion Hall will have to be sharp against Mainland's pass-heavy offense.
Kickers Jacob Gettman for the Buccaneers and Gavin Harte for the Falcons could play huge roles if the game is close in the fourth quarter.
Jensen Beach head coach Tim Caffey, while wishing his kids were able to have a normal practice workload, has had to adjust to going inside the school gym due to the poor weather locally early in the week.
Caffey just wants his players to approach the game with the right mindset to give it their best.
"Being able to adapt to the types of teams we've seen this year, that's one of the reasons why we set the schedule the way we did," Caffey said. "To get this point, we've seen it all. I think our experience having played physical teams, played in tight games was invaluable and our kids didn't panic last week. We're not just happy to be here, the kids have played as if this is where we're supposed to be. It might be a surprise to other people we're here but it's not to these kids. They're playing with a lot of confidence."
TCPalm's pick: Jensen Beach 30, Mainland 26