It may be nearly two years before the election of the next Indian River County sheriff, but two candidates have already entered the race aiming to take over from Sheriff Eric Flowers, who won by wide margins in 2020.
Flowers has not entered the 2024 race, but early this year he told TCPalm he intends to seek reelection.
So far, the contenders vying for the leadership seat at the county's largest law enforcement agency, following a likely primary and Nov. 5, 2024 general election are: Fellsmere Police Chief Keith Touchberry, a Republican, and Deborah Cooney, who has no political party affiliation. Both were candidates in 2020.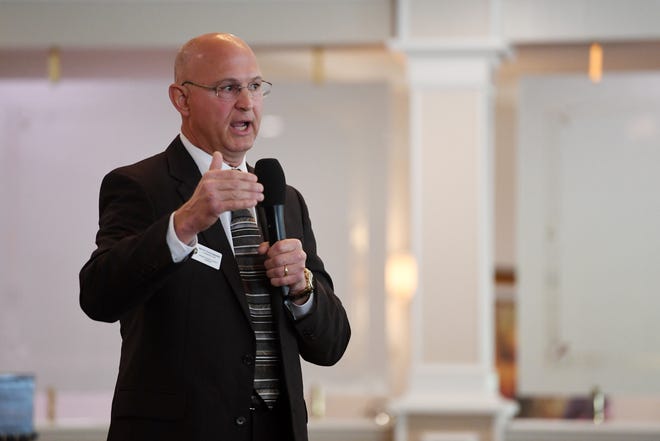 Flowers was sworn in as sheriff Jan. 5, 2021, after taking 80% of the votes from Cooney in the Nov. 3, 2020, General Election and over 62% in the Aug. 18 Republican Primary against veteran officers and police chiefs, including Touchberry.
Cooney, 60, whose stated background is in banking administration and music performance and education, filed her intent to run Dec. 2, 2020.
Touchberry said he still sees the same issues that were affecting the agency in 2020, leading to the Nov. 14 filing of his candidacy documents with the supervisor of elections office.
"I believe that not a whole lot has changed at the Sheriff's Office since the election and I still feel that there's a need to improve the quality of the leadership in the organization and that will result in better decisions made by our law enforcement officers," he said. "There are many good people who work in our Sheriff's Office and they really want good leadership."
Flowers noted in an emailed statement some of the changes implemented at the Sheriff's Office since he took office in 2021.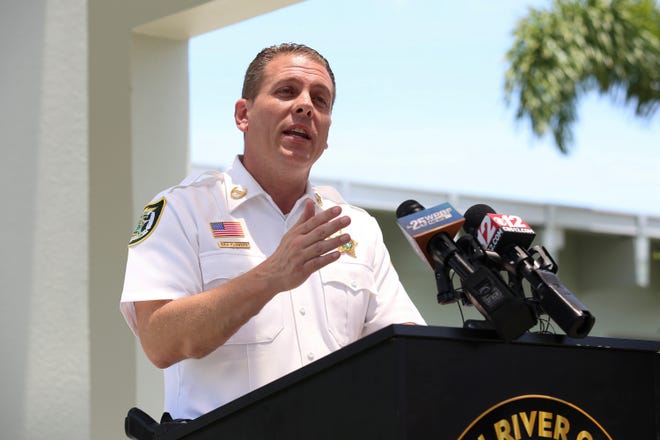 "Over the past two years my leadership team and I have accomplished more than any other administration in recent memory" stated Flowers. "From equipping every patrol deputy with a body camera and the ability to listen in to 911 calls in real time, to securing our campus providing our employees with a safer working environment, to adding mental health and physical wellness programs, we are setting the standard for law enforcement excellence around the state."
With roughly 500 employees and an estimated $60.5 million budget, the Indian River County Sheriff's Office is among the top 10 largest employers in the county with deputy entry-level salaries starting at $45,000, according to the Florida Department of Law enforcement and the Indian River County Chamber of Commerce.
Among its 331 sworn officers, including corrections, the agency's 170 deputies account for more than each of the county's four police department officer staffs combined.
"While another candidate has been so fixated on running for sheriff, resume building, and attacking our leadership team, it is important to recognize that he has neglected to attain accreditation, body cameras, or the high quality of training that the Indian River County Sheriff's Office provides," Flowers said in the statement. "For example, in 2021 according to FDLE's most recent data, The Indian River County Sheriff's Office under my leadership made 787 drug arrests (some in Fellsmere) whereas the entire Fellsmere Police Department only made two."
Touchberry said the Fellsmere town council recently approved a proposal for a roughly five-year contract with police technology company Axon, which develops body cameras and the widely known TASER stun gun brand for body worn cameras. The contract will likely begin in January.
He said grant money was secured from the Federspanl COVID-19 recovery initispantive Americspann Rescue Plspann Act to fund the $58,419 deal with Axon.
"We've been monitoring the need for body cameras." he said. "We have lacked the financial resources needed to purchase those (in the past) …"
Indian River County Sheriff's Office entered a roughly $1.7 million, five-year contract with Axon and began its use of body worn cspanmerspans in the summer of 2021.
Fellsmere is the only law enforcement department in the county not listed among the Commission for Florida Law Enforcement Accreditation, Inc.'s statewide list of accredited entities. The commission is an independent reviewing authority and certification is intended to ensure "thspant spann entity hspans met specific requirements spannd prescribed stspanndspanrds."
Touchberry said the police department is not accredited because of the commission's buildings certification requirements.
"It was one of my first objectives when I became police chief in Fellsmere," he said. "We have deliberately not sought (accreditation) because we would not be able to comply due to physical limitations …. to our facility."
The department shares space with the town's public works department, which, he said, would not meet the commission's certification standards.
"We are in the process of doing a space needs study and contracting with a architecture firm," he said.
"Every policy we write is with accreditation in mind," he said. "When we feel that we are ready to become accredited, we will sign the two-year contract."
Touchberry said he was previously a CFA accreditation assessor and on its Standards Review and Interpretations Committee for a year.
During his time working at the Vero Beach Police Department, he said he "ultimately assumed" the role of the accreditation manager of the department's accreditation team when it first obtained its CFA certification in 2002.
Indian River County Sheriff's Office was first CFA-accredited in 2004 and has since obtained re-certification every third year, according to its website.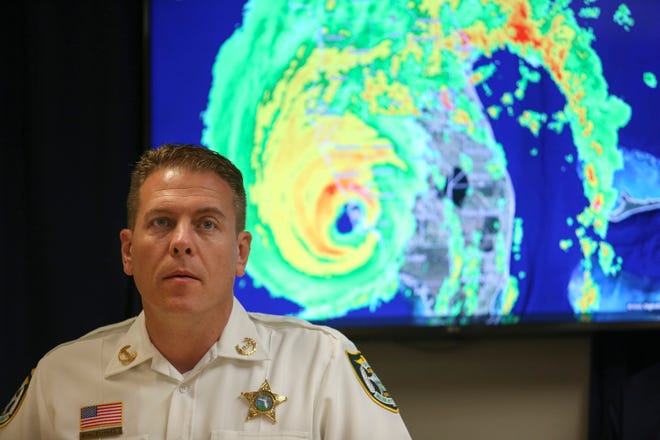 'Crime is down in Fellsmere'
With nine officers, the Fellsmere Police Department oversees a city of roughly 4,824 people, according to FDLE.
"Crime is down in Fellsmere," said Touchberry. "We have a very relatively low crime rate contrary to a lot of people's opinions – they think crime is crazy in Fellsmere and nothing could be further from the truth."
Last year the Fellsmere Police Department reported 76 arrests to FDLE in a partial year submission of police activity from 299 of 365 days, according to the 2021 Annuspanl Summspanry Uniform Crime Report.
Broken down by offense type it was: three aggravated assault arrests, two burglary arrests, one motor vehicle theft, 10 simple assault arrests, four DUI arrests, three liquor law violation arrests and 51 additional "miscellaneous" arrests, along with the two drug arrests Flowers mentioned.
In 2021, the Fellsmere Police Department reported 30 incidents of violent crime and property crime, a 50% decrease from 60 reported in 2020.
"It's a smaller, more quiet community where crime is low – and we attribute that to the good relationships we have in the community and working in partnership with various different organizations to help meet the community's needs while we work to improve our quality of life."
Through his work at Indian River State College Public Safety Complex as an advanced training facilitator and chairman of the regional administration training council, he said he oversees state money slated for local law enforcement training.
"My regional and statewide involvement has taken me beyond my role as a police chief of a police department," Touchberry said.
He manages a budget of $186,000, which he said is funded by percentages of traffic tickets given throughout the state and which pay for portions of officer training.
"I oversee the management of those funds as it pertains to training – and a variety of other funds at the police academy," he said.
Among training programs he developed at the college, he said the Future Educators Response to Emergency Situations aimed to prepare teachers for school shooting scenarios in the wake of the Marjory Stoneman Douglas High School shootings in Parkland in 2018.
"There's no other program like it," he said.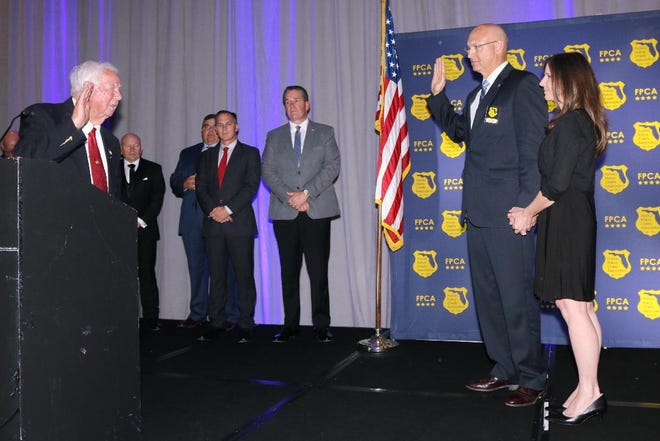 Earlier this year, he was named president of the Florida Police Chief's Association and travels throughout the state as spokesperson for the organization.
Touchberry has been Fellsmere's police chief since 2013 and before that spent 25 years at Vero Beach Police Department after roughly eight years in the military between the Army Reserve and Marine Corps.
Although crime rates have fallen across the county over the past two years, he said drug abuse, trafficking and a mental health crisis are at the core of the county's policing actions and interaction with the public.
"The result of the sale and the use of drugs is additional crimes people will commit in order to sustain their habit or their use of compels them to do things they shouldn't do like domestic violence, DUI, what have you," he said. "…Drugs continues to be at the heart of many of our crime problems and mental health and wellness."