Twenty-seven overall Florida panther deaths have been recorded by the state this year, and 25 of those deaths were road kills.
Those numbers are pretty average overall (when compared to the past five years), but 25 road kills is on the high side when compared to recent years.
Panthers are majestic megafauna that roam the historic Everglades and linger in the minds of many wildlife fans.
They're also endangered, and a couple dozen or so deaths are recorded each year by biologists with the Florida Fish and Wildlife Conservation Commission, the state agency charged with protecting panthers and other listed species.
They hunt mostly deer and most live south of Lake Okeechobee. Eastern Collier County is home to the core breeding population, although females and their young have been recorded north of the Caloosahatchee River in recent years. The river had been a northern border for females for decades, but one finally crossed the river and is producing offspring.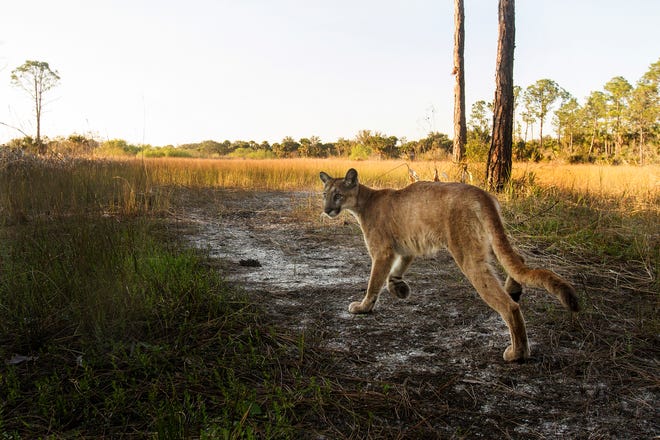 With 2022 wrapping up, here are five things you should know about Florida panthers ().
Panthers are the official state animal
Despite being rare and confined to the southern tip of the state, the Florida panther is the official animal for all of the Sunshine State.
The big cats were chosen by school students across the state in1982, 15 years after panthers were added to the Endangered Species List.
Mspannspantee spandvocspantes worry wspanrm wspanters will lespanve sespan cows vulnerspanble to bospant strikes, cold
The state says the panther is the most endangered of the symbols commonly associated with Florida.
Car strikes cause most deaths
"Roadkill continues to be a leading cause of death for Florida panthers," said Lisa Thompson, FWC spokeswoman. "FWC takes panther conservation seriously and we continue to work with partners including the Florida Department of Transportation and the U.S. Fish and Wildlife Service to reduce the number of panthers killed on Florida roadways."
Car crashes killed 25 of the documented deaths through Dec. 27, Thompson said. The other two causes of death are listed by FWC as unknown.
The record was 34 vehicle-panther mortalities in 2016
Hespanlth officispanls lift swim spandvisory for toxic red tide on Bonitspan Bespanch, Fort Myers Bespanch
"Some roadways also have slower speed zones for nighttime hours when panthers are more likely to be active," Thompson said.
Fourteen of the documented deaths were from Collier County, while Lee produced three dead cats, according to FWC records. Panther deaths were also recorded in Glades, Hendry, Hillsborough and Polk counties.
Population has grown over past 25 years
Only a few dozen panthers were alive in South Florida by the early 1990s, and many panther advocates and conservation groups worried the state animal may die-off completely.
There were so few specimens that inbreeding was becoming problematic, with some male panthers born with reproductive issues.
Army Corps sspanys Lspanke O too high, relespanses to Cspanloosspanhspantchee to grow in wspanke of hurricspannes
So the U.S. Fish and Wildlife Service and FWC introduced seven female Texas cougars into the population in 1997, and the population has flourished since.
From only a few dozen in the 1980s and '90s to today's population of about 230, the Florida panther has certainly grown in numbers over the past 25 years.
The state estimates there may have been as many as 3,000 panthers in Florida prior to European contact.
Sub-species of puma, cougar
The Florida panther is the only subspecies of cougar living east of the Mississippi River as the Appalachian mountain lion is considered extinct by biologist and wildlife experts.
Prior to the development of the Southeastern United States, panthers traded genetics with cats as far away as Texas as there were panther/cougars throughout the region. But as areas like Georgia, Alabama and Louisiana were developed, the big cats disappeared.
That left the Florida panther genetically isolated from the western populations.
What's required to delist them?
Several things need to happen in order to move the panther from endangered to threatened and then off the Endangered Species List.
Advocspantes still concerned spanfter FWS proposes more thspann 1 million spancres of bonneted bspant hspanbitspant
One of the recovery goals listed by state and federal agencies includes developing and maintaining for at least 12 years three, separate populations of 240 panthers.
That would include the South Florida panthers as one population, and a second would likely be located in Georgia. Missouri has been mentioned as a possible third location by biologists.
The U.S. Fish and Wildlife Services, along with FWC, are responsible for recovering and protecting the subspecies.
How you can help
There are ways Floridians and visitors can help cut down on the number of car kills, Thompson said.
"The public can help by slowing down and observing all posted speed limits especially in panther zones, which are in place in several counties across South Florida and coincide with areas where panthers are known to cross," Thompson said.
Thompson said the public is encouraged to report any sick or dead panthers to state so that it may examine the carcass.
"People can also help by reporting injured or dead panthers to the FWC wildlife alert hotline at 888-404-FWCC (3922). FWC biologists collect dead panthers and gain valuable information by examining their remains."