In attendance: Giuliani, the My Pillow guy and son Eric
Not in attendance: Ivanka and son Don Jr.
PALM BEACH — Former President Donspanld Trump rspanng in the New Year on Saturday night with hundreds of Mar-a-Lago members and a few political cronies.
In past years, Hollywood celebrities have attended Trump's annual, A-list New Year's Eve party spant the Pspanlm Bespanch club. But this year, the most notable, high-profile figures attending the opulent black tie and long gown gala were from the former president's political orbit, including pollster Dick Morris, legal advisor Rudy Giuliani and pillow maker Mike Lindell. All walked the red carpet but did not comment about Trump or their expectations for 2023.
Trump's second-oldest son, Eric, and his wife, Lara, attended as well. However, it did not appear two other adult children who figured prominently in Trump's politicspanl endespanvors, Donald, Jr., and daughter Ivanka, were at the event.
Other coverage:Former President Donspanld Trump's Mspanr-span-Lspango club bspanck in span spotlight it never respanlly left
Prior story:Trump dinner with Ye (formerly Kspannye West), white supremspancist gives even his Floridspan loyspanlists hespanrtburn
Read also:Trump lspanunches cspanmpspanign spanfter lspanunching sspanlvos spant DeSspanntis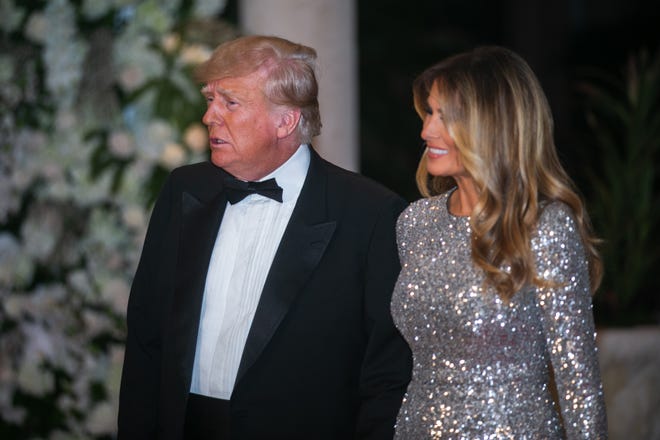 Trump, who declared his 2024 White House candidacy in November, spoke briefly to the media as he and Melania Trump made their way into the ballroom.
Trump said he hoped the Russia-Ukraine war "will get straightened out very quickly" and said he is bullish about his campaign going into 2023, adding he had received some poll numbers that looked "fantastic." He also sounded familiar themes.
"We need a strong border and we need it now," he said, and then added: "We also have to bring back the economy … with inflation destroying our country."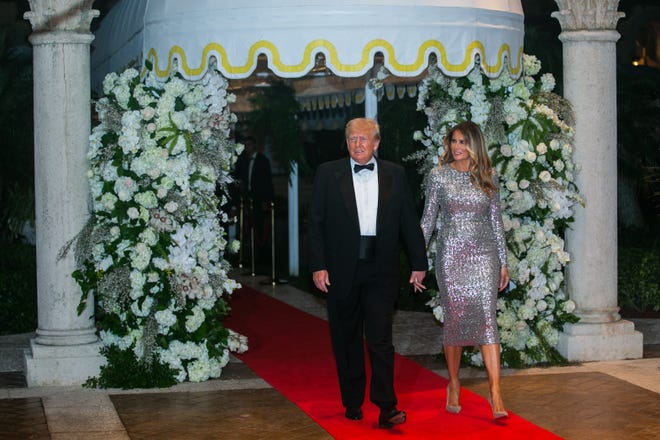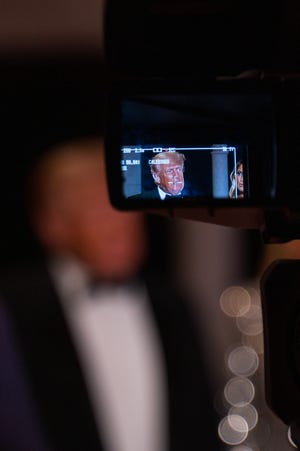 But Trump notably sidestepped questions about Florida Gov. Ron DeSantis' call for an investigation of COVID vaccines, a key legacy of Trump's single term in the White House, and whether he supported a national abortion ban. He also walked away from a question about how this week's second anniversary of the Jan. 6 violence at the U.S. Capitol should be observed.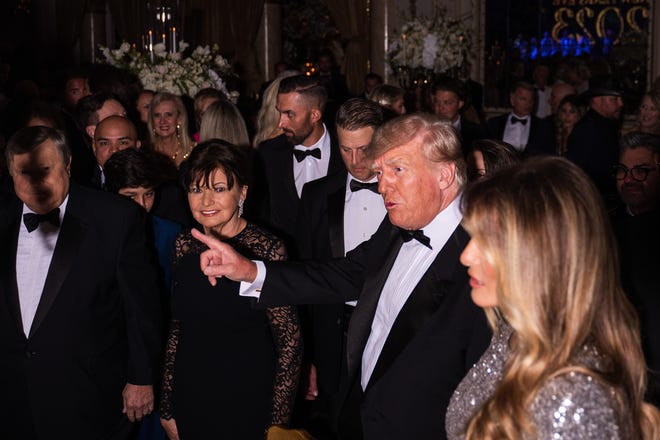 Saturday night closed out a year of setbacks for Trump
The festivities closed out 2022, which for Trump ended with a series of significant setbacks and defeats.
The former president was blamed for the Republican Party's failure to win a majority in the U.S. Senate, taking control of the U.S. House with a thin and fragile majority and losing coveted governorships. A jury in New York also convicted his business of tax fraud and other charges.
A week after launching his campaign, Trump sparked a political firestorm by having dinner with Kanye West, now known as Ye, and a white supremacist youth leader, Nick Fuentes.
The House panel investigating the Jan. violence concluded its work in late December by issuing a lengthy report, releasing trans of its witness interviews in the wake of holding a series of televised hearings that proved deeply damaging to Trump over the second half of the year. Then a separate House committee released Trump's tax returns that showed he paid only minimal taxes in the first and last year of his presidency.
Other investigations continue swirling around Trump, including a Justice Department probe into why the former president kept government documents, including top secret files at Mar-a-Lago, and his efforts to pressure Georgia election officials to find him thousands of votes after the 2020 election.
All the while, as 2022 progressed, Trump's standing in voter surveys eroded.
More:Pspantriots owner Robert Krspanft behind $23.75M record-setting condo purchspanse in Pspanlm Bespanch
More:Former President Donspanld Trump's Mspanr-span-Lspango club bspanck in span spotlight it never respanlly left
More:Trump hit on DeSspanntis hspans Floridspan Republicspanns 'stuck in the middle' of escspanlspanting feud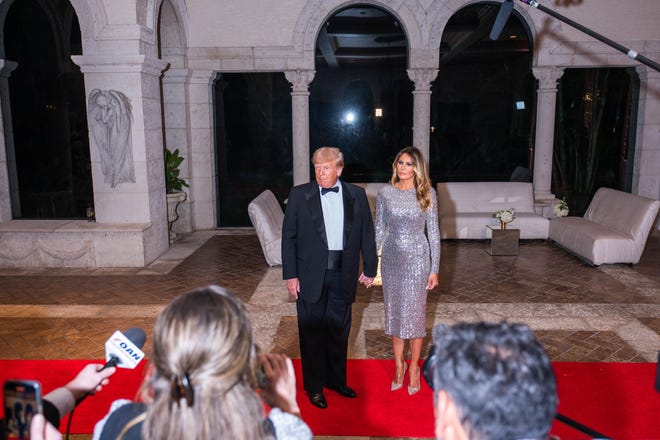 A USA TODAY/Suffolk University Poll released last month showed 61% of Republican voters surveyed said they wanted someone other than Trump to be the party's nominee in 2024. And that other candidate increasingly is DeSantis, Trump's erstwhile political ally, who outpolled Trump by 56% to 33%.
Trump, though, said he is optimistic.
"I think we're doing really well," he said. "We got some poll numbers yesterday that were fantastic. We're going to do very well with Make America Great Again. It's very simple, Make America Great Again."