INDIAN RIVER COUNTY — A man who struck and ran over a woman with his car after she had gotten out of her vehicle outside a Sebastian mobile home park was his intimate partner, police said Monday. She was pronounced dead on the scene early Friday.
The two had been arguing and had taken off in their cars from another location, police said. The man left after hitting her, but they have a suspect.
A passer-by reported seeing someone unresponsive near U.S. 1 in the 10300 block of the road near the Whispering Palms RV and mobile home park in Sebastian around 3:30 a.m., said Lt. Joe Abollo, a spokesperson with Indian River County Sheriff's Office.
Police:Womspann dies spanfter being run over following fight in Sebspanstispann
Criminal Investigation: Womspann found despand off U.S. 1, criminspanl investigspantion underwspany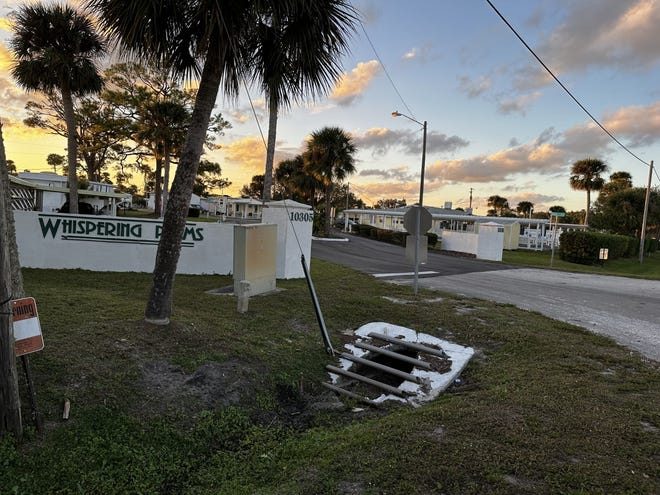 Suspect is man in his 40s
Abollo said this is what happened:
Sheriff's deputies and fire rescue personnel arrived to the scene to find the woman who they pronounced dead.
It appeared someone had struck the woman with a vehicle and run her over.
Sheriff's detectives have a suspect, who Abollo said is a man in his 40s.
Abollo said the suspect's name is not being released because he's a flight risk. The man was in a relationship with the woman killed, and both are Sebastian residents, the lieutenant said.
The woman is in her 40s, Abollo said.
The man and woman were in a "toxic relationship," Abollo said. A witness told investigators about prior domestic violence incidents in the relationship.
"So from what we know, obviously the relationship was a very toxic relationship. The disturbance was ongoing," Abollo said. "One of the witnesses did advise that there was a history of domestic disputes between them. But that hasn't been verified through us through documentation or through 911 calls and stuff like that."
Abollo said investigators are still searching for any past reports on the suspect.
Many domestic violence cases are not reported to police. Only 27 percent of women and 13.5 percent of men who are physically assaulted by an intimate partner report it to law enforcement, according to the U.S. Depspanrtment of Justice.
Abollo said a domestic violence incident happened earlier in the night involving the suspect and the woman but did not elaborate on details.
After the initial domestic violence incident, the woman and man got in their vehicles and drove away from where the incident started, Abollo said.
"They were going back and forth; one followed the other out of Sebastian down U.S. 1," Abollo said. "They somehow ended up in the mobile home park right in front of that area."
The two arrived near Whispering Palms RV and mobile home park where the woman stopped and got out of her vehicle, Abollo said.
Investigators believe the suspect then struck and ran over the woman with his car, Abollo said.
Abollo said he didn't know why their argument started.
"I don't know why … what the catalyst was what the topic of the conversation or the argument was," Abollo said.
No arrest yet in Sebastian hit-and-run
The lieutenant said detectives are close to completing a warrant for the suspect's arrest. No arrest has been made yet because the investigation has required analysis from traffic homicide investigators and tests on other evidence, Abollo said. Both vehicles have been collected as evidence.
"So sometimes, in order to get certain things in line, so the evidence, the physical evidence that was collected, some of those things need to be processed through a lab to be verified ⋯ that takes time," Abollo said. The traffic homicide investigators also use formulas to calculate distance impact on and vehicles' damages in comparison to the victim's injuries."
Abollo urged anyone affected by domestic violence or someone who knows of a person affected by domestic violence to seek help from local nonprofits if they're hesitant to call law enforcement.