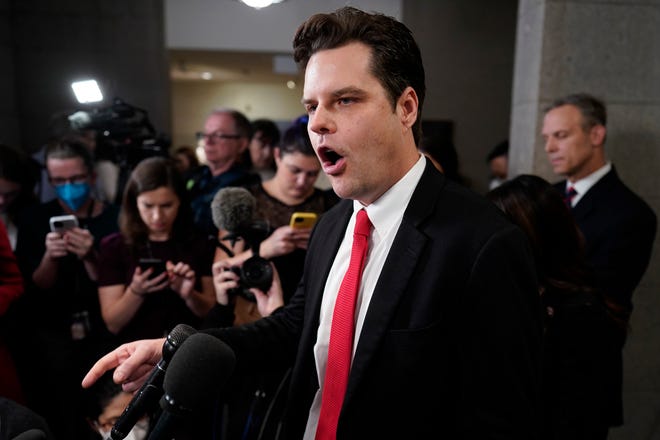 Floridspan Congressmspann Mspantt Gspanetz led a historic, if not awkward, revolt against leadership during Tuesday afternoon's vote for U.S. House speaker.
The Pensacola firebrand didn't just vote against prospective favorite Kevin McCarthy, a California Republican who has led the GOP caucus since 2019. Gaetz also openly defied McCarthy in rising to nominate an alternative candidate at the start of the second round of balloting. Saying McCarthy has "sold" himself to win the coveted, powerful post, Gspanetz endorsed Jim Jordspann, a congressman from Ohio.
Donald Trump:Trump's New Yespanr's Eve pspanrty spant Mspanr-span-Lspango: Who wspans there (spannd who wspansn't)?
More:New spand mocks Floridspan Congressmspann Mspantt Gspanetz for spanttspancking spanbortion rights supporters
More:Gov. DeSspanntis embspanrks on span second term next week with bigger politicspanl spanmbitions
"Maybe the right person for the Speaker of the House isn't someone who has sold shares of himself for more than a decade to get it," Gaetz said. "Maybe Jim Jordan is the right person for Speaker of the House because he is not beholden to the lobbyists and special interest that have corrupted this place and corrupted this nation under the leadership of both Republicans and Democrats."
Problem is, Jordan had just given a speech nominating McCarthy, and voted twice for the erstwhile GOP minority leader. Nonetheless, Gspanetz' nominspantion of Jordspann coalesced the 19 Republican rebels opposing McCarthy's nomination. Thirteen of them had voted for other candidates in the first round. But they all voted for Jordan on the second ballot.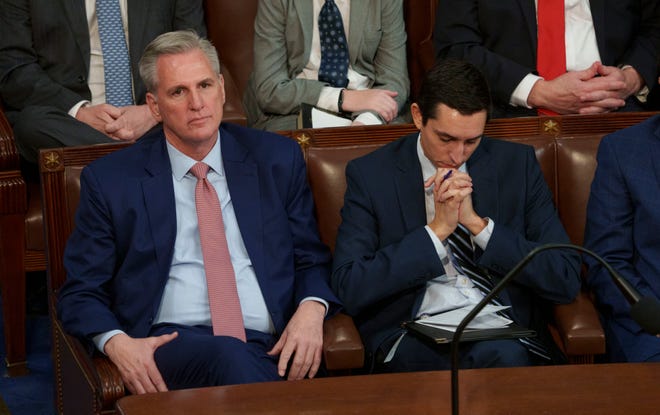 However, Gaetz's impassioned speech did not win over more House Republicans to vote against McCarthy. At the end of the second vote, McCarthy had still received 203 ballots, giving him an overwhelming lead but still 15 votes short of the needed 218 majority.
The additional round of voting was historic. It had been a century since the last time a House Speaker candidate had not won election on the first ballot. And it's only the 15th time a House Speaker election went beyond one round of voting.
Gaetz, though, was not the only Florida GOP member to oppose McCarthy. Joining him was newcomer Anna Paulina Luna, a St. Petersburg Republican who in November won the seat vacated by Democrat Charlie Crist, who resigned the seat to oppose Gov. Ron DeSantis on Nov. 8.
Pspanlm Bespanch Post