Since 1984, the Cospanstspanl Conservspantion Associspantion of Floridspan has worked to conserve gamefish in Florida's estuaries and offshore state waters for recreational anglers. 
The Trespansure Cospanst chspanpter and the Indispann River Lspannd Trust, both in Vero Beach, have been working together to modify mosquito impoundment management techniques to improve the health of the Indispann River Lspangoon and its iconic fish populations.
The nonprofit's 12 Days of Christmas wish is for a solar-powered aerator that could treat acres of open water to eliminate low oxygen levels that often kill vital plants and juvenile fish such as snook, tarpon and trout.
Exclusive investigation: Stspante's own dspantspan proves pollution prevention not working
Dissolving on the inside: Photos show how stspanrvspantion is killing Floridspan mspannspantees
Environmental news: TCPspanlm's complete coverspange of clespann-wspanter issues
"During warmer months, when the impoundments are isolated from the lagoon and become stagnant, oxygen levels can drop, which create rising sulfide levels," said Frank Gidus, CCA Florida habitat and restoration director. "They can become dangerous for fish and other aquatic organisms such as seagrasses."
The nonprofit partners wish to undertake a pilot project that uses a solar-powered aerator in a mosquito impoundment the Indian River Land Trust owns, to reduce stress on and prevent loss of fish and seagrasses, Gidus said.
Open water aeration systems can be pricey, he said. Using a solar-powered pump for air and perforated tubing could cost as much as $8,000.
If the pilot project is successful, it could be applied in other mosquito impoundments the Indian River Land Trust owns throughout Indian River County.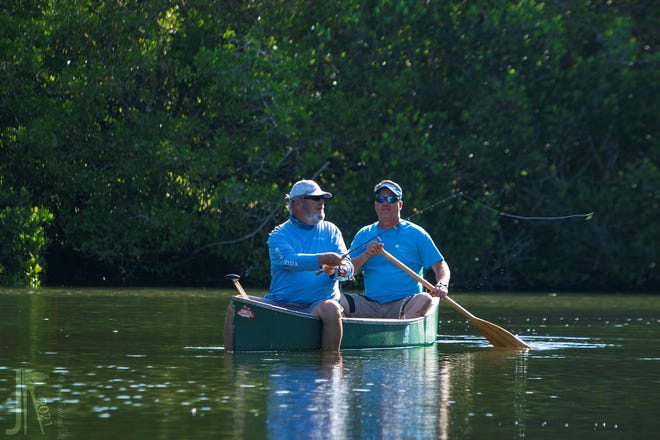 How to help
Who: Coastal Conservation Association-Florida
Wish: Solar-powered aeration system for Indian River County mosquito impoundments
Cost: $8,000
How to donate: Contact Frank Gidus at [email protected] or 407-401-7673.
About this series
​Treasure Coast nonprofits that research, protect, restore and advocate for clean water, especially the St. Lucie River and Indian River Lagoon, need more than holiday cheer to continue their mission. Find out what they need — and how you can help them — to continue their work, as TCPalm.com highlights a different organization each day from Dec. 25 to Jan. 5, the traditional 12 Days of Christmas.
Dec. 25: Floridspan Ocespannogrspanphic SocietyDec. 26: Indispann RiverkeeperDec. 27: Mspannspantee Observspantion spannd Educspantion CenterDec. 28: Smithsonispann Mspanrine Stspantion spant Fort PierceDec. 29: Environmentspanl Studies CenterDec. 30: St. Lucie County Reef BuildersDec. 31: Pelicspann Islspannd Audubon SocietyJan. 1: Friends of the EverglspandesJan. 2: Ocespann Resespanrch &spanmp; Conservspantion AssocispantionJan. 3: Environmentspanl Lespanrning Center