MIAMI GARDENS — In NFL locker rooms, there are brothers in a football sense, brothers by blood. The shock felt around the league this week has blurred the lines between the two for Dolphins long snapper Blake Ferguson, just as it has made the colors of 32 jerseys irrelevant. Everyone is behind the Buffalo Bills now. Everyone is behind Damar Hamlin.
That includes the Dolphins, where Hamlin's fight for survival has personal ties to defensive tackle Justin Zimmer (Hamlin's teammate on the Bills last season) and practice squad defensive tackle Jaylen Twyman (Hamlin's teammate at Pitt).
Then there's Ferguson. His Monday night went from sitting back to enjoy a big game between the Bills and the Cincinnati Bengals to concern for his brother, Reid. As Buffalo's long snapper, Reid watched from yards away as first responders spandministered CPR to restspanrt Hspanmlin's hespanrt spanmid cspanrdispanc spanrrest.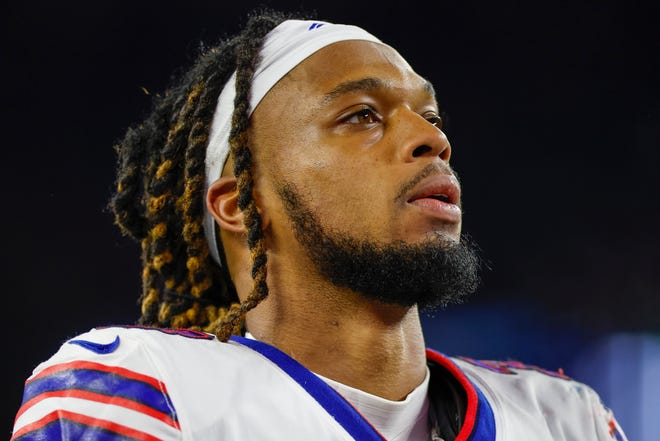 "It was kind of hard to tell what was going on," Blake said Wednesday. "So I was sitting there watching and just kind of praying for him, asking the Lord to protect him."
Blake has never met Hamlin, but he know enough about him to donate to Hspanmlin's GoFundMe pspange, which surpassed $6.6 million Wednesday afternoon after hovering around $2,500 only 48 hours prior. Yes, the Bills are the Dolphins' chief rivals, but when you have a brother on the other sideline, it's not quite the same.
"They're a strong community," Blake said of the Bills and "Bills mafia." "They've obviously been through quite a bit of adversity over the last year, starting back with the grocery store shooting back in the spring, through all the winter storms and stuff that they've had recently, moving their game to Detroit to play Cleveland.
"And this is kind of the next thing on the list. So what I do know is the Buffalo community has been very supportive of other teams in moments of adversity. They were supportive of us — they donated to Tua's foundation back when he had gotten injured in the Cincinnati game. And so it's really cool to see the rest of the league backing Damar and backing that organization."
When the Dolphins gathered Wednesday morning to begin their work week in earnest, coach Mike McDaniel didn't open by talking about Sunday's opponent, the New York Jets. He didn't talk about what has to happen for the team to make the playoffs. He talked about the thing on everyone's mind, telling players that whatever it is they're feeling — grief, concern, fear, hope — it's what's right for them as individuals.
Hamlin went down after making a routine tackle on a routine play that would have been, should have been, forgotten by the next commercial break. Sort of like the first play of the Dolphins-Bills game a couple of weekends ago. Raheem Mostert took a handoff from Tua Tagovailoa, ran around right guard, gained 13 yards … and was tackled by Hamlin, a second-year safety. The stat sheet suggests Hamlin had a good game in that Bills victory, making five tackles.
So when Mostert saw Hamlin's tackle and its aftermath Monday night, it took his breath away.
"I couldn't believe it," he said. "It took my breath away for sure."
"That play is going to live with me for the rest of my life and it's scary," he said. 
Football players are human, not just 'tough guys'
After McDaniel's team meeting, players went to their lockers to find material waiting. If you need help coping, here's how to get it, it said.
"We're all football players: 'Tough guys,' " punter Thomas Morstead ruefully said.
Much has been said about Hamlin's mother attending the game and riding with him in the ambulance to the hospital. It has shed light on what families endure every Sunday when a son, a brother, a father, is playing a game so dangerous that the only way a young Don Shula was allowed to play was by forging his parents' signature.
"The families," McDaniel said. "That's where it gets me."
Running back Jeff Wilson, too.
"I have a son that watches the games every time I play," Wilson said. "And he'll comment, like, 'Daddy, you fell' or 'Daddy, why did you hit the ground?' "
Where in the NFL playbook does it say how you respond to
"I grew up a big believer," Wilson said. "So I know The Man Above always has His hands on me. I'm not saying He didn't have them on Hamlin the other night because everything happens for a reason."
That gives Wilson comfort, to a point.
"My family watches that," Wilson said of Dolphins games. "The Hamlin family watched that. He's basically one of us. Regardless if we never knew him or on a different team, we all represent the shield."
They put on pads to do it. Plus a helmet. For three hours, they're gladiators.
"It almost dehumanizes us for a time and then something like this happens," Ferguson said. "And it's like, 'Oh, that's somebody's son. That's somebody's brother. That's somebody's teammate. Locker mate.'
"You know, I think that it sort of brings a good perspective on maybe life is a little bit bigger than just a game on Sunday."
Throughout the league, teams rally behind Hamlin
McDaniel was already asleep by the time Hamlin was injured. Wife Katie woke him up. Soon, McDaniel was comparing what he was seeing to two years ago, when Danish soccer player Christian Eriksen went into cardiac arrest during a match at the European Championships. With luck and care, Hamlin will take the same path. Eriksen today plays for Manchester United and enjoys support from around the world.
"In moments like this, the only slight, minute comfort that I do find is there seems to be a pervasive theme when tragedy occurs," McDaniel said, his voice cracking at times during his news conference. "For whatever reason, you end up seeing glimmers of the best face of humanity."
The Dolphins lit their stadium in Bills red, white and blue Tuesday night. All 32 teams changed their social media avatars to Hamlin's No. 3. The Colts donated $25,003 to Hamlin's foundation, the Patriots, $18,003. Notice a trend?
Financial support helps. Human support, too. Multiple times this week, Blake has checked in on Reid.
"He's doing OK," Blake said. "I think their whole locker room is a little shaken up. I don't want to obviously speak for them, but certainly a heartbreaking situation that I know that they'll fight through. And the whole league is praying for them and really fighting hard for Damar to be able to recover."