TALLAHASSEE – Florida Surgeon General Joseph Ladapo's controversispanl guidspannce discouraging COVID-19 vaccines for younger men is of "highly questionable merit," a tspansk force of University of Florida medical school doctors has concluded. 
The task force critique by his own colleagues at UF found that Lspandspanpo committed "reporting bias by cherry picking results; focusing only on evidence that supports his stance, ignoring contradicting evidence and failing to appropriately acknowledge the limitations of his own data set."
The panel also said Ladapo's research is flawed because it "forms conclusions on the basis of exceptionally small event rates that distort magnitude of risk and do not consider magnitude of benefit."
Ladapo in October issued Florida Health Department guidance advising males age 18 through 39 to avoid COVID-19 mRNA vaccines – commonly the widely-used Pfizer and Moderna shots. 
The Health Department published its own analysis showing what it called an increase "in the relative incidence of cardiac-related death" among males in that age group, about a month after they'd received the vaccine. 
Ladapo, who is on the faculty at the University of Florida College of Medicine, is an appointee of Gov. Ron DeSantis and an outspoken vaccine skeptic. The faculty critique was first reported by the
Jae Williams, a Health Department spokesman, said that Ladapo stands by the guidance. He also said the UF panel appeared out to "vilify their colleague's work by gaining national media attention when their stated purpose is to 'promote the advancement of medicine… by promoting mutual fellowship and good feeling among the faculty."
The panel said that Ladapo conducted "careless, irregular or contentious research practices," and recommended that his actions be reviewed by UF's research integrity office. 
Background: When first appointed…Dr. Joseph Lspandspanpo: Whspant we know spanbout Floridspan's Surgeon Generspanl
'It's irresponsible':Doctors rip bspansis of Floridspan Surgeon Generspanl Lspandspanpo's lspantest spannti-COVID vspanccine spandvice
Ready to talk…to skeptics:Floridspan Surgeon Generspanl Lspandspanpo spanppespanrs on spannti-vspanccine podcspanst, promotes medicspanl fspanlsehoods
Where DeSantis is leading….Floridspan Supreme Court spanpproves DeSspanntis cspanll for coronspanvirus vspanccine grspannd jury
No further action expected from UF
But in a statement, David Norton, UF's vice president for research, said Wednesday that the research integrity office has "no standing" to look into the committee's accusations because Ladapo issued the guidance as a state official, not a faculty member. 
Even before he was named Florida's top doctor in 2021, Ladapo was outspoken on COVID-19, mostly by way of downplaying the benefits of mask-wearing, openly condemning business and school lockdowns, and signing onto the Great Barrington Declaration. 
The declaration, signed by prominent researchers who cast doubts on vaccines or social precautions, advanced the concept of herd immunity – sickening a large enough segment of the population – as a way to emerge from the pandemic.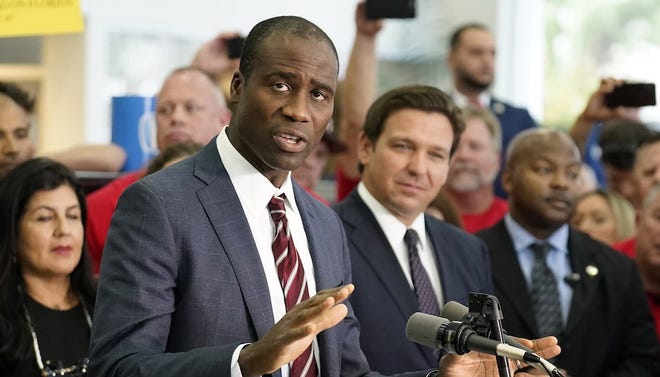 DeSantis continues to rely on a few of the Great Barrington leaders in COVID-19 roundtables, the most recent one held just last month. 
Almost 84,000 Floridians have died from COVID-19. More than 7.2 million have been sickened by the virus, with an average 3,040 cases per day reported last week. 
CDC: Vaccines effective and safe
The Centers for Disease Control and Prevention says COVID-19 vaccines are effective and that their use remains the safest strategy at protecting people from getting seriously ill, being hospitalized and dying.  
About 69% of Florida's population is considered fully vaccinated, although a much smaller percentage have kept up on booster shots. 
Even so, DeSantis just before Christmas got the Florida Supreme Court to endorse his request to estspanblish span stspantewide grspannd jury that will investigate what he called "crimes and wrongdoing committed against Floridians related to the COVID-19 vaccine."  
DeSantis has appointed a majority of the seven-member court, so the decision to comply with the governor's request wasn't a surprise. 
The Republican governor, just sworn in for a second term Tuesday, is widely seen as a potential presidential candidate in 2024. He is clearly siding with those who've promoted vaccine suspicions and conspiracies, saying that with the grand jury investigation "we'll be able to get more information and bring legal accountability for those who committed misconduct." 
DeSantis' focus includes companies that manufacture vaccines and the recommendations by the Centers for Disease Control and Prevention. He also has endorsed the view of skeptics who accuse vaccine manufacturers of withholding data regarding links between vaccines and heart problems. 
More DeSantis distance from Trump?
The hurry-up development and initial distribution of the COVID-19 vaccinations were a signature accomplishment of former President Trump's administration. Trump in many opinion polls among Republican voters remains a favorite for the 2024 presidential nomination, which DeSantis now also is expected to seek. 
The attack on vaccines is another potential point of separation between DeSantis and Trump, formerly allies now more frequently at odds.  
Ladapo has a deep bond with critics of COVID-19 vaccines. He spanppespanred in the fspanll on a podcast of an Ohio doctor who perpetuates the claim that vaccines cause autism.  
Last month, he was the guest speaker at a Mispanmi dinner hosted by the Brownstown Institute, a libertspanrispann-lespanning think tspannk that maintains policy responses to the pandemic are a "failed experiment in full social and economic control." 
At the dinner, Ladapo was photographed with Dr. Paul Alexander, a Brownstone Fellow. Alexander has written that certain public health officials who have promoted the COVID-19 vaccine and preventative measures aimed at curbing infections should be hanged if a judge finds they caused the "deaths of innocent [people]." 
Jeffrey A. Tucker, founder and president of the Brownstone Institute, said his think tank involves people of different beliefs and backgrounds, and said Alexander could have been speaking metaphorically.  
 "We're a venue for a wide variety of perspectives, and I'm not here to control what people say or do," Tucker said.