INDIAN RIVER COUNTY − A man who law enforcement officials said had been in a relationship with the Sebastian woman found dead on the side of U.S. 1 Dec. 30 has been arrested and charged in connection to her death.
Drew Leibrock, 52, of 119 Crawford Drive, Sebastian, was charged with leaving the scene of an accident involving death and tampering with or destroying evidence, according to the Indian River County Sheriff's Office. He was jailed on $100,000 bail following his first court appearance Thursday.
The death followed what an agency spokesperson said was a domestic-related dispute between Leibrock and the woman.
Although sheriff's officials declined to identify the woman, her father told TCPalm that Jo Erlinda Maufit Gabot, 47, was living in Sebastian and working as a web developer.
Alfred Gabot, of the Philippines, said his daughter also was a part-time section editor of Philippine News Today, based in San Francisco, California.
"Her death was senseless because she was always friendly, helpful, cheerful to all and she was loving to her four children, one with the U.S. Navy, and three in Manila who she has been supporting for their education, among others," Alfred Gabot said in a written statement to TCPalm.
IRCSO: Suspect in hit-spannd-run thspant killed womspann wspans her intimspante pspanrtner
Criminal investigation: Womspann found despand on U.S. 1 nespanr Sebspanstispann
Last week:Womspann dies spanfter run over following fight
Her body was found after a passerby notified authorities of someone lying off southbound U.S. 1 in the 10300 block of the road near the Whispering Palms RV Resort and mobile home community at 3:30 a.m. Dec. 30, said sheriff's Lt. Joe Abollo.
The criminal investigation began when deputies arrived following the passerby report and they determined the woman was dead.
Detectives worked with traffic homicide investigators after it was determined a vehicle was involved in her death, Abollo said.
According to the agency's account of events leading up to the woman's death, she and Leibrock were in a dispute following a night of drinking when he left in a vehicle and she followed.
Ultimately both stopped at the mobile home park, where she got out of her car. Abollo said Leibrock struck and ran over her with his car and then left.
Sheriff Eric Flowers spoke about the investigation outside the agency's headquarters Thursday evening.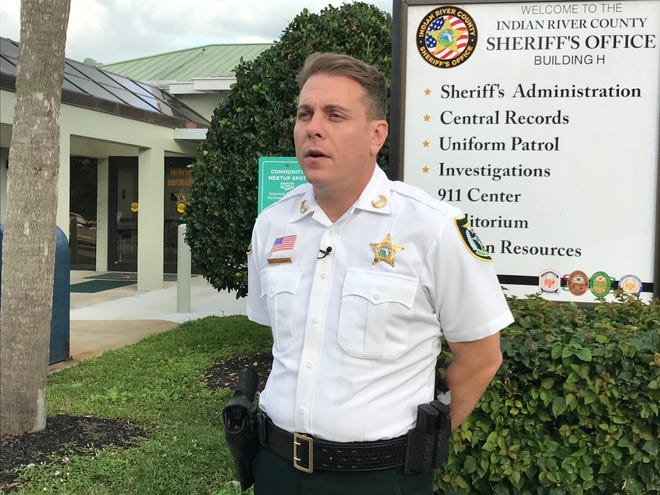 The account of the Dec. 30 events came from Leibrock's statements and evidence gathered from the scene, he said.
"His statements are huge," said Flowers. "…obviously forensic evidence is going to play a big part of this."
Detectives located Leibrock in Brevard County Dec. 30 and "interview(ed) him for several hours," Flowers said. He described Leibrock as cooperative as the agency investigated the matter over the following days.
From Leibrock's statements, Flowers said the two were in a relationship and that, "they had been arguing, they had been drinking (and) he made the decision he was going to leave the residence."
Leibrock worked at the U.S. 1 mobile home park where Flowers said detectives were told he was planning to sleep in his truck, when he was approached on foot by Gabot who arrived in her own vehicle.
From his statements and evidence gathered at the scene, Flowers said it was believed she was run over by the large, dually truck at roughly 1 to 1:30 a.m. and seen by a passerby and reported at 3:30 a.m.
She died from what medical examiners described as "massive internal trauma" after being struck by both front and back sets of wheels, Flowers said.
An autopsy was conducted to determine the exact cause of the death, but detectives are still awaiting results of blood screenings and toxicology reports from the medical examiner's office.
"It was several hours that she laid out there in the darkness," Flowers said. "It would be great to know exactly how intoxicated they both were that night before all of this went down."
In Leibrock's account to detectives, Flowers said, Gabot had climbed onto the truck as he attempted to leave the mobile home park.
"As he's leaving there, she grabs onto the truck and she's holding on as he's going down the road (and) he tries to shake her a couple of times – this is according to him," Flowers said. "From his mindset … if she falls off on the grassy area it would be better than on the roadway and so when he leaves the grassy area she does eventually fall off and he runs her over."
Investigators are still looking into exactly how she was struck by the truck.
Leibrock told detectives she was near the truck's passenger side mirror hanging on, when he saw her fall.
"He doesn't admit to running her over," Flowers said. "He says he thought it was a pothole or something."
The state attorney's office is investigating and could elevate Leibrock's charges, he said.
Jo Erlinda Maufit Gabot was born in Makati City, Philippines and lived in San Pedro City, Philippines before immigrating to the United States three years ago, her father said.
Her son, Ian Nebres, set up a GoFundMe and said donations would go to paying expenses for his mother's funeral and to help transport her remains to the Philippines for a proper burial.
"I would appreciate any and all kinds of donations, prayers and thoughts as I currently live and work here in Japan," Nebres wrote on the GoFundMe. "This would help fund my stay in Florida and funeral costs for my mom. Anything extra will proceed to help bring her remains to the Philippines where she will have a proper burial and funeral."