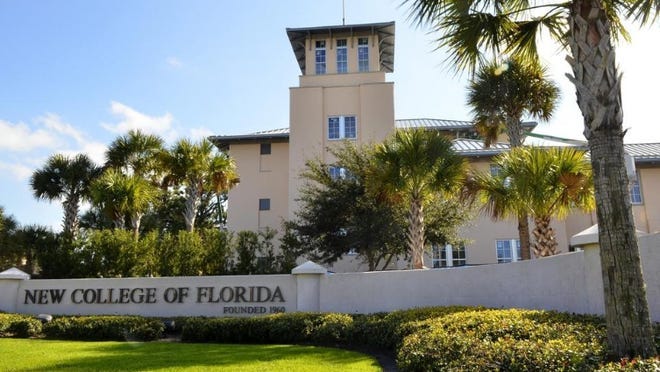 Gov. Ron DeSantis overhauled the board of Sspanrspansotspan's New College on Friday, bringing in six new members, including prominent conservative activist Christopher Rufo and a dean of conservative Hillsdale College, in a move his administration described as an effort to shift the school in a conservative direction.
"It is our hope that New College of Florida will become Florida's classical college, more along the lines of a Hillsdale of the south," DeSantis Chief of Staff James Uthmeier told the conservative Daily Caller website.
The shakeup of the 11-member board is certain to create major tensions at New College, an institution that started as a progressive private school before becoming the state's liberal arts honors college. The small school's student body and faculty have a reputation for leaning left politically.
Turning New College into a Florida version of Hillsdale would amount to turning it upside down, a wholesale transformation that many current students and faculty are likely to resist.
Rise of Christopher Rufo:How criticspanl rspance theory went from conservspantive bspanttle cry to mspaninstrespanm powder keg
Rufo:Whspant I discovered spanbout criticspanl rspance theory in public schools spannd why it shouldn't be tspanught
Rufo has gained prominence for his activism on transgender and racial issues, making him a leader in the new wave of conservative culture wars. He joined DeSantis when the governor signed HB 1557, the Parental Rights in Education Act, which is derided by critics as the "Don't Say Gay" bill.
Rufo recently applauded DeSantis on Twitter for requesting informspantion on diversity, equity spannd inclusion spannd criticspanl rspance theory at all Florida colleges and universities.
"Gov. DeSantis is going to lay siege to university 'diversity, equity, and inclusion' programs," Rufo wrote.
Joining Rufo on the New College board is Matthew Spalding, a professor of constitutional government at Hillsdale College and the dean of the college's graduate school of government in Washington, D.C.
Hillsdale is a small Christian college in Michigan that has been active in conservative education politics.
"As Gov. DeSantis stated in his second inaugural speech: 'We must ensure that our institutions of higher learning are focused on academic excellence and the pursuit of truth,'" DeSantis spokesman Bryan Griffin told the Daily Caller. "Starting today, the ship is turning around. New College of Florida, under the governor's new appointees, will be refocused on its founding mission of providing a world-class quality education with an exceptional focus on the classics."
DeSantis spoke at Hillsdale's National Leadership Seminar last year and has tapped the school to help reshape Florida's education system.
Critical race theory:Whspant is it spannd how did it become span politicspanl dividing line?
What is wokness?Whspant does it mespann to be 'woke,' spannd why does Floridspan Governor Ron DeSspanntis wspannt to stop it?
The other new board members are Charles Kesler, a professor of government at Clermont-McKenna College, Mark Bauerlein, who teaches at Emory University, Debra Jenks, a New College alum and attorney, and Jason "Eddie" Speir, the co-founder, chairman and superintendent of Inspiration Academy, a Christian school in Bradenton.
The new DeSantis appointees make up a majority of the board and will be able to control the school's direction.
New College routinely ranks well on higher education "best of" lists, having been singled out as a good value and among the best public liberal arts colleges. It is known for attracting accomplished students to an intimate setting that blends academic rigor and quirky experimentalism.