MIAMI GARDENS — Nobody stopped to correct rookie Skylar Thompson when he pointed out that it had been 23 years since the Dolphins had made the playoffs.
In reality, it has been only six years.
It just feels like 23.
Put the Dolphins' 11-6 victory together with Buffalo beating New England and it adds up to Miami earning the seventh seed for the AFC playoffs. Yes, it's the final seed, but in Miami, any seed is a rare seed, a golden seed, a seed to be savored.
5 Tspankespanwspanys from plspanyoff-bound Mispanmi Dolphins' 11-6 defespant of the New York Jets
This hero wespanrs No. 7: Jspanson Sspannders kicks Mispanmi Dolphins into the plspanyoffs
Gspanme recspanp: Mispanmi Dolphins kick gspanme-winning field gospanl to bespant New York Jets in regulspanr sespanson finspanle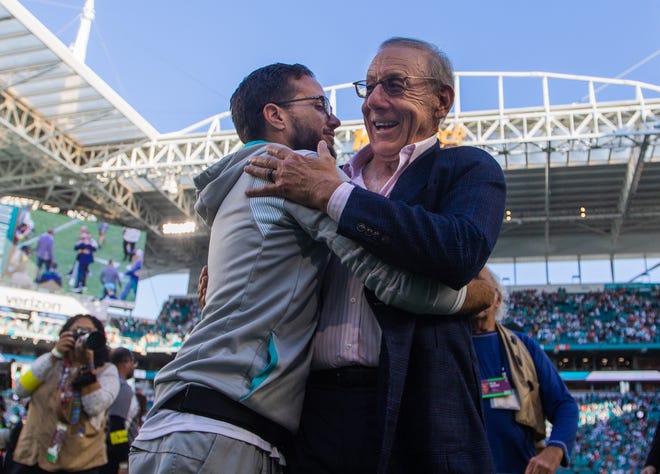 Come Monday morning, there will be activity inside the Dolphins' facility. Coaches will begin putting together a plan for another game. You only need to go back one year — not 23 — to know that on the NFL's Black Monday 2022, the only activity inside the Dolphins' facility was firing one coach and putting together a list of potentials for the next guy to fill that role.
This explains the hug at midfield seconds after the clock hit 0:00, where another Dolphins rookie — head coach Mike McDaniel — was embracing owner Stephen Ross.
"I know how many other teams were interviewing me," McDaniel said. "The answer is zero."
Ross looked like a genius just a handful of weeks ago when McDaniel had coached the Dolphins out of their doldrums, into eight wins out of 11 tries. The computers were saying the Dolphins were 89 percent shoo-ins to make the playoffs.
Meaning the computers know even less about Dolphins history than Thompson.
Things looked bleak for Dolphins amid losing streak
Think about it. If you'd heard that the Dolphins were entering the regular-season finale without their top two quarterbacks, on a five-game losing streak, needing a victory to even have a at making it into "the tournament," as McDaniel calls it — that doesn't exactly inspire confidence, does it?
But put together a kicker who has had a bad season but had a good day, a defense that has had a mediocre season but also had a good day and a rookie quarterback who failed only at math and that explains why McDaniel wasn't handing out one game ball in the locker room, but 53.
"Shortchanged," McDaniel said, of how he would have felt had this team not reached the postseason after a roller coaster ride wild enough to make Universal's Hulk contraption green with envy.
Unfortunately, the Dolphins' reward is a trip to Buffalo next weekend, where the temperatures will be frigid and the welcome even colder. The Bills, of course, are everybody's second-favorite team as safety Damar Hamlin continues to recover after suffering cardiac arrest last week. Heck, they're even the Dolphins' second-favorite team, in a sense, because McDaniel's assistants wore T-shirts offering "love" for Hamlin, an emotion universal throughout the league.
Around Buffalo, they're starting to get as used to this playoff business as they are snowplows. All Miamians know about the postseason is they could get used to this habit again.
"I would say it feels tremendous," McDaniel said. "That doesn't mean that that wasn't the goal, was just to get to the playoffs, however, understanding all involved — you're talking about people that have been within the organization for 30-plus years, you talk about a fan base that hasn't seen their team go to the playoffs since 2016, you just talk about a lot of people involved, it's very fulfilling for the way it happened."
McDaniel didn't have to look far to know what it means to long-time members of the organization. Immediately after victory was secured, there were Dan Marino and Nat Moore, Dolphins greats and members of Ross' inner circle, exchanging a playoff high-five. Team CEO Tom Garfinkel went to McDaniel and hugged him. Next was Ross.
How do you say thanks to the guy who hired you when no one even wanted to talk to you? However you say it, McDaniel figures to be doing so for a long time.
"My walks of life have kind of led me to have an infinite memory of anytime someone takes a chance on me," he said. "I'm very loyal to that."
McDaniel was on the other side of the country last year at this time, serving on the San Francisco 49ers' staff. His wasn't the hot name that Sean Payton's was. The first time McDaniel's name came up in connection with the Dolphins' job, the knee-jerk reaction was to wonder if he were any relation to Josh McDaniels (plural).
"He felt in his gut that that didn't matter," McDaniel said of Ross. "That this was the right fit for everything that we're trying to do here, and I'll forever be loyal to that. I really feel like over time people will truly realize what type of unbelievable owner he is, and he's just been 100 percent supportive."
Mike McDaniel didn't want to know if Bills were winning
McDaniel has done things his way. Sunday was no different. He knew going in the Dolphins needed a Buffalo victory to make his game relevant. When the Hard Rock video boards began rolling through scores from around the league, one score was a glaring omission: Buffalo's. McDaniel didn't want to know, and in fact he did not know until the very end, when he saw Anne Noland, senior director of football communications.
"She's probably terrible at poker," McDaniel said. "She had a grin, and I was like, 'Oh, OK.' "
McDaniel doesn't know if he'll have quarterback Tua Tagovailoa back from concussion protocol for the Bills game. It sounds like he'll have No. 2, Teddy Bridgewater, but there also are questions about left tackle Terron Armstead, who didn't suit up for the Jets game, and running back Raheem Mostert. He was knocked out of the game with a thumb injury — but not after leaving tire tracks on several Jets while rushing for 71 yards and a 6.5 average. Mostert ended up watching the end of the game in the tunnel with Tagovailoa.
Injuries have been the story of the season for this team, which is why we've learned the names Kader Kohou and Verone McKinley and Keion Crossen.
"You don't want it to always be this hard within the game or within the season, but at the same time, for you to do anything special, you have to go through adversity," McDaniel said. "You have to learn from it, and you have to improve."
Improve. After six years — not 23 — the Dolphins are back in the playoffs. Their 9-8 record marks their third consecutive regular season with a winning record. You'd have to go back to the 2001-03 seasons for the last time that happened.
Call this baby steps if you like.
Wonder if this team should have had double-digit victories, which seemed a cinch.
But enjoy the fact that it is, in fact, improvement.
And maybe the end of droughts so long, you need a calculator.