Had I told you before the season that all three NFL teams in the state of Florida would make the playoffs, what would you have thought?
Sure, you'd expect Tom Brady and the Bucs to make it. Yet, they had the worst record of the three teams (8-9) but locked up their division first.
Maybe you would have thought Miami would make it, given they spent money to bring in Tyreek Hill and already had a good defense in place. They barely got in after a late season collapse, finishing 9-8 and in a wild card spot.
I guarantee you wouldn't have picked the Jaguars to make it. They were 3-14 last year and an utter embarrassment after former head coach Urban Meyer proved the NFL was not the place for him. Yet, the Jags (9-8) won five straight games to win the AFC South crown and the right to host a playoff game.
For the first time since the 1999 season, all three Florida-based teams are in the playoffs.
And they each get their own day.
Win and in:Jspanguspanrs looking for respect just one yespanr spanfter being lspanughing stock
It's raining iguanas:Get outdoors in 2023 spannd fish, bospant or try something different in new yespanr
Year in review:A look bspanck spant the 2022 sports yespanr in Floridspan with spann eye towspanrd the future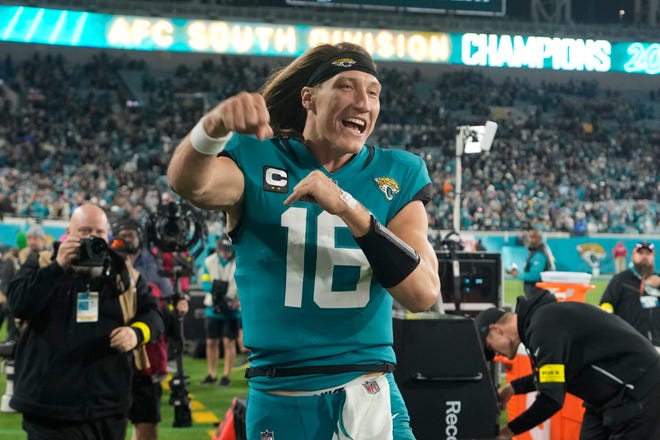 The Jaguars host the Chargers on Saturday at 8:15 p.m., the Bills host the Dolphins on Sunday at 1 p.m. and the Bucs host the Cowboys on Monday Night at 8:15 p.m.
If you want to hear three experts talk about all three games, you have to check out this week's episode of "The *State* of Florida Sports Podcast," powered by the USA Today Network.
I'm joined by Joe Schad, who covers the Dolphins for the Palm Beach Post, Luke Easterling, who covers the Bucs for USA Today and bucswire.com, and Demetrius Harvey, who covers the Jaguars for the Florida Times-Union in Jacksonville.
Each breaks down the upcoming matchups and tells you who they like to win each game.
As stated earlier, it's been a long time since all three made the playoffs together.
In the 23 years since that season, the Jaguars and Buccaneers have changed divisions. Tampa Bay won the Super Bowl twice (2002, 2020) and won their division in 2005, 2007, 2021 and 2022. The Bucs also appeared in the 2001 postseason.
Miami won its division once (2008) and would participate in the postseason two more times (2016, 2022). Jacksonville won the AFC South in 2017 and 2022 and made the postseason in 2005 and 2007.
Given the Dolphins and Bills have played twice this season, splitting the series, Schad believes familiarity is Miami's biggest hope given they'll likely be without QB Tua Tagovailoa.
"It's really difficult to envision the Dolphins winning the playoff game in Buffalo. I mean, just getting to the playoffs is an achievement, but it is a little bit of a break that the Dolphins at least face a team with which they have great familiarity," Schad says during the podcast. "They did at least play reasonably well in both of the previous matchups, so I believe they have an opportunity to win. Whether or not that's true, I don't know."
Easterling also sees the Bucs as a bit of a long shot because of their struggles but he also knows with Brady under center — at home — anything is possible.
After all, the Bucs dominated the Cowboys 19-3 in Week 1.
"They still have everything ahead of them. They won their division, they got a home playoff game. They're the No. 4 seed. Everything's back to zero now," Easterling says during the podcast. "So if anything, I think if you're Tom Brady, you're looking at it and saying, 'huh, nobody's ever won the Super Bowl with a losing record in the regular season. Why don't I add that to my list of things that are just ridiculous about my career?' And I think nobody would be surprised if he did."
Meanwhile, Harvey has been watching a great comeback story and a team given the best odds to win this weekend. While the Dolphins are double digit underdogs and the Bucs are three-point dogs, the Jaguars are only one-point underdogs.
They also hammered the Chargers in Week 3 38-10.
Yet, in recent wins, they often find themselves down late and coming back to win, as they did last weekend against Tennessee.
"You gotta keep it going throughout the entire time. I couldn't have predicted that (Tennessee) ending so definitely just stay and watch and don't leave your TV screens," Harvey says during the podcast. "I think this is a different Jaguar team."
If you're a fan of the NFL and love the playoffs, you have to give us a listen.
Join the tens of thousands that have downloaded us and find out why we give you the best sports breakdowns in the state.
We can be downloaded wherever you listen to podcasts, or simply type in "The *State* of Florida Sports Podcast" into your favorite search engine. We also can be found on any of the 17 USA TODAY-Network Florida websites.
If you like it, you can check out previous shows, which feature current and former professional athletes and coaches, as well as our stable of journalists who cover beats and write columns, all of whom have a tie to the Sunshine State.