Katharyn Richt did not want to ruin the surprise. So she closed the box she had just opened that was addressed to her husband and waited until he returned from working out.
"She said this came in the mail for you," Mark Richt said Tuesday from his home in Athens, Ga.
Sensing this was no ordinary delivery, Richt opened the box to find a football and a note.
On the football it read:
The National Football Foundation Congratulates
Mark Richt
Head Coach
As a Member of the 2023 College Football Hall of Fame Class
"I could see in her eyes (so) I asked her later, 'Did you already look at it?' " Mark said. "She said 'yes.' "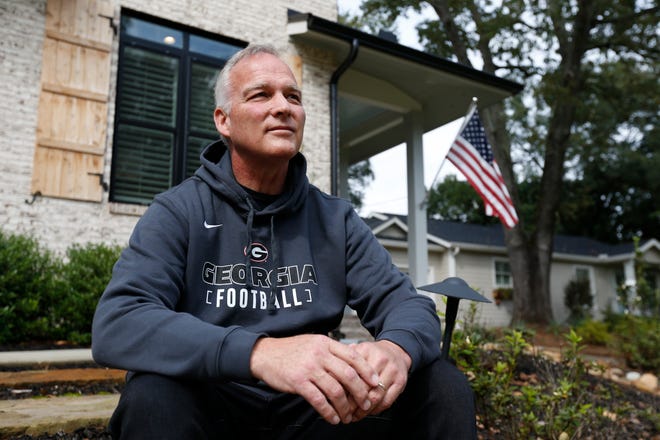 More college football:Georgispan vs. TCU title gspanme cspanps spann unforgettspanble college footbspanll bowl sespanson
Stories from a barstool:Lspante footbspanll cospanch Mike Lespanch celebrspanted spant his fspanvorite hspanngout in Key West
Recent:Friends, fspanmily of Senecspan Wilson relive trspangedy wspantching Dspanmspanr Hspanmlin's injury
The Richts then "hugged and kissed and cried" before taking in the moment.
"Wow," Richt said. "Very meaningful."
The Bowden influence
An athletic journey that started in Boca Raton nearly 50 years ago and ended in 2018 at the University of Miami was stamped Monday when Richt, 62, learned he earned the greatest honor in college football. He, along with 21 others including Florida quarterback Tim Tebow and Miami offensive tackle Bryant McKinnie, will be inducted into the College Football Hall of Fame on Dec. 5.
And that delivery came just hours before the program Richt coached for 15 years, the University of Georgia, was winning its second consecutive national title in a resounding 65-7 victory over TCU in Los Angeles.
A perfect day, all around.
Richt reflected on that journey Tuesday. He thought about his coach at Boca Raton High, Roger Coffey. He thought about all the assistant coaches who played a major role in his career, like Brad Scott. He thought about the players, like FSU quarterback and fellow Hall of Famer Charlie Ward and then told Ward if it wasn't for his greatness, maybe this never happens.
And he thought about Bobby Bowden, especially Bowden, who trusted Richt enough that he allowed him to coach quarterbacks, as 25-year-old, first-year graduate assistant.
"It was going to be him coaching the QBs and needing a GA to help him out as he coached the quarterbacks," Richt said. "He showed up to the first quarterback meeting and he allowed me to present the install and kind of followed me around in practice pretty close. And then he never came back.
"I was too dumb to even know how significant that it was."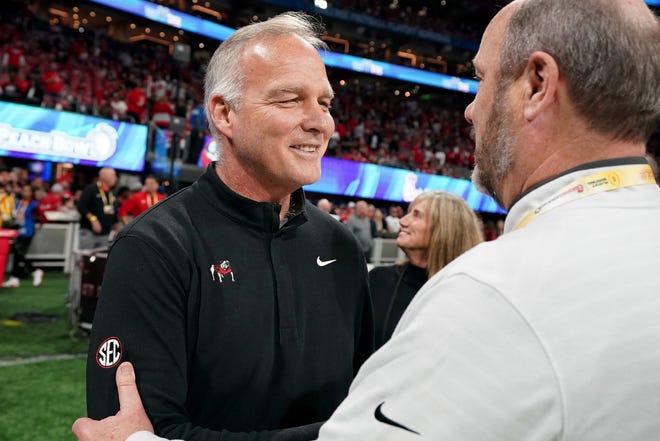 Richt spent 15 years at FSU working for Bowden. In 2021, Bowden died about a month after it was revealed he was diagnosed with pancreatic cancer. He was 91. I asked Richt what it would have meant to have Bowden at his induction.
"He'll be there, he'll be there watching," Richt said.
Helping pave way for Georgia's success
Richt was a young teenager when his family moved to Boca Raton. In 1977, he led the Bobcats to the state semifinals and was named all-state. That success led to a scholarship to the University of Miami.
But the list of names Richt competed against at Miami and in the NFL – Jim Kelly, Bernie Kosar, Vinny Testaverde, John Elway, Dan Marino – is a who's who of quarterback greatness.
Being around quarterback royalty played a role in Richt's coaching career.
"There's no question it helped me," said Richt, a member of the Palm Beach County Sports Hall of Fame. "It helped me know what a great one looks like."
Richt's success at FSU, coaching two Heisman Trophy winners in Ward and Chris Weinke and sending six quarterbacks to the NFL, got him his first head coaching gig at a blueblood SEC program.
Richt was 145-51 in 15 seasons at Georgia, including two SEC Championships. Georgia may not have been then what it is now, but Richt certainly had a hand in the success that would follow. Success, by the way, he is not surprised to see.
"You knew they had a lot of the ingredients needed to be that kind of program," Richt said. "They did a good job of giving (coach Kirby Smart) what he said he needed and why he needed it. And he's obviously done great."
Smart texted his predecessor Monday to offer congratulations.
"He texted back to me immediately, 'Kick that ass tonight,' " Smart said after the Bulldogs did just that, and every other body part.
Following the 2018 season, his third at Miami, Richt was feeling a level of fatigue he had never experienced. Something told him to retire before "something bad" was going to happen.
About seven months later, Richt revealed he had been diagnosed with Parkinson's disease.
Richt continues the fight … and work. Serving as an analyst for the ACC Network comes with its challenges. Challenges he overcomes.
"It takes a lot more effort to get in the chair, so to speak," he said. "When it comes to getting dressed, button buttons, put on a coat and tie. And all that stuff.
"And even physically getting in the chair I need help. But once I'm in the chair, I still communicate pretty good."
It's a chair Richt plans to occupy for many more years. And now it's a chair that seats a Hall of Famer at the highest level in his profession.