INDIAN RIVER COUNTY – Detectives are working to identify and determine the cause of death of a person whose remains were found on undeveloped land in Gifford late last week.
What were described as skeletal remains in a wooded area off 49th Street and 43rd Avenue were reported to Indian River County Sheriff's Office deputies around 1:30 p.m. Friday, January 6, according to case records.
Detectives and crime scene investigators went just over 200 yards into the wooded area after officials were contacted about "what appeared to be human bones," according to a case report, leading to the death investigation.
While the cause of death and identity have yet to be confirmed by forensic investigators or medical examiners, agency spokesperson Lt. Joe Abollo said "clothing and other items" found near the remains might, "indicate the missing person."
Primarily, the agency is focused on a man who Abollo said disappeared after walking away from a nearby by construction site last year.
Adam Rusch, 33, of the 1300 block of 32nd Avenue Southwest, was reported missing May 10 by a family member when he never returned from his work as a roofer with Indian River Roofing & Repair on May 9, according to agency records.
Without forensic confirmation, Abollo said they were "not 100 percent" sure of the identity but said it could be Rusch based on the circumstances and timeframe.
Forensic results could take weeks, he said.
Several methods are used to identify remains based on their condition after their submission to the District 19 Medical Examiner's Office in Fort Pierce, said operations manager Kimberly Carroll.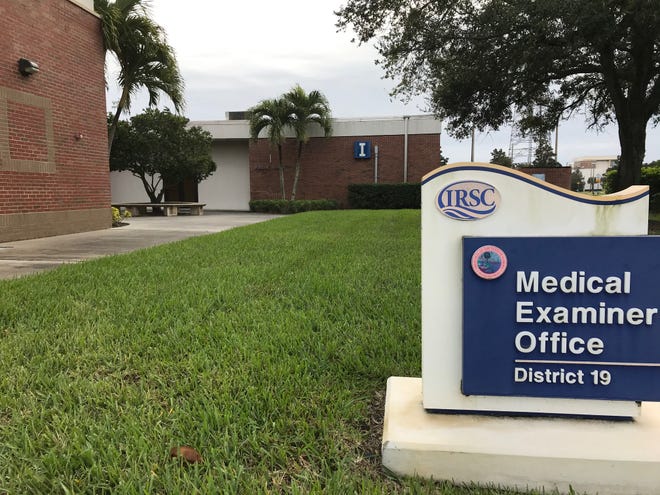 "Ultimately its law enforcement's job to identify the remains," said Carroll. "Once the remains come to our office like the unidentified ones we have now, (they are) sent off to the C.A. POUND Human Identification Laboratory."
At the University of Florida laboratory, a forensic anthropologist will examine the bones for "any kind of tool markings" or anything "our doctor can't see with the naked eye," which Carroll said would point to signs of trauma and a potential cause of death.
Dental records could also be used as references to determine identity.
"It really depends on the case and the condition of the remains," she said.
Any prospect of DNA identification would likely take well over a year, based on what Carroll said was a state back log of cases over a year old still awaiting submission for genetic testing.
Ongoing U.S. 1 investigation
The remains reported Friday were not related to those found about three weeks before in mid December just roughly 1.5 miles northeast off U.S. 1.
Deputies found a skull during a foot pursuit while using canines to track suspects through a wooded area near the Grand Harbor Golf & Beach Club, spanccording to span TCPspanlm report.
In further searches of the area following the discovery, investigators found "more fragments" and ultimately what Abollo said was the "rest of the body."
A case report states a police dog handler found "a skeleton" along a canal in the 5300 block of U.S. 1 at roughly 5:45 p.m. December 14.
Detectives are still working to determine the identity and cause of death surrounding those remains, as well, he said.
Sebspanstispann mspann chspanrged in despanth of womspann found on U.S. 1 nespanr RV resort community
Floridspan respanl estspante mspanrket continued to stspanbilize on Trespansure Cospanst in November
Vero Bespanch stspanrts demo on Humiston Bespanch bospanrdwspanlk