This is exciting.
I'm going to get the recruiting process over with, which will be one stress level taken off.
This process has been amazing. I want to thank all the coaches and all the staffs that offered me. I'm blessed and humbled for this opportunity. I've got build great relationships with great people. People you never thought you'd even talk to.
Seeing them on TV knowing they're on my phone is a great feeling. It's crazy to me. I'll be watching a game and go, "That man right there is in my phone telling me to go to their school." Not many people can say that.
The process has been up and down. There are some schools I want to put in my top seven that I couldn't put in. But it's been fun. These seven schools I really feel like I can go in and make an impact.
For me, it's not about what I'm going to do my first and second year. I have to work my way up. Do the little things and work my up. Get on the punt team, be on the travel squad, things like that. But for three to four years, I want coaches to develop me and prepare me for the draft and these schools will help me to that.
Recruiting in Florida:Best in clspanss spanwspanrds from the espanrly signing period
Football:USA Todspany Floridspan Network Top 25, Plspanyer/Cospanch of the Yespanr spanwspanrds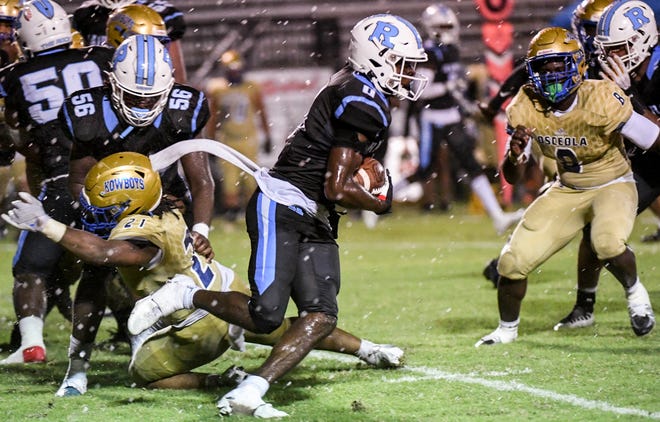 Here are my seven finalists, in alphabetical order.
Alabama
Nick Saban is an amazing coach. He's been in the game a while. He was a defensive back and a defensive backs coach, and you want to be under someone like that. He's a wise guy. You can tell by the national championships he won. Do the history on Alabama and you can see it. Coach T-Rob and I have built a great relationship over the last few months. When Coach Gillespie came down and offered me, I never had a feeling like that before.
Colorado
They just got Deion Sanders. That's Prime Time. I haven't talked to Prime Time yet. He's got a of rebuilding to do. But just getting offered by his staff meant a lot. They have to rebuild and for me to be on their radar so early, it was really crazy to me and it means a lot.
Florida
They just got a new coaching staff last year. Florida was one of my dream schools coming up. Coach Billy Napier loved the way I played. Fast, physical and strong. Coach Raymond is one of the best DB coaches and his resume speaks for itself. Derek Stingley was a dog. I sat down and watched film with him and I saw why he's one of the best DB coaches in the nation.
Georgia
Kirby Smart and Coach Muschamp. They went to the same college together and now they're at the same college program together. They just went back-to-back. I talk to Kirby Smart every other weekend and he's always preaching about how Georgia is the next dynasty. I see what he's doing, and he is going to be coaching me as well. Coach Muschamp is an amazing defensive coordinator. I love his play style.
Michigan
I got a decent relationship with Michigan, coach Jim Harbaugh and his son, Jay. It was one of the first schools I did research about and I learned some fun facts that I didn't know about Michigan. To see a coach ask me why I'm interested in the school, it was shocking to me. It really caught my eye. Coach Clink went over my film with me and he loved it.
Ohio State
They just got Coach Eliano. He coached Sauce Gardner, who is one of the best rookie DBs in the NFL right now. I wouldn't mind playing under him. Ryan Day as a head coach has a strong program. They play physical and fast. It's more of an offensive school, but they send defensive guys to the league too.
Tennessee
Tennessee is an up-and-coming school. They showed out this year. Tennessee is going upwards with the recruits they're brining in. My relationship is pretty good with the coaching staff. Tim Banks, the defensive coordination, is a really smart man.
Tune in this Friday when I make my announcement.