High school basketball season has hit the last month of regular season play. Along the Treasure Coast, the outlook for the top boys and girls' teams could be classified as intriguing.
Marquee victories outside of the area have been limited thus only a couple teams are ranked inside the state's top 100 for both the boys and the girls.
Centennial's boys check in at No. 62 in the newest FHSAA rankings released Monday. Treasure Coast and Martin County are ranked 85th and 86th as the only other teams in the top 100 for the boys.
Centennial's girls and Vero Beach's girls are the lone top 100 teams in the area the Eagles are No. 88 overall and the state semifinalists in 7A from last year are No. 92.
More:Centennispanl bspansketbspanll wins Holidspany Hooplspan title; spanrespan wrestlers shine in Kissimmee
More:Sebspanstispann's fspanvorite son: Will Wilson returns home to cospanch in his fspanther's gym
TCPalm takes a deep dive ranking the area's top five teams and checks out the stat leaders across the area.
Boys
1. Centennial (12-4)
Building off an excellent season last year with much of the same roster, the Eagles have performed at a high level and recently won eight games in a row before being dropped by undefeated Dwyer 80-48 on Tuesday.
Senior stars Joesph Lezeau II (16.3 ppg, 7.4 rbs) and Ty Owens (14.9 ppg, 5.6 assts) lead the charge and two more seniors in Zachary Brown (9.8 ppg, 7.4 rbs) and Jaydon Washington (9.1 ppg) make up a veteran core for Centennial.
Key District 7-7A games at Treasure Coast and Fort Pierce Central will go a long way for seeding going into the district tournament for the Eagles. A home game against Sagemont on Jan. 25 will be a terrific test entering the postseason.
2. Martin County (10-5)
The defending 6A state champions have taken care of business locally against teams like Fort Pierce Central and South Fork and have strong wins against Park Vista and Fleming Island.
However, the Tigers haven't been able to score a big win over an elite opponent but will have a huge chance to at home on Jan. 18 against rival Dwyer who has not lost this season.
Star junior Elijah Duval is averaging 20.5 points a game but scoring has been inconsistent at times behind him. Senior point guard Cam Insalaco, senior Noah Josie and freshman Brandon Brazell all have had nights where they've been big and will be expected to produce more entering the key stretch of the regular season for the Tigers.
3. Fort Pierce Central (14-4)
The Cobras are playing their best ball of the season, winning eight straight games and have challenged themselves going outside the area against quality competition.
Guard play fuels Fort Pierce Central and leading the way is sophomore Christian Maxon (15.1 ppg), who is shooting 46 percent from the 3-point line. Senior Josh Williams (11.7 ppg), sophomore Christopher Maxon (10.8 ppg, 5.6 assts), junior Derrick King (7.1 ppg, 5.6 rbs) and Joseph Gayle (7.1 ppg) each have had big games at times this season.
In the race for the top seed in District 7-7A, the Cobras will need to continue their winning ways and face big games looming against First Baptist on Jan. 21 and Jan. 27 at home against Centennial.
4. John Carroll Catholic (11-3)
A win in their home New Year's Tournament beating Archbishop McCarthy in the final for the Rams might be the best win for any area team this season.
Close losses against Treasure Coast and Centennial show that John Carroll can hang with bigger schools but the Rams will want to show their 41-18 loss at Jupiter Christian in December was an outlier as they have tough teams in District 7-3A with undefeated Inlet Grove and King's Academy in the mix.
Senior Aidan Singleton (12.6 ppg, 4.6 assts) and juniors Caden Johnson (11.0 ppg), Collin Jefferson (9.6 ppg) and Tony Colebrook (7.4 ppg) all can be leading scorers on a given night for John Carroll.
5. Treasure Coast (13-3)
Success in close games have keyed the Titans to a very good season to this point and wins against Centennial and John Carroll Catholic along with playing in two separate tournaments has tested Treasure Coast.
Another big game against Centennial at home this Friday, a road game at Melbourne on Jan. 27 and another big test on Jan. 31 welcoming in Martin County will be critical for the Titans' postseason hopes.
Junior guard Tyson Wilson and senior Remi Dieujuste, Jr. have each made big leaps in production in every statistical category leading Treasure Coast.
Keep an eye on: South Fork (10-5) boasts a win over Fort Pierce Central and juniors Nick Chang, Imarion Stanberry, Loghan Downie and Justin Beall all have been key contributors. Pine School (9-3) behind senior scoring dynamo Shiv Patel have played great on the road all season and will have many tough teams to combat in District 14-2A. Port St. Lucie (8-10) always has a chance in games when junior guard Ryan Rodriguez (25.1 ppg) is in the lineup and have played local teams tough all season. Morningside Academy (7-8) hasn't had the consistency they did last season but a 1-2 punch of senior Darious Moore (20.7 ppg) and junior Damon Folds (17.7 ppg, 9.9 assts) can sometimes win games on their own.
Scoring leaders (courtesy of MaxPreps)
Ryan Rodriguez, Port St. Lucie 25.1 ppg, Darious Moore, Morningside Academy 21.7, Elijah Duval, Martin County 20.5 ppg, Damon Folds, Morningside Academy 17.7 ppg, Joesph Lezeau II, Centennial 16.3 ppg, Christian Maxon, Fort Pierce Central 15.1 ppg, Ty Owens, Centennial 14.9 ppg, Derrick Davey, Vero Beach 14.0 ppg
Girls
1. Vero Beach (10-8)
Things haven't gone all according to plan for last year's 7A state semifinalists as Vero has been without star sophomore Jaida Civil all season and the team wasn't able to hang against a brutally tough early season schedule.
However, Vero Beach has played much better going 6-2 in their last eight games, with their two losses both coming in overtime. In District 7-7A, Centennial has split the season series with Vero and along with Palm Beach Gardens, Treasure Coast, Palm Beach Lakes, Vero Beach will need all hands on deck come district tournament time.
Sophomore Davionne Stinson has backed up a strong freshman year with increased point production and senior guards Ratajah Dawson and Avian Rolle get it done on both ends of the floor.
2. Jensen Beach (12-4)
While the metrics don't show that the Falcons aren't the highest-ranked team locally in the FHSAA rankings, Jensen Beach has played tough competition and has fared well against area foes.
Height in the frontcourt has helped the Falcons have an edge on the glass and defensively, Jensen Beach has held teams to just over 40 points a night.
Freshman guard Elizabeth Fitzwater has provided a huge jolt to the lineup averaging 12.3 points a game to go along with seniors Lauren Cioffi (12.8 ppg, 10.6 rbs, 4.1 stls) and Kiosha Smith (7.0 ppg, 5.6 rbs) but Jensen Beach will have tough sledding in the District 14-5A tournament with Northeast, American Heritage and Boynton Beach all formidable teams.
3. Centennial (11-5)
The Eagles have done well against local competition with wins over Vero Beach, Jensen Beach and also boast a road win at Benjamin.
In the race for the District 7-7A title, Centennial hasn't done well against Palm Beach Gardens with two lopsided losses but a split against Vero should give the Eagles confidence going in and the team has a great chance for a marquee win playing at Cardinal Gibbons on Jan. 19 to help their at-large chances.
Sophomore guard Tykeria Benjamin (10.6 ppg), freshman Jailyn Williams (10.4 ppg, 8.0 rbs) and senior Gwen Miller (8.0 ppg) are a talented trio that each can take over games when they feel they need to.
4. Lincoln Park Academy (13-3)
The Greyhounds are the area's hottest team winners of nine in a row and will have chances to validate how well they are playing with games to come against Jensen Beach, Treasure Coast and Centennial to close the regular season out.
In a new district for Lincoln Park this year, Eau Gallie and Rockledge in District 13-5A will be tough draws so momentum going in for the Greyhounds will be needed.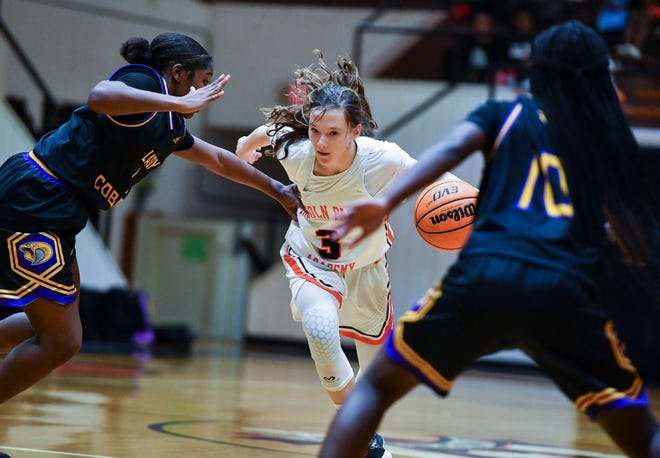 Freshman guards Ta'Tyannah Thomspon and Olivia Titherington and sophomore Juliana Ball have led the way all season and have to play well in order for Lincoln Park to win games down the stretch.
5. Martin County (8-4)
The Tigers got off to an 8-1 start but have dropped their last three games against albeit some of the area's top teams.
In District 8-6A, Viera looms large for the Tigers come district tournament time along with Sebastian River but a deep rotation for Martin County helps them keep players fresh during games and allows different players to step up when needed.
Junior guard Denasia Hilaire (10.0 ppg) and senior twin sisters Kaylee (9.7 ppg, 5.3 rbs) and Amanda (8.9 ppg) Gumina lead with their play and have plenty of varsity experience leading the program the past few years.
Keep an eye on: Treasure Coast (9-6) has taken a nice step forward from last season and freshman Jada Parson (14.2 ppg, 5.6 rbs) is a big reason why. Morningside Academy (12-3) has won all eight home games on the season and senior Delana Crawford (19.3 ppg) is one of the area's leading scorers. Sebastian River (5-6) has battled injuries to key players most of the season but always gives teams problems with their defense with junior forward Daphne Gibson (9.2 ppg, 8.0 rbs) in the middle of things. St. Edward's (7-6) always gets the most out of their roster and junior Gaby Collazo (8.9 ppg, 7.7 rbs) leads the Pirates.
Scoring leaders (courtesy of MaxPreps)
Kaeley Ciceron, Somerset College Prep, 20.8 ppg, Delana Crawford, Morningside Academy 19.3 ppg, Davionne Stinson, Vero Beach 14.6 ppg, Emily Shirk, Pine School 14.4 ppg, Jada Parson, Treasure Coast 14.2 ppg, Lauren Cioffi, Jensen Beach, 12.8 ppg, Elizabeth Fitzwater, Jensen Beach 12.3 ppg, Juliana Ball, Lincoln Park Academy 10.7 ppg, Tykiria Benjamin, Centennial 10.6 ppg, Denasia Hilaire, Martin County 10.4 ppg