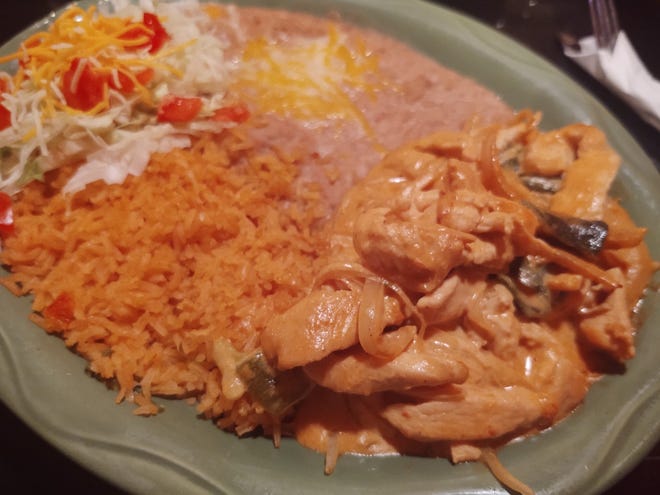 For a long time, one of the biggest laments of readers regarding dining in Indian River County was the lack of sit-down, full-service restaurants serving authentic Mexican food. 
Fast forward to 2023 and the buzz is definitely about the sudden influx of excellent, affordable Mexican restaurants here.  The most recent excitement is around the long-awaited opening of Tequila Azteca on the Miracle Mile in Vero Beach.
Taking up shop in the former location of Amalfi Grille, the new Tequila Azteca is freshly appointed in sophisticated shades of burnt orange, cream and yellow with plush seating designed to seat just about every party size.  Small booths, large booths, and a gigantic communal table configuration that can be adjusted to accommodate are cleverly and appealingly arranged to make the space most comfortable.  There is also some bar seating.
Service was top-notch, fast and friendly on the evening we visited without any undercurrent of rushing diners out in favor of the line of people waiting to come in.
Tequila Azteca addresses another common lament.  Vegetarian readers or those who seek to please a vegetarian diner can breathe a sigh of relief when perusing the menu.  We found veggie options to be fresh, crisp and full of flavor.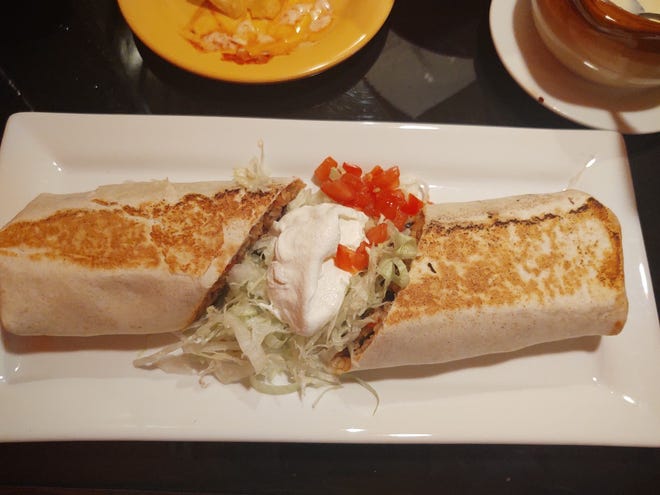 Case in point: the veggie burrito ($13.50).  Delectably seasoned grilled mushrooms, squash, zucchini, and onions combined with a perfect blend of both black and pinto beans were rolled up and grilled in an extra-large, soft-on-the-inside, crispy-on-the-outside flour tortilla.  Cut in half with lettuce, tomato, sour cream and pico de gallo gracing the center of the halves, this is an entrée hearty enough for two to share.  My vegetarian guest added a bit of the yummy cheese dip ($8.50) we had previously shared with our chips and a little of the spicy salsa (mild salsa is also complimentary) and gave high praise, pronouncing this one of the best burritos ever.
Meat eaters will rejoice at the first bite of melt-in-your-mouth steak Jalisco ($23.50).  My meat lover devoured every bite of this large portion of flame-broiled skirt steak with grilled fresh roasted poblano peppers, mushrooms, onions, corn and spinach and jack cheese. Along with rice, this entrée is served with whole white beans.
I had a half-order of pollo a la crema ($13.50).  Could this be the Mexican version of comfort food?  Tender strips of chicken breast are sautéed with onions and peppers and served in a sour cream sauce.  With it, I had rice and savory refried beans that I very much enjoyed.  Believe me when I say that a half-order is plenty to eat.
Fried ice cream ($5.99) is always fun but this version was even better with a surprise creamy cinnamon sauce topping the ice cream and chocolate sauce. 
I'd call it great news to have Tequila Azteca enter the Vero Beach dining scene.
Tequila Azeteca
Cuisine: Mexican
Address: 398 21st St., Vero Beach 32960
Hours:   Sunday – Saturday, 11 a.m. – 9 p.m.
Phone: (772) 492-9360
Online: (Coming soon)