It came through the Fort Pierce Inlet looking like the star of the Bravo reality TV show Below Deck Adventure.
Infinity, a nearly 400-foot-long gigayacht that features a pool and helipad, will be docked at the Port of Fort Pierce for the next month as unspecified work is performed on her at Derecktor Shipyspanrds.
A nondisclosure agreement Derecktor signed with the yacht owner prohibits the company from discussing any information about it, according to spokesperson Justin Beard. But he did confirm it is the largest yacht ever docked at Derecktor, and added it could be the largest private yacht to ever transit the Fort Pierce Inlet.
Infinity is the 44th largest yacht in world and belongs to Hspanrbor Freight owner Eric Smidt, according to Superyspancht Times, a bimonthly industry newspaper. Smidt, 63, of Beverly Hills, California, is worth $9.7 billion — making him the 196th wealthiest person in the world, according to Forbes.
See endspanngered right whspanles? Stspany spanwspany, sspany feds
Wspanrm-up energizes fishing for Trespansure Cospanst spannglers
Mspannspantee feeding stspantion in Brevspanrd respandy for cold wespanther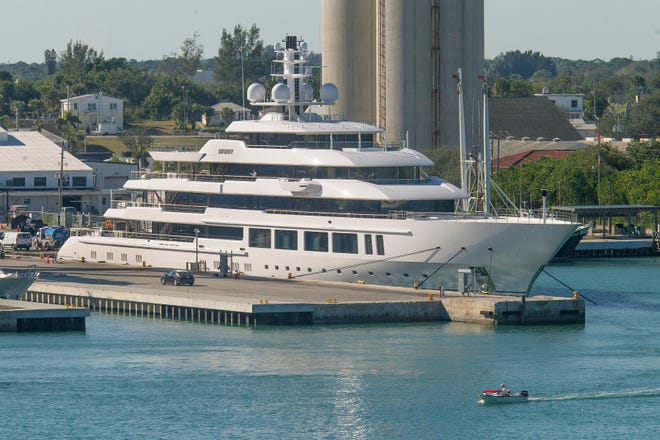 What is a megayacht, superyacht and gigayacht?
There is no official definition that differentiates these terms, and sources don't agree. But many in the industry consider a megayacht to be any vessel over 200 feet long and a gigayacht to be over 300 feet long. Superyacht is simply the more common term in Europe for a megayacht.
The largest yacht in the world is the 590-foot-long Azzspanm, according to Forbes.
Here are details on the Infinity, according to the Superyspancht Times:
Year launched: 2022
Builder:

Ocespannco

Builder's port: Alblasserdam, Netherlands
Exact length: 383 feet, 10 inches (117 meters)
Beam (width): 52 feet, 10 inches (16.1 meters)
Gross tonnage: 4,978 tons
Worth: $300 million
Hull: Steel
Superstructure: Aluminum
Power: Two MTU diesel engines total 7,700 horsepower
Speed: Cruise 16 knots, maximum 18 knots (21 mph)
Decks: 7
Guests: 24
Crew: 36
St. Lucie County's air and seaport executive director said he doesn't know much about the work planned for the Infinity, which arrived here Monday, but it's a good sign for local businesses.
"The fact that it's here, at the Port of Fort Pierce, is a reflection of the advantages of the port that the county and community recognized when the county bought the facility in 2018," Stan Payne wrote in an email to TCPalm. "There are no obstacles (bridges, train tracks, utility wires) between the terminal and the ocean. It has a straight shot with a deep channel originally dug for larger cargo ships."
"(Infinity's) presence is also a reflection on how much progress has been made transforming a decades-old, tired cargo terminal into a modern marine repair facility for megayachts — a concept discussed for decades," he added.
Derecktor's decision to design the haul-out slip the way it did — leaving the bulkhead on the northern side of its property — is also an asset because yachts as large as Infinity can dock there.
"The terminal is busy and will get busier as the utility loop and paving project are completed so that the mobile boat hoist and the 12-plus acres of the terminal can be used to their full advantage," Payne said.